Verified Artificial Hedges Manufacturing Vendor
Artificial hedge mat has long been a staple among our products and is our classic product series. It enjoys unfading popularity on the artificial plant market and is a long-time favorite among our customers. We offer a wide variety of artificial hedge panels to choose from, catering to different tastes and needs. They incorporate various kinds of plants, such as artificial boxwood or artificial ivy. We welcome customers to familiarize themselves with the rest of our products and will be happy to provide free samples to facilitate your market development.
EdenVert is committed to offering only top quality artificial hedge panels and ensuring customer satisfaction. This is why we choose the highest quality raw materials with strong UV stability, which ensure our artificial hedges retain their vivid colors, fine details and highly realistic appearance over many years.
Our artificial hedge products have undergone a 5000 hour UVA test and are compliant with REACH, RoHS and PAHs legislation. They are free from lead, heavy metals and any harmful chemicals because ensuring the safety of our products is our priority. Let yourself be captivated by the beautiful space created with our artificial greenery, allowing you to enjoy the beauty of nature indoors and outdoors all year round.

Why Choose EdenVert Artificial Hedge Panels?

Cost Effective
Artificial hedge panels are a cost-effective solution for creating beautiful green spaces without ongoing maintenance costs of live plants. Not only do fake plants eliminate the need for regular watering and fertilizing, but they also require no pruning or pest control. This means businesses, homeowners, and anyone looking to add some greenery to their space can do so at a fraction of the cost of maintaining live plants.
Additionally, artificial greenery walls are versatile and can be used in a variety of settings both indoor and outdoor spaces, making them a practical and affordable option for anyone looking to create a green environment.

Instantly Green and Long Lasting
Fake plant walls offer several advantages over live plant walls. With live plants, you have to wait for them to grow and risk overgrowth without regular pruning. However, with an artificial wall, you get instant greenery without the waiting period, and since they don't grow, there's no need for pruning.
Additionally, artificial walls never wilt or die, so there are no dead spots or the need for partial or complete replacement. Plus, there's no need to clean up fallen leaves during autumn and winter. An artificial hedge wall provides years of enjoyment without any mess or hassle.

No Bugs or Pests
Another advantage of artificial hedge panels is that they do not attract bugs or pests, making them a perfect solution for people who are sensitive to insect bites or who want to avoid using pesticides. Live plants, on the other hand, can attract a variety of insects and pests, such as snails and ants, which can be difficult to control.
With artificial plant mats, you can enjoy the beauty of greenery without worrying about unwanted pests or the need to use harmful chemicals to control them. This is not only better for the environment but also for your health and well-being.
Unleash Your Creativity with Edenvert Artificial Hedge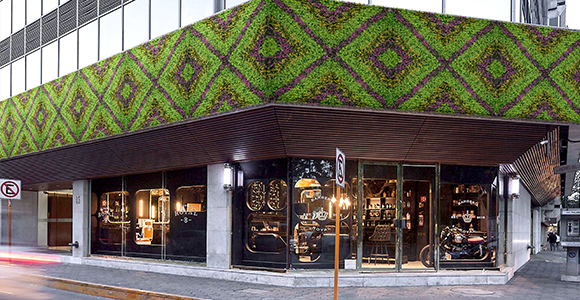 Revitalize Commercial Areas with Artificial Hedges
The use of artificial hedge panels in commercial spaces has many benefits beyond just aesthetics. They can also help to reduce noise levels and provide privacy in public areas, such as restaurants or shopping malls.
Additionally, artificial hedges are a great solution for creating a green space in areas where natural plants may not be able to thrive due to limited sunlight or air circulation. Their low-maintenance and long-lasting durability make them a practical choice for businesses looking to create an attractive and functional environment for their customers or employees.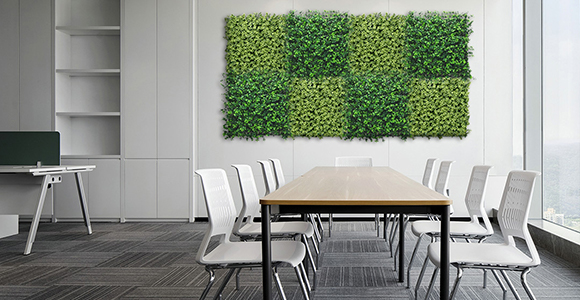 Enhance Office Spaces with Artificial Hedges
Faux hedges are an excellent solution for offices seeking to create a more welcoming and productive environment. They offer many advantages over natural plants, such as low-maintenance and cost-effectiveness, without sacrificing the aesthetic appeal. Fake hedges can be customized to fit any space or design, providing businesses with a practical and versatile option. They can be used to create dividers, green walls, or decorative elements to enhance the office's visual appeal.
Moreover, artificial hedges do not require any special care, making them an ideal choice for businesses with a limited budget or time to maintain live plants. With their realistic appearance and many benefits, artificial hedge panels are an excellent investment for any office seeking to create a more inviting and productive workspace.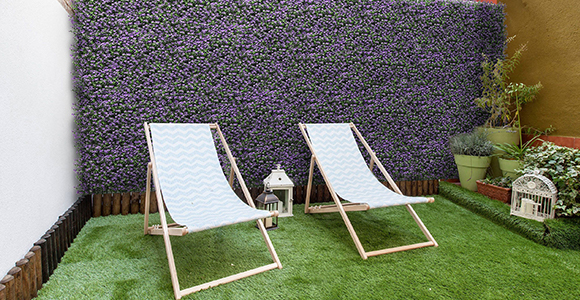 Artificial Boxwood for Residential Areas
Boxwood hedges are a versatile option for enhancing various spaces. They can serve as decorative elements on walls, roofs, and balconies, or as privacy barriers, partitions, or fences in gardens or courtyards. With their realistic appearance, they provide a touch of greenery that can relax and refresh one's spirit.
Unlike live plants, artificial boxwood hedges require no extra care, making them a practical choice for those seeking to enhance their living spaces without the hassle of maintenance. The artificial boxwood is an excellent investment for anyone seeking to elevate their space with ease.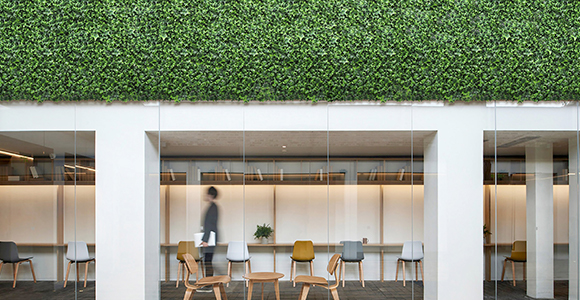 Artificial Hedges in Other Areas Where Impossible for Living Plants
Artificial hedges are becoming increasingly popular in areas where natural plants struggle to survive. These versatile and low-maintenance alternatives to real hedges are perfect for environments with limited access to sunlight, water, or soil.
In urban areas, where pollution and restricted space can be major obstacles for plant growth, artificial plant panels offer a practical solution for creating a green and inviting space. Similarly, in dry and arid regions, artificial hedges can provide a splash of color and vibrancy that would otherwise be impossible to achieve with natural plants. The durable and weather-resistant nature of artificial hedges also makes them ideal for use in coastal regions or areas with extreme temperatures.
Artificial Hedge Wall Installation Guide
Artificial hedge wall installation is not only easy and simple but also a fun and creative project. Whether you're looking to decorate your home, office, or outdoor space, our artificial green wall panels can transform any area into a lush and vibrant oasis.The best part is that you don't need any special skills or tools to install them. All you need are some common tools such as measuring tape, scissors, and a drill, which are likely already available at your home or workplace. However, if you're new to the installation process, don't worry, our team at EdenVert can recommend tool kits that can make the process even smoother.
To get started, you can head over to our Installation Guides Page, where you can find a detailed step-by-step guide on how to install our artificial plant walls. Our guide covers everything from preparing the surface to securing the panels, and we've included helpful images to make the process easier.If you prefer watching videos, you can check out our Installation Videos, which provide a visual guide to the installation process. These videos cover different installation scenarios, from indoor walls to outdoor fences, so you can find the right one for your needs.
As a an artificial plant supplier, EdenVert is fully committed to providing outstanding solutions to help your business create a gorgeous and eco-friendly atmosphere with minimal effort, ensuring it endures for a lifetime. Our focus is on understanding your unique business needs and providing tailored artificial hedge solutions that perfectly match your market requirements.With the state-of-the-art artificial plant factory, our extensive range of products enables your business to effortlessly achieve the look of natural greenery without the hassle of maintenance. Our artificial hedge panels and fake plants are built to last and withstand any weather conditions, providing your business with a sustainable and cost-effective solution.We take pride in being a reliable wholesale partner, committed to delivering high-quality artificial hedge products and exceptional customer service. Partner with us to bring your green dreams to life and make your business stand out in your industry today!