Artificial Vertical Garden Wall from Wholesale Factory
The Roma Series is our flagship artificial green wall type and a long-time favorite among our high-end market needs. Get enchanted by countless gorgeous combinations created by hundreds of leaves which will add an artistic touch to your daily environment. Choose a combination that suits your unique taste best and enjoy nature's beauty with this marvelous vertical garden wall.
• Gorgeous Appearance
• Diversified Leaf Designs
• Three-Dimensional Sense and Artistry Effect
• Various Combinations
Why Choose EdenVert Vertical Garden Wall?

Low Costs
Vertical garden walls are an affordable and low maintenance enhancement to any environment. They require minimal maintenance, making them a cost-effective alternative to living plants. They also help reduce maintenance costs with no need for a regular gardener. Also high quality artificial vertical gardens are designed to last for years ensuring you won't need to replace them frequently.
So with low maintenance and long-lasting features, artificial wall panels offer an attractive and practical solution to add some greenery to a space without routine care.

Longer Service Life
The longevity of fake plants depends on their composition, with UV-resistant synthetic materials offering superior endurance. Material quality is key to long-lasting artificial greenery.
Our artificial plants have been rigorously tested to the UV 5000H test by an independent third-party laboratory to ensure their longevity and durability, which gives us the confidence to provide a product warranty of five to eight years. You can trust that our vertical garden walls will add long-lasting beauty to any space.

Variety of Options
Artificial green wall panels present a flexible and practical remedy to incorporate greenery into any location. Unlike living plant walls, which require several weeks to grow, fake plant walls are immediately ready for display.
They also offer a wider selection, allowing you to choose any foliage, branch, flower or plant variety, or even a combination of several plants. Living plant walls, on the other hand, have limited options because they require specific growing conditions. For those searching for versatility and convenience, artificial garden walls are an excellent choice due to the endless possibilities.
Transform Your Space with Edenvert Vertical Garden Wall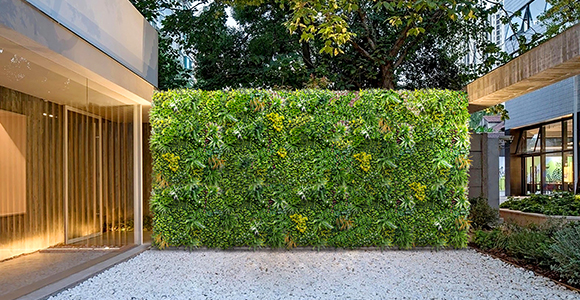 Wall Covering
When it comes to interior design, a vertical garden wall can introduce more greenery and visually enhance the space. The interior design  can be brightened with carefully selected flowers and foliage. For example, a faux living wall can serve as a unique backdrop for a TV.
Likewise, for exterior wall coverings, you might be surprised at how effective wall gardens are at tackling peeling walls. Wall restoration projects can be done quickly, resulting in a dramatic transformation. To learn more about how to create a vertical garden wall, refer to our installation guide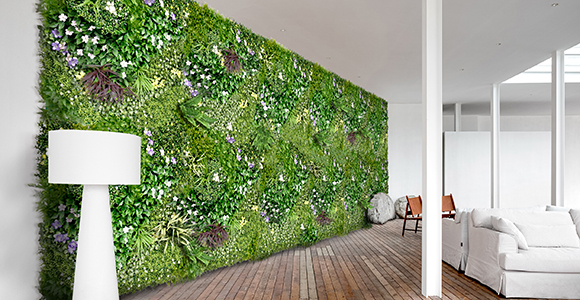 Shopping Mall Decoration
Artificial garden walls are a unique addition that can leave a lasting impression on customers in shopping malls. By incorporating seasonal plants and creative interior design, attract more customers beyond seasonal promotions.
The extensive foliage coverage can transport customers to tropical destinations, thereby becoming a powerful tool to enhance the experience. Installing a vertical garden wall can create an oasis within your establishment, away from the hustle and bustle of everyday life.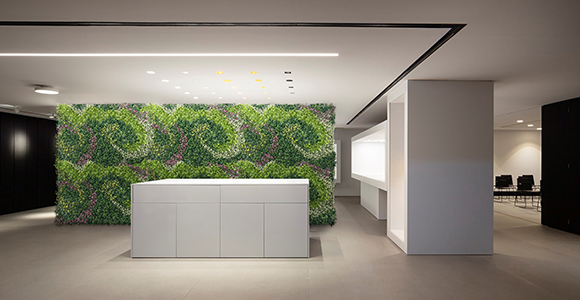 Office Decoration
Green plants are beneficial to people's physical and mental health. If the work environment needs to be improved immediately, an artificial greenery wall will be a better choice. It illuminates the space with lifelike foliages and flowers. The soothing effect will soon be felt by everyone. Under the embrace of nature, employees feel more comfortable and can recover their energy faster than ever before.
A dynamic work environment is always more effective than a high-pressure work environment because job satisfaction is very important. The faux living wall can provide different landscapes with only a little adjustment.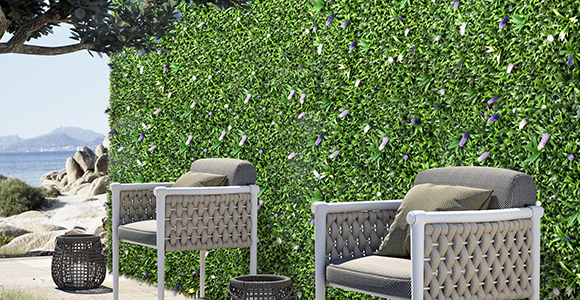 Event Decoration
In today's world, parties have become a regular occurrence throughout the year. However, it can be challenging to come up with new and innovative decorating ideas every time. This is where DIY vertical wall gardens come into play.
Utilizing artificial branches or vines in various colors and shapes can offer a diverse selection of themed backdrops, achieving a visually appealing and distinctive atmosphere for your party. Moreover, these decorations can be well complemented with other decorative elements such as balloons, lights, and various entertainment items to make your party an unforgettable experience for your guests.
Benefits of Vertical Garden Wall
Healthier
There are no toxins involved in the materials of fake plants. It means people won't have any reaction to adding artificial plants to home decorations.
Moreover, artificial plants eliminate the risk of pest infestations that can damage living plants and reduce the number of buzzing insects during summer. Therefore, opting for a faux greenery wall ensures both visual appeal and practicality for your property.
Immensely Realistic
Many people are hesitant to use faux plants because they think artificial greenery looks fake and plastic. However, with the advancement of technology, modern artificial plants are so realistic that it can be difficult to tell the difference without careful inspection.
Opting for artificial greenery walls not only provides a lush, life-like living wall, but also ensures year-round beauty without worrying about plant maintenance. Unlike real plants, artificial plants won't die without proper care and don't take time to bloom as they are already in top condition.
Multi-function
Vertical garden walls not only enhance the aesthetics of an interior space but also add functionality to its design. It is the ideal solution for multiple uses such as acting as a border or hiding damaged walls.
It can provide a natural-looking fence or privacy screen while also reducing noise levels or directing traffic. Artificial living walls are a versatile and practical option that can be used to suit a variety of design needs, while offering the added benefit of requiring minimal maintenance and maintaining visual appeal year-round.