Roma Series
Artistry Straight from Nature
The Roma Series is our flagship artificial green wall type and a long-time favorite among our high-end clients. Get enchanted by countless gorgeous combinations created by hundreds of leaves which will add an artistic touch to your daily environment. Choose a combination that suits your unique taste best and enjoy nature's beauty with this marvelous vertical garden wall.
Gorgeous Appearance
Three-Dimensional Sense and Artistry Effect
Various Combinations
Ultimate Guide to Roma Series
Vertical garden wall helps to bring a sense of the outdoors to any space and can create an immediate impact. Each section can be joined to another, ensuring that artificial plant walls can come in any shape or size. While there is also a huge array of possible colours and plant styles to choose from, allowing property owners to DIY vertical garden wall with their creative solutions.
Features & Benefits
Improve ambiance
Require less care
More durable
Don't need natural factors
Seasonal changes do not influence their life
Place them wherever you want
Applications
Wall covering
In terms of interior design, you can consider building a vertical garden wall to add more greenery to your space. Carefully selected flowers and foliages will make the home interior design more attractive. For example, you can use an artificial green wall to create a unique TV background.
If it is used for exterior wall covering, you will be surprised at how good the fake plant wall is in dealing with peeling off walls. The wall restoration project is completed in no time. And the effect is amazing! You may want to know how to make a garden wall. Please check our installation guide.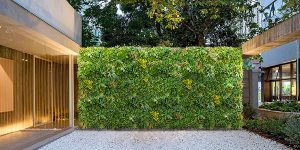 Shopping mall decoration
In addition to seasonal promotions, you can also use seasonal plants to attract more customers. Innovative interior design will never fail. The application of vertical garden walls can impress customers. A large area of leaf coverage has an overwhelming effect. It can move customers to tropical islands or anywhere.
Office decoration
Green plants are beneficial to people's physical and mental health. If the work environment needs to be improved immediately, an artificial greenery wall will be a better choice. It illuminates the space with lifelike foliages and flowers. The soothing effect will soon be felt by everyone. Under the embrace of nature, employees feel more comfortable and can recover their energy faster than ever before.
A dynamic work environment is always more effective than a high-pressure work environment because job satisfaction is very important. The faux living wall can provide different landscapes with only a little adjustment.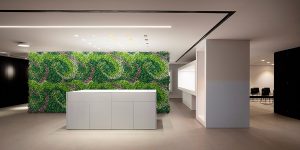 Event decoration
Nowadays we have parties all year round. Sometimes it's hard to come up with innovative decoration ideas. DIY vertical wall garden can solve this problem well. Artificial branches or artificial vines of various shapes and colors can provide a series of theme backgrounds. They are a good complement to balloons, lights and various amusement facilities.
Start your EdenVert journey
Our Quality
EdenVert has an ongoing commitment to quality. Based on more than ten years of product development and manufacturing experience, our faux greenery walls meet the highest leading laboratory test standard. EdenVert chooses the highest quality raw materials with strong UV stability to make sure our artificial living wall emulates the fresh and luscious green look over many years. Tested to UVA 5000 hours and REACH, RoHS, PAHs, our artificial plants contain no lead, no heavy metals or any other harmful chemicals.
Our Service
EdenVert believes in offering the highest quality of customer service and making satisfaction our top priority. All staff are through a rigorous and continuous training program to understand how to serve our customers. We focus on ensuring our deliveries arrive punctually, in perfect condition and ready to install.