Quality Vertical Garden Frame from Verified Supplier
Vertical garden frame is designed to arrange natural beauty in an artistic way and create everlasting elegant greenery for any spaces, such as home, offices, corridors, reception areas and so on. Hung on the wall or standing gently, it will be an impressing piece of art that greatly improve the style.
• Various floral designs satisfy diverse styles
• Well prepared accessory kit, easy to install and move
• Multiple sizes and shapes: circular, square and rectangular
• Professional packing keeps the frame secure during delivery
• Selected frames in 2 different materials – PVC and Aluminum Alloys
Why Choose EdenVert Vertical Garden Frame?

Crafted for Longevity
High quality framed vertical garden is crafted to withstand even the harshest environmental conditions, ensuring to stay vibrant and healthy throughout the seasons. Our UV stabilized vertical garden frames provide long-lasting vibrant greenery that stay fresh and lifelike for years. With the assurance that they won't fade, you can enjoy the beauty of nature in indoor spaces or beautify your outdoor areas without worrying about their longevity.

Easy to Install
For quick and easy installation of artificial plant panels, EdenVert offers an innovative and reliable snap-to-lock system. This system boasts a simple mechanism that allows the panels to be installed in minutes. Its sturdy and uncomplicated design facilitates easy removal and remounting of panels as required, giving you the flexibility to adjust your space as needed.

Exceptionally Natural
EdenVert vertical garden frames feature seamless coverage, compact foliage planting, varying planting heights, and vibrant tones that create a remarkably lifelike appearance. Their realistic design makes it hard to tell if they aren't real plants. Whether you're looking to bring a touch of nature to your office, living room, or outdoor patio, our framed green wall art is a great choice that will elevate the aesthetic appeal of your space.
Experience the Beauty of Nature with EdenVert Vertical Garden Frame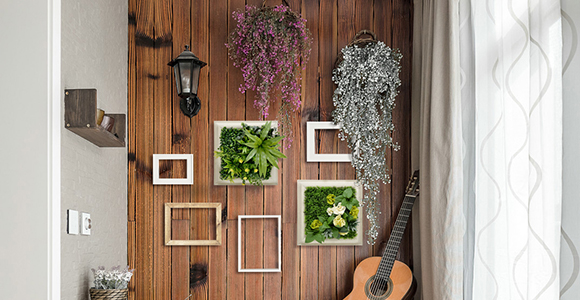 For Balcony
Vertical garden is an aesthetically pleasing and functional solution for balcony areas, adding a touch of luxury to any setting. Designed vertically, the premium artificial plants have a shallow depth, thus not intruding on the functional areas of your balcony, while still being visually pleasing and functional.
Maximize your balcony space with EdenVert's vertical garden frames. Our frames offer hassle-free maintenance, UV stability, and a durable design that ensures peace of mind.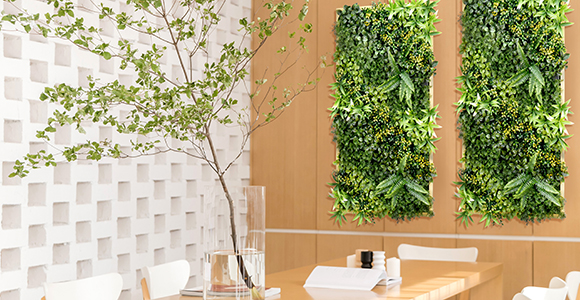 For Dinning Room
Gone are the days when the dining room was solely for meals. It has been transformed into a space to spend precious moments with loved ones and friends. While the food is essential, the ambience and setting also affect the experience.
To cultivate an attractive environment in your dining room, consider incorporating vertical garden frames. These elements can work wonders in establishing an appealing atmosphere that enhances the overall dining experience.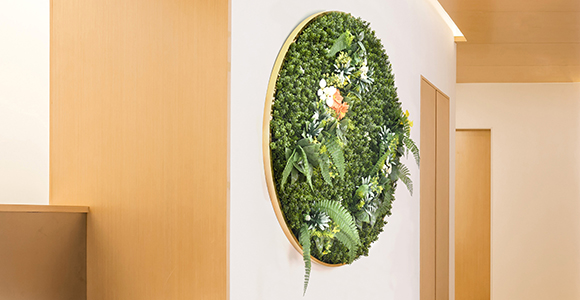 For Living Room
Artificial vertical garden is gaining popularity as an eco-friendly and attractive way to decorate the living room. Homeowners can choose from a variety of sizes, shapes and colors to match their living room decor.
The vertical garden frame provides an ideal way for creating a tropical haven or a natural ambience indoors, imparting a sense of serenity and tranquility to the area. With a wall garden, you can effortlessly transform your living room into a tranquil sanctuary that exudes relaxation and comfort.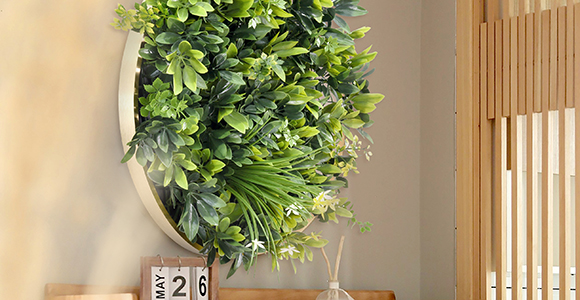 For Unique Spaces
For wall designs of any shape or size, ultra-realistic greenery panels are a versatile solution. Unlike living walls, our vertical garden frame can fit into any space without looking out of place.
These vertical gardens can be cut and customized to fit any wall space, shape or curve while maintaining their realistic appearance. Due to the high quality and density of each panel, they remain full and vibrant even after cutting. The result is a visually exciting experience that elevates any interior environment.
Benefits of Vertical Garden Frame
Low Maintenance
The maintenance-free aspect of vertical garden frame is especially beneficial in harsh weather conditions and work environments, as there is no need for watering, pruning, weeding or trimming. Even those with no gardening experience can enjoy the lush green surroundings. This feature provides the perfect solution for creating an aesthetically pleasing ambiance without the need for routine upkeep and maintenance, allowing individuals to focus on their work without distractions.
Memorable Impression
The vertical garden frame is a visually striking and captivating addition that effortlessly grabs attention. The lush greenery of these frames enhances the overall atmosphere and promotes relaxation. Their vibrant and dynamic aesthetic is a great way to make a bold statement and capture the attention of customers, clients and employees. Whether used in a commercial or residential setting, it is a creative way to elevate the appearance of any space and leave a memorable impression.
Flexibility
Artificial plant frame takes away the worry about plant placement. There's no need to be concerned about whether the plant is getting enough sunlight or if it's too close to a cold window. With no adjustments required, you can choose a spot purely based on aesthetic preferences, allowing for endless possibilities in home or office decor. Say goodbye to the stress of maintaining live plants and say hello to effortless beauty with vertical garden frame.