Vertical Garden Frame
Vertical garden frame is designed to arrange natural beauty in an artistic way and create everlasting elegant greenery for any spaces, such as home, offices, corridors, reception areas and so on. Hung on the wall or standing gently, it will be an impressing piece of art that greatly improve the style.
Various floral designs satisfy diverse styles
Selected frames in 2 different materials – PVC and Aluminum Alloys
Multiple sizes and shapes: circular, square and rectangular
Well prepared accessory kit, easy to install and move
Professional packing keeps the frame secure during delivery
Ultimate Guide to Vertical Garden Frame
If you want to make a real impact in your home or workspace and give it the wow factor, vertical garden frame is a great option.
Vertical garden frame brings the beauty of nature into your space without taking time to grow and maintain real plants.
With these vibrant vertical gardens, you can create a feature wall for your living space or effortlessly introduce eye-catching features to commercial projects with little maintenance.
Features & Benefits
Aesthetically pleasing
Incredibly lifelike
Easy to install
Last long
Make your space more welcoming
Don't require much care
Suitable for any environment
Applications
Framed vertical garden hanging for interior decoration
If you are expecting guests to visit your home, or you need to elevate your brand to attract more customers, a great starting point is to add vertical garden frame to your space.
Framed vertical garden has the ability to make all visitors feel welcome. It provides the sense of tranquility that one is longing for, and evoke an atmosphere of peace and calm in the area. It can even add a layer of insulation to your walls, bringing a cool and comfortable feel to anyone in the area.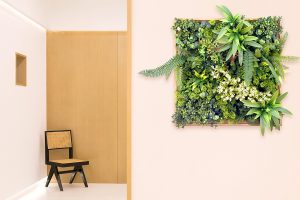 Vertical garden frames for outdoor spaces
Whether it is a bright feature on the balcony of your apartment or an amazing entrance to your house, vertical garden frames can also liven up outdoor spaces. See how our clients use their vertical garden frames as stunning additions to suburban balconies: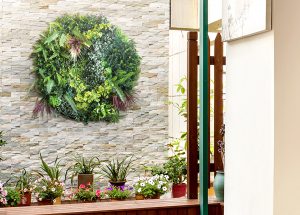 How long will vertical garden frame last?
This is a question frequently asked by our clients, prompted to a big extent by the climatic changes and bouts of extreme weather conditions in recent years. They want to know how long their framed green wall art will stay in perfect condition.
The lifespan of artificial plants is largely related to the material they are made of, especially whether the material is UV-treated.
Considerably longer service life can be expected of plants made of specific synthetic materials which have undergone UV treatment. EdenVert's artificial greenery has passed UV 5000H test conducted by an independent third-party laboratory, which gives us the confidence to provide a product warranty for a period of five to eight years.