Artificial Branches
Fed up with your mundane urban surroundings? Longing for a dash of nature in your home, office or yard? Look no further than Edenvert's artificial branches. Their wide range of designs offers you unlimited possibilities to adorn your environment with magnificent greenery, while a realistic, lifelike appearance lets you enjoy nature's charm wherever you fancy, without the need for maintenance. Invite nature to your home by choosing from a rich selection of ferns, bushes and flowering plants, creating a unique fusion of nature with your living space. Edenvert's artificial branches – enjoy nature wherever you are.
Realistic Appearance
100%PE.
Exquisite craft replicates nature's beauty and vitality.
Diverse Plant selection
Ferns, bushes, flowering plants and mixed greens for your personalized choice.
Multiple usages
Potted plants, vertical garden, floral decoration……
More possibilities waiting for you to explore.
Ultimate Guide to Artificial Branches
With the development of artificial plants for wall decoration, there are many artificial branches coming up for DIY experience. For instance, choose chic artificial foliage branches and creatively arrange them in flower vases for enticing artificial greenery arrangements for the dining table.
Features & Benefits
Lifelike lush greenery
Improve ambiance
Durability
UV & fire protection
Low cost and maintenance
Applications
DIY vertical garden with artificial branches
As mentioned before, artificial plant branches can be a good helper in DIY decorations. With assorted branches, you are able to design a highly personalized vertical garden wall. The easy fixing and fastening system allow you to change artificial leaves or plants. This can better meet people's aesthetic needs.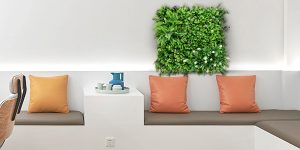 Faux branches decor
Arrange a sumptuous mix of artificial leaves branches and opt for our classic artificial tree branches, artificial pine branches, artificial cherry blossom branches, or artificial olive branches to create a luscious branches arrangement for picturesque table decoration.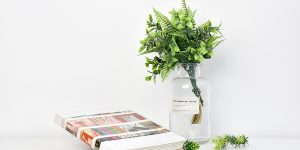 Enrich real greenery
Faux greenery branches are ultra-realistic. So you can mix them with some real plants or leaves to make the best of real and faux greenery. Some employees may randomly order some fresh flowers to liven up their cubicles. Artificial foliage can enrich the bunch of flowers.
To know more about EdenVert factory
EdenVert is a leading artificial plant supplier based in China that is dedicated to providing long lasting greenery to importers, wholesalers, contractors and chain stores throughout the world.
We seek to engage our customers to be co-creators with us, in developing vibrant living and working spaces, infused with the spirit of nature. The factory holds ISO9001, ISO14001, and ISO45001 which guarantees production and products with the best quality.
EdenVert has more than 200 products now and keeps innovating new products every year. Artificial hedge, artificial vertical garden, artificial fence and artificial topiary, these main classifications receive satisfaction from global markets constantly.