Factory Direct Artificial Vines Wholesale
Who doesn't love the view of a verdantly green vine adorning a wall or a trellis? Now you can enjoy their delicate beauty wherever you desire without tiresome maintenance. Edenvert's series of artificial vines add a charming touch to your environment, letting you enjoy nature's beauty conveniently anytime.
Looking for a quick and easy way to spice up your home or office decor? Artificial vines are the answer elevating the enjoyment of your living space, adding a dash of style wherever you fancy, be it indoors or outdoors. Transform your daily surroundings and unleash the artist inside you with Edenvert!
Realistic Appearance
100% PE, exquisite craftsmanship captures nature's beauty in every detail.
Tasteful Plant Combinations
Elegant harmony of colors and floral designs adds an artistic touch to your space.
Fully Adjustable for DIY
Diverse designs for mixing & matching with other faux plants.
Detachable branches for flexible DIY.
2 Branch Types for Your Choice
Lush Vine: 4 branches extending in multiple directions create a flourishing volume.
Delicate Vine: 2 branches in a vertical line showcase a gentle drooping style.
Why Choose EdenVert Artificial Vines?

Maintenance
Maintaining natural vines takes a lot of time, effort and resources. It includes ensuring proper soil conditions, adequate water supply, and carefully guiding their growth to cover the desired area. This task can be particularly demanding, especially for someone with a busy schedule. Instead, artificial vines offer a convenient and trouble-free solution to beautify your environment. They require minimal maintenance, can be effortlessly shaped or trimmed to fit your preferred space, and can be easily relocated when necessary.

Space
As urban densities increase and living spaces continue to shrink, incorporating plants into homes has become a daunting task. This challenge is especially pronounced for apartment dwellers, who face limited or non-existent outdoor areas. Thankfully, artificial hanging plants offer a remarkable way to bring the allure of nature. Regardless of space constraints, these hanging plants provide a great solution for adorning living spaces with the beauty and serenity of plant life.

Cost
Compared to natural plants, fake plants offer a cost-effective solution to beautify your home or garden. Artificial vines require no ongoing maintenance or additional investment beyond the initial purchase, saving money in the long run. By contrast, real plants require constant attention, including the cost of soil, tools, and supplements, to ensure they thrive. By opting for faux vines, you not only achieve a visually appealing environment but also enjoy the financial benefits of a more affordable and hassle-free alternative.
Create an Enchanting Ambience with Edenvert Artificial Vines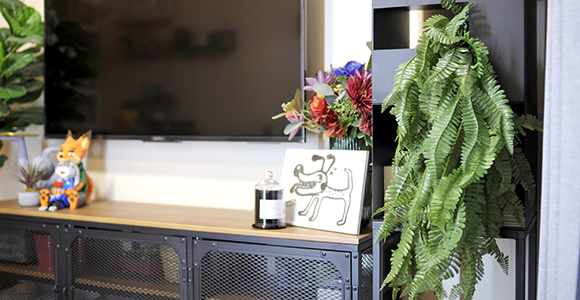 Artificial Vines for the Living Area
In the living room, a haven of relaxation and enjoyment, the presence of fake hanging plants becomes a powerful force in promoting these ideal states. A timeless symbol of tranquility in nature, artificial vines have the extraordinary ability to enhance our relieve stress. With their gentle reminders, these faux hanging plants create an atmosphere conducive to serenity, allowing us to fully immerse ourselves in blissful moments of rest.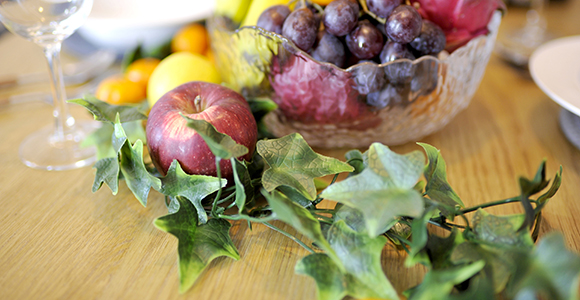 Arrange Artificial Ivy Vine on the Table
Delicate and sophisticated table setting creates a charming ambiance for an unforgettable family dining experience. Elegantly positioned across the table, our beautifully crafted artificial ivy vines infuse life and vibrancy into their surroundings, enhancing the aesthetic. As you sit around to indulge in a sumptuous meal, the stylish arrangement of these vines will add a touch of elegance, transforming the atmosphere into a refined and delightful haven.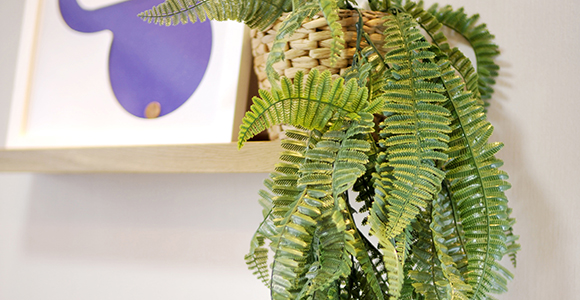 Artificial Plant Vines for Bathroom
No other decor will liven up your bathroom like artificial hanging plants. Invigorate your senses as lush foliage infuses your personal space with the calming vibe that only nature can provide. Effortlessly hanging above a mirror or gracefully drapes near a bathtub, this remarkable piece of decoration takes up minimal space while making a dramatic impact on the bathroom ambience. Embrace the serenity and relaxation that these vines bestow, creating a peaceful sanctuary within the comfort of your own home.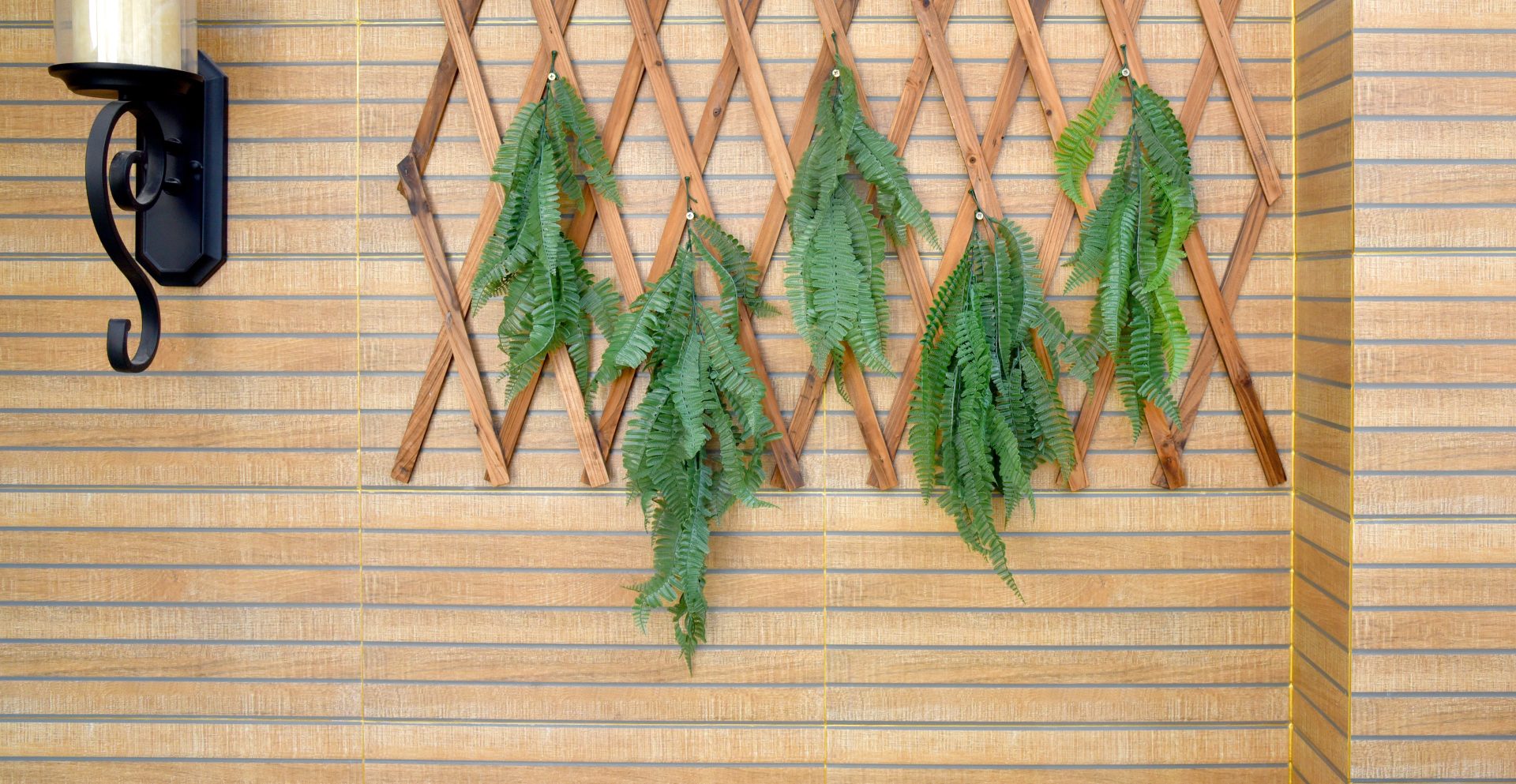 Fake Hanging Plants for Dining Room
Artificial hanging vines offer a convenient solution for dining room decoration with less regular maintenance. Mimicking the beauty of real leaves, artificial vines provide a long-lasting and vibrant beauty. They are versatile and allow you to create a cozy and inviting ambiance while complementing any decor. Whether you have a busy lifestyle or prefer a low-maintenance approach, artificial vines are perfect for adding natural charm to your dining space.
Essential Guide to Selecting Artificial Vines
Only Select Premium-Quality Artificial Vines
When it comes to artificial vines, prioritizing premium quality is critical to achieving a truly lifelike greenery. While they may cost more when compared to cheaper alternatives, investing in high-quality vines guarantees longevity, offering better value in the long run. Premium options often feature leaves of varying sizes, enhancing their natural appearance. For durability, choose faux vines made from eco-friendly plastic or other strong, durable materials that will stand the test of time.
Choose Faux Vines that Mimic the Look of Real Plants
When choosing artificial vines, double-check to make sure they have realistic details, such as simulated veins and color variations. It is recommended to steer clear of plants decorated with too many artificial details, such as fake raindrops and glossy surfaces, as they tend to appear unrealistic. Take the time to familiarize yourself with the various types of faux vines, compare their visual appeal, and choose the option that gives off the most natural look.
Avoid Vines with Symmetry for a More Natural Look
For a more authentic and organic aesthetic, choose artificial vines with leaves of varying sizes. Evenly sized leaves tend to convey a fake appearance. For an even more natural look, consider selectively pruning a few stems or leaves on one side, creating a slight asymmetry where one side appears slightly bushier than the other. Highlight the fuller side of the vines near a light source to enhance their lifelike appeal through light and shadow.