Artificial Hedge Mats
Artificial hedge mat has long been a staple among our products and is our classic product series. It enjoys unfading popularity on the artificial plant market and is a long-time favorite among our customers. We offer a wide variety of artificial hedge mats to choose from, catering to different tastes and needs. They incorporate various kinds of plants, such as artificial boxwood or artificial ivy. We welcome customers to familiarize themselves with the rest of our products and will be happy to provide free samples to facilitate your market development.
EdenVert is committed to offering only top quality products and ensuring customer satisfaction. This is why we choose the highest quality raw materials with strong UV stability, which ensure our artificial hedges retain their vivid colors, fine details and highly realistic appearance over many years. Our artificial plant products have undergone a 5000 hour UVA test and are compliant with REACH, RoHS and PAHs legislation. They are free from lead, heavy metals and any harmful chemicals because ensuring the safety of our products is our priority. Let yourself be captivated by the beautiful space created with our artificial greenery, allowing you to enjoy the beauty of nature indoors and outdoors all year round.
Ultimate Guide to Artificial Hedge Mats
Artificial hedge is such an fantastic way to transform a dull space into some captivating sight. Made of 100% polyethene with realistic looking-effect, not restricted by the natural plant growth environment or site condition. Fake hedge products are gradually replacing the real plants to be used in all kinds of decorations to brighten up both commercial and residential spaces.
Features & Benefits
No seasonal changes
Fully customisable
Fire retardant
UV resistant
Simple installation
Not limited to one place
Minimal maintenance
Applications
Artificial hedge for commercial areas
Artificial hedge panels are widely used in commercial areas mainly in form of the artificial green wall. There are many fantastic wall decorations in form of vertical gardens or combinations of different hedge mats in offices, shopping malls, retail chain stores, restaurants, bars, celebration events, or business exhibitions. There are multiple artificial foliages that can be chosen and designed to match different environments or event themes.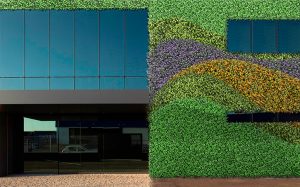 Artificial boxwood for residential areas
Whether it is used as a decoration on the wall or roof to beautify the space, or as a private barrier and partition to hide personal belongings, or as a fence on the terrace and balcony and a fitness ball in the garden or courtyard, the boxwood hedge will never let you down. It will bring a touch of green to your life, relax you and refresh your spirit, just like a living plant, the difference is that there is no need of any extra care.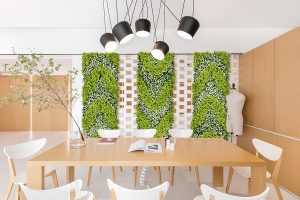 Artificial hedges in other areas where impossible for living plants
Another benefits of faux hedges are vibrant and luxuriant. For anywhere there is limited sunshine or restricted to access to any watering therefore unsuitable for growth of living plants, artificial hedge wall is a perfect substitute to bring vitality to anywhere.
Our quality insurance
UV resistance
EdenVert's artificial hedge plants pass the UV 5000H test conducted by an independent third-party laboratory, which gives us the confidence to provide a product warranty for a period of five to eight years.
Health & Safety
EdenVert always puts the health and safety of its customers first. We are qualified to produce the very best artificial hedge panels and always make the utmost effort to provide full customer satisfaction. Our REACH, RoHs and PAHs certificates ensure you make the right choice by choosing reliable, high quality products free of any health risks.
Fire retardancy
EdenVert's fire retardancy test is conducted by the authoritative laboratory SGS in accordance with EN 13501-1:2018 standards of reaction to fire. It is conducted independently and abiding to strict standards, which ensures its reliability.
You can thus have confidence in fire safety whether artificial hedges for outdoors or artificial hedges for indoors. Create a stylish space while ensuring your safety with EdenVert!