Outdoor & Indoor Vertical Garden Factory Direct
Do you miss nature while stuck in urban environment? Do you long to have a relax in a serene spot while surrounded by the beauty of nature? Vienna outdoor and indoor vertical garden is just what you're looking for. Designed to convey majesty and luxury, it brings to life your vision of a dreamy green oasis, be it in your home, yard, office or anywhere you fancy.
Coming in a wide range of magnificent foliage designs, Vienna outdoor and indoor vertical garden lets you unwind in the beauty of nature without the need to venture to a faraway location. Enjoy a new quality of life and well-being, all thanks to Edenvert's Vienna!
• Triple Panel Combinations with Natural Transition: Greenery of similar style but different forms, seamless transition and modifiable combination of triple panels resulting in an unparalleled visual effect from every angle.
• 10+ Kinds of Leave Shapes: 1000+ Plants per Panel; Diverse foliage, rich colors, natural appearance full of grace and vitality.
• Excellent Layering: Varying heights of plants bringing sense of natural layering, lush and brimming with exuberance.
Why Choose EdenVert Outdoor & Indoor Vertical Garden?

Safe
Fire-resistant artificial green wall is a perfect solution for designers and architects to integrate nature into their spaces while maintain safety standards. EdenVert artificial vertical gardens prioritize safety without compromising style, making them ideal for any space. These greenery walls offer a realistic and natural design with fire resistant features under the complying with ISO9001 quality standards. Thanks to their versatility, they can be used in any space, indoors or outdoors.

More Durable
Crafted from top-quality materials, EdenVert's artificial plant walls are built to withstand various environmental elements such as rain, wind and UV rays. This ensures they retain their color, shape and vibrancy over time, thus rendering them a highly durable and long-lasting choice for any environment. Resistant to fading, wilting or rot, these fake plant walls are the perfect solution for those looking for a low maintenance alternative to natural greenery that still exudes natural charm and beauty.

Highly Customizable
One of the advantages of choosing EdenVert faux living wall is the high degree of customization. The variety of plant types, colors and arrangements allows you to create unique designs that perfectly match your surroundings. With customizable manufacturing, it's effortless to design a style that perfectly reflects your personal tastes and preferences. Not only does it bring the beauty of nature indoors, but it also creates a refreshing and visually appealing aesthetic.
Create a Green Oasis with Edenvert Outdoor & Indoor Vertical Garden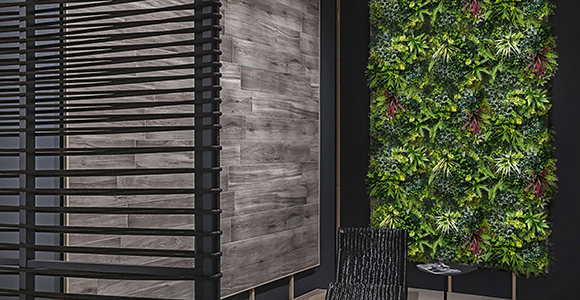 Office Screening
Office screening has always been a positive way to solve many workplace issues, such as privacy and noise. It becomes essential to minimize the many distractions in an open office for improved staff productivity. Indoor vertical garden provides a more flexible and creative choice of office screens, and your workspace will instantly feel more interesting and unique.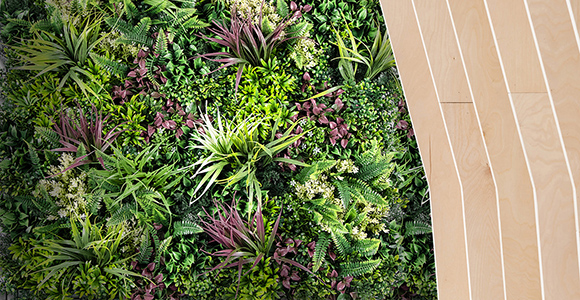 Retail Space
Adding the indoor vertical garden into retail spaces enhances brand engagement while providing visitors with a fun area to relax and capture the perfect selfie for social media. What's more, a drab store wall can be instantly revitalized and transformed into a chic, high-impact focal point in a store or brand space. By introducing greenery into the environment, the space becomes a visually stunning area that attracts attention and adds a refined element to its surroundings.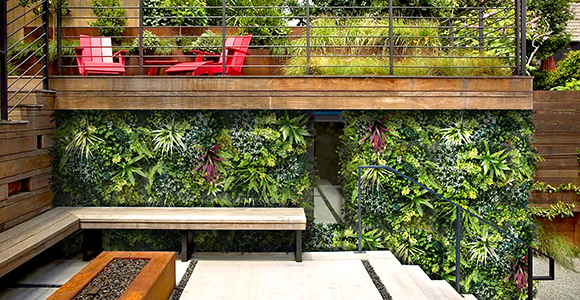 Garden Space
Faux greenery wall is a great solution for small gardens or limited ground space. It allows the greenery of grass and shrubbery to be extended up a wall, creating a warm and inviting atmosphere for all. Plus, they allow walled or courtyard gardens to make the most of the available space. With EdenVert artificial living wall, even in areas with limited space, you can enjoy the beauty of nature without compromising safety or aesthetics.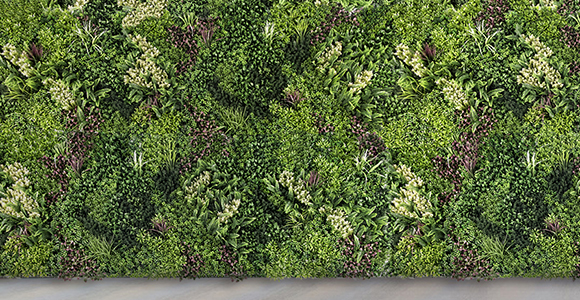 Welcoming Backdrop
Greenery wall decor is no longer a privilege that only premium brands or luxurious locations can enjoy. Their affordability and ease of installation mean that they can add a sprinkle of magic to any environment and reap exactly the same rewards. A splash of greenery wall backdrop in reception areas instantly brings a blank wall to life with a welcoming beautiful foliages, that leaves a lasting impression on guests.
Benefits of Outdoor & Indoor Vertical Garden
Consistent All Year Round
Live plants may lose their flowers and foliage seasonally, changing their visual appeal. This can have a negative impact on exterior and interior decoration. Fake plants, on the other hand, are consistent in appearance, withstand seasonal changes and require minimal maintenance. However, occasional cleaning is necessary to keep it fresh and pristine year-round. Artificial green wall panels offer an attractive and long-lasting solution for those seeking a low-maintenance decorating option.
No Reliance on Natural Elements
Faux plants have several advantages over living plants. They don't need water, air or sunlight to survive, which means you don't have to worry about watering them while you're on holiday or at work. Additionally, artificial garden walls can be placed anywhere, regardless of the natural light available. You don't have to worry about pests or diseases ruining your plant's appearance, or your plant's roots rotting from overwatering.
Endless Design Possibilities
Artificial wall panels can be moved freely and placed wherever you want, offering endless design possibilities. This flexibility allows you to experiment with different arrangements and refresh the look of your garden or room whenever you want. With the ability to easily adjust the placement of artificial plants, you have complete control over the style and layout of your decoration, effortlessly creating a dynamic and customized aesthetic.