Vienna Series
Missing nature while stuck in your urban environment? Longing for a serene spot to relax in while surrounded by the beauty of nature? Vienna outdoor and indoor vertical garden is just what you`re looking for. Designed to convey majesty and luxury, it brings to life your vision of a dreamy green oasis, be it in your home, yard, office or anywhere you fancy.
Coming in a wide range of magnificent foliage designs, Vienna outdoor and indoor vertical garden lets you unwind in the beauty of nature without the need to venture to a faraway location. Enjoy a new quality of life and well-being, all thanks to Edenvert's Vienna!
Triple Panel Combinations with Natural Transition
Greenery of similar style but different forms, seamless transition and modifiable combination of triple panels resulting in an unparalleled visual effect from every angle.
10+ Kinds of Leave Shapes
1000+ Plants per Panel
Diverse foliage, rich colors, natural appearance full of grace and vitality.
Excellent Layering
Varying heights of plants bringing sense of natural layering, lush and brimming with exuberance.
Ultimate Guide to Vienna Series
Indoor vertical garden is the perfect answer to all your beautiful decoration dreams! They look as attractive as the natural beauties and don't need a constant eye on them either.
There are many other benefits of using artificial plants, whether it is for your outdoor or indoor locations.
Features & Benefits
Very low maintenance
Last Forever
Relieve Stress
Boost the mood
Imbue positive energy
Enhance productivity and creativity
Applications
Office screening
Office screening has always been a positive way to solve many workplace issues, such as privacy and noise. It becomes even more essential to keep employees distanced to ensure a safe return to work, as well as minimize the many distractions in an open office for improved staff productivity.
Indoor vertical garden provides a more flexible and creative choice of office screens, and your workspace will instantly feel more interesting and unique.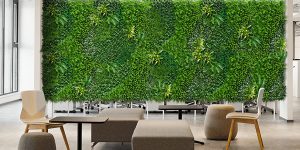 Retail space
Adding a vertical wall garden into the retail space amplifies the brand engagement and can create a fun area for tourists and visitors to chill out and upload the perfect selfie to Instagram. Plain shop walls are instantly renovated and suddenly become a high impact, stylish focal point of a store or brand space.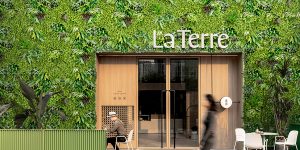 Welcoming backdrop
Greenery wall decor is no longer a privilege that only premium brands or luxurious locations can enjoy. Their affordability and ease of installation mean that they can add a sprinkle of magic to any environment and reap exactly the same rewards.
A splash of greenery wall backdrop in reception areas instantly brings a blank wall to life with a welcoming backdrop of beautiful foliage. Further incorporating logos with stylish cut out brushed steel lettering signage into the artificial green wall, creates an ideal branding opportunity that really adds that wow factor.
Customisable vertical garden to match the interior
When designing an interior space, a green wall may not provide the exact colour match you need. Our indoor vertical garden provides additional details of specific colours. You can mix and match different foliages or use a single colour, either option creates a hyper realistic garden wall and one that can complement the colours of your interior design.
Whatever your wall shape or design requirements, our ultra-realistic artificial green walls adapt to any shaped spaces, something which living plant walls cannot do without looking out of place. Our artificial wall panels can be cut and customised to fit any size space, shape and curve and still look realistic.