Artificial Willow Fence
Artificial willow fence series is suitable for various applications in both residential and commercial environments, such as gardens, courtyards, parks, factories, etc. Our customers can choose from a wide variety of styles in our willow trellis range, according to their preferred type of plant and design. Safeguard your privacy and enjoy elevated aesthetics with EdenVert's stylish artificial willow fences.
As a professional artificial plant supplier, EdenVert chooses only 100% pure raw materials with strong UV stability to make sure your artificial willow fence retains its vividly verdant, luscious look for many years to come. All ourartificial plant products have passed a 5000h UV test, which guarantees that even in high temperatures and under strong sun exposure your artificial fence will keep looking as good as new.
Ultimate Guide to Artificial Willow Fence
Whether in commercial, industrial or domestic settings, fences are practical but often not attractive to look at. When you stare at a simple fence outside the window, it is uninspiring.
Installing EdenVert's artificial willow fence will enhance and create a stylish and relaxing environment that is pleasing to the eye.
Features & Benefits
Easy to install
Less maintenance
Low overhead cost
No seasonality
More durable
Can thrive anywhere and everywhere
Applications
Revitalize the garden with artificial willow fence
The garden fence is often overlooked as a place to add inspiration and luxury. In fact, an artificial green wall on a garden fence can be as inspiring or visually interesting as living plants but without the need for expensive and continuous maintenance and upkeep, making them more attractive for busy homeowners.
Rather than attaching planters and filling them with flowers, remembering to water them and keep them fed, the expandable faux privacy fence from EdenVert looks stunning all year round without the need for watering and natural light.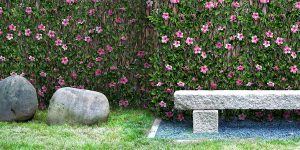 Make industrial spaces welcoming with artificial plant wall
For those working in industrial workplaces, including renovated warehouses, having a presentable space may still be a priority. Metal fences and exposed walls, while practical, are restrictive to design and comfort.
EdenVert's artificial plant panel can offset intense or unattractive metal features and create warmth, indoors or outdoors. Thanks to the versatility of our panels, they can be easily attached to any material.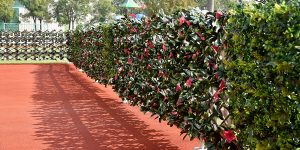 Why choose EdenVert?
EdenVert is tested to the highest standards and provides the longest guarantee on the market. We also provide a full service, from consultation, design and research to after-sales care and customer satisfaction.
In order to provide you with the most suitable products, we provide professional consulting services. Our sales staff are experienced and have extensive knowledge of production processes, product qualification, and application scenario adaptation.
Prompt and economical delivery
Our production process and delivery process are closely connected, and our mature logistics network can ensure the rapid delivery of products and reduce transportation costs. We will update the information in time to let customers know the progress of the order.