Artificial Willow Fence for Privacy Screen
Experience the versatility of our artificial willow fence series, designed to enhance any residential or commercial environment. Whether it's for garden, courtyard, park, or factory, our wide range of willow trellis ensures there's a perfect fit for your preferred plant and design. Embrace both privacy and aesthetic appeal with EdenVert's artificial willow fences, adding a touch of elegance to any space.
As a trusted artificial plant supplier, EdenVert prioritizes premium quality materials with excellent UV stability for our artificial willow fences. Our 100% authentic raw materials are carefully selected to ensure a lush and vibrant look that lasts forever. Our artificial plant products are rigorously tested for 5000 hours under intense UV conditions, guaranteeing unrivaled durability. Regardless of temperature or sun exposure, the artificial willow fence will maintain its pristine condition, offering timeless appeal that will stands the test of time.
Why Choose EdenVert Artificial Willow Fence?

Easy Installation
Expandable faux privacy fence provides a practical solution for homeowners seeking easy installation. Available in panel form, they can be swiftly assembled without requiring specialized tools or expertise. These fences cater to those who enjoy DIY projects or wish to minimize installation expenses. Their user-friendly design allows for hassle-free setup, rendering them ideal for individuals looking for a cost-effective and accessible privacy solution. With artificial fence panels, homeowners can effortlessly enhance outdoor spaces while enjoying the benefits of convenience and affordability.
Versatility
Our artificial willow fence is a versatile choice for the outdoor space. It offers the convenience of being easy to expand or contract, making it a flexible solution that can be tailored to your specific needs. Whether you want to enclose a larger area or need more privacy, this fence can be adjusted to your desired length and height. Its adaptability ensures it can fit seamlessly into any outdoor space, providing a customizable and aesthetically pleasing option.

Aesthetic Appeal
Artificial fences are available in a variety of designs, styles, and colors, allowing you to choose an option that complements your home's aesthetic. Whether you desire a modern, timeless, or customized color scheme, there is an artificial fence to suit your preferences. With this extensive range of selections, homeowners can easily improve the ambiance of their outdoor spaces, achieving a harmonious blend between their desired aesthetic preferences and practical privacy requirements. Elevate your outdoor area with ease and strike the perfect balance between style and functionality.
Transform Your Surroundings with EdenVert Artificial Willow Fence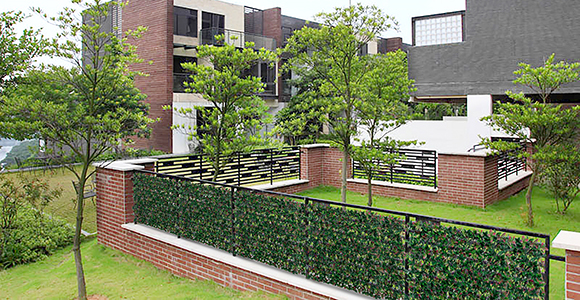 Revitalize the Garden
The garden fence, often underestimated, holds great potential for inspiration and luxury. Surprisingly, attaching artificial plant panels to a garden fence can provide as much inspiration and visual appeal as live plants without the costly and ongoing maintenance. This makes it especially attractive to busy homeowners. Say goodbye to planters, watering schedules, and feeding routines. Artificial plant fence remains stunning throughout the year, requiring no watering or natural light. Enjoy the beauty without the hassle and effortlessly enhance your garden's appeal.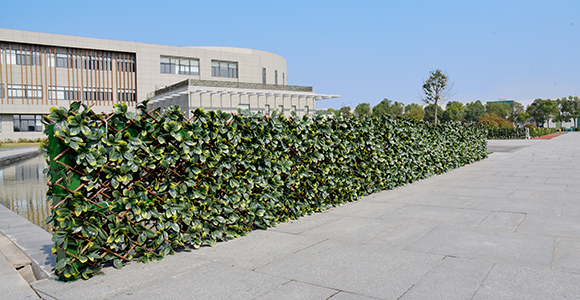 Make Industrial Spaces Welcoming
Even in an industrial setting like a renovated warehouse, having a presentable space is still a top priority. However, metal fences and exposed walls can limit design possibilities and comfort. An artificial willow fence is a great choice for offsetting these strong or unattractive metal features and bringing warmth to indoor or outdoor spaces. Our panels are versatile and easily installed to any material, giving you the freedom to create the ideal workspace without compromising utility or style.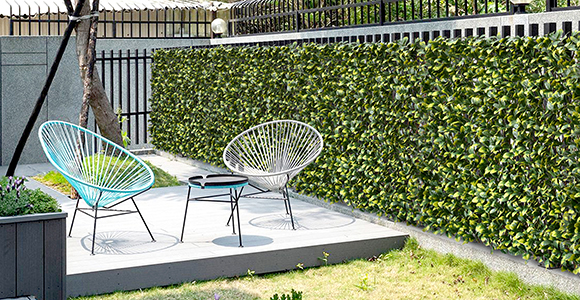 Privacy Screening
The beauty of artificial leaf fence lies in its ability to transform empty vertical spaces into vibrant green havens. Whether it's wire mesh, metal fencing or unused areas, this ingenious solution offers privacy and tranquility to overlooked or open gardens. The lifelike foliage of fake plants not only protects your outdoor space from prying eyes, but also creates a peaceful atmosphere that makes you more relaxed.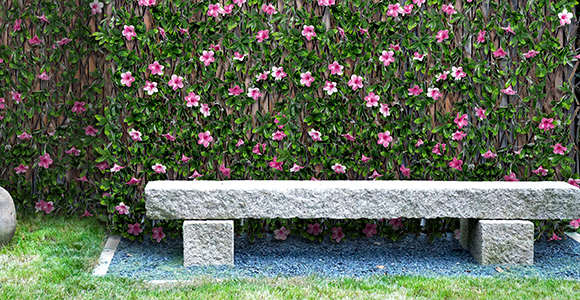 Hide Unwanted Views
Artificial willow fences offer a versatile and stylish solution for hiding unwanted views both indoors and out. In addition to camouflaging damaged walls, these artificial fences effortlessly conceal air-conditioning units, blending seamlessly with their surroundings and providing an original backdrop. Their versatility also extends to the landscape, making them ideal for disguising problem areas that could spoil the overall aesthetic. Whether it's a neglected corner or an unattractive structure, a faux plant fence can transform these spaces.
Benefits of Artificial Willow Fence
Privacy
With its ability to provide exceptional privacy, artificial willow fence can create spaces of seclusion and tranquility in your outdoor area. These fences subtly shield your surroundings from external view, ensuring a high sense of privacy while still maintaining an appealing aesthetic. By harmoniously balancing functionality and visual appeal, faux privacy fence acts as reliable barriers that grant you the freedom to enjoy your outdoor space with peace of mind and undisturbed serenity.
Durability
Thanks to the high quality materials used in their construction, artificial willow fences are extremely durable and will maintain their optimum condition for many years to come. These fences feature very realistic plants that have been specially designed to be UV resistant to prevent fading when exposed to sunlight. Furthermore, they are immune to adverse weather conditions such as heavy rain, strong winds or snow, ensuring that the fence remains in its best.
Maintenance is a Breeze
In contrast to the living plant fence, artificial willow fence demands minimal upkeep. They eliminate the need for watering, pruning, or trimming to preserve their form and visual appeal. This means significant savings in time, energy and resources as you no longer need to invest in maintaining real plants. This hassle-free solution provides a convenient way to enjoy a beautiful and well-maintained fence without the ongoing maintenance associated with live plants.