Athens Series
Tasteful Simplicity, Timeless Elegance
Tasteful simplicity is not easy to achieve. Athens series is just about to become the new star of the mid-range and high-end market, featuring both a stylish appearance and a friendly price. A combination of several different leave shapes endows the whole composition with an outstanding, elegant appearance, which caters to the taste of many customers. Invite nature to your home with Athens artificial plant panel and give your environment a new, chic look.
Elegant Appearance
Reasonable Price, Reliable Quality
Wide Range of Color Combinations
Ultimate Guide to Athens Series
Artificial plant panel is a great solution for those people looking to create a feature wall in their home or give visitors to their business a warm and attractive welcome. The use of artificial plant wall is on the rise as interior designers favour the many benefits that it offers compared to real plants.
Features & Benefits
Low cost
Low maintenance
Durable & long-Lasting
Nobugs or pests
Noise reduction
Stress reduction
Applications
Reception area
This area usually gets the most traffic and it is, therefore, important to ensure it looks elegant and eye-catching. You can achieve this with the imaginative use of artificial vertical garden.
School or hospital corridors
Green is a soothing color. Why not use it to soothe where it is most needed? Life for students, teachers, doctors, and patients is almost always full of pressure, and a life-like artificial plant wall panel in corridors can help them shed some of it.
Unsightly walls
Cover unsightly walls with beautiful faux plant wall panels. One of the best things about artificial greenery walls is that you can have boxwood, eucalyptus, photinia, ferns or mimosa anywhere you like without worrying about their survival.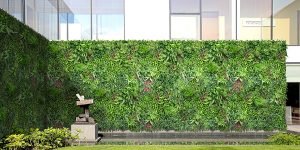 Living room
Green plants in living rooms give the space a lived-in and cared-for appearance. However, not everyone is blessed with a green thumb; but this does not mean you can't have some greenery there.
You can have entire walls or pillars with artificial creepers, ivy or any plant of your choice, with the added benefit of not having to worry about whether they are getting the sunlight they require; or finding someone to water them when you have to go out of town.
Bathroom
Imagine yourself looking at a lush green wall of your favourite plants every time you soak in your bath tub. Don't you feel yourself relaxing just a wee bit even as you think of it?
However, having a whole wall of living plants would mean that it takes a lot of time to maintain them, not to mention the heartbreak every time one of them withers and dies; try installing artificial plant panels instead.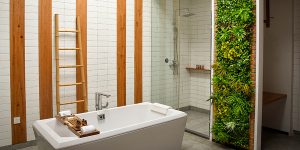 Most realistic artificial plant panel from EdenVert
At EdenVert, we're proud to have developed artificial plant panels that are virtually indistinguishable from any living plant wall. Planting patterns, varied heights and textures, plant density, overlap and the materials used all affect the natural look and feel of your green wall. We've considered it all, so you only need to consider where you want to place your gorgeous wall.