Why You Should Have a Vertical Garden in Your Office

2022 12 28
The office is more than just a workplace. It's an environment where we build relationships with colleagues, chat over coffee breaks, get the best ideas for new projects, and receive suppliers and clients. At the same time, there is a representative aspect to the office that must be both welcoming and functional for employees, visitors and guests.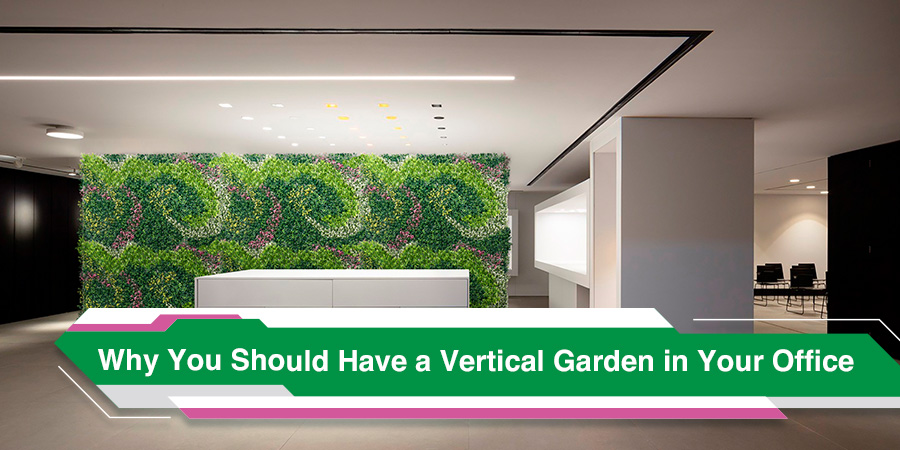 A creative solution to furnish the office, improve the employees' productivity, and convey the company's environmental awareness is to build a vertical garden decoration.
Benefits of building a vertical garden at office
One of the most significant advantages of choosing a wall garden is that it can be built in any space, big or small, and doesn't require any complicated installation or renovation. And, if your office is already tiny, an artificial vertical garden allows you to introduce the greenery without overcrowding your space.
Few design options allow a complete space overhaul without removing walls or repainting. But an artificial vertical garden definitely can. Choosing a large, blank wall for the installation will provide a maximum effect and make employees feel like they are working in a new space.
The cost of an artificial greenery wall is much cheaper and more accessible than refurbishment or any other substantial change, often taking just a day.
If your office requires a renovation, before investing thousands of dollars in a renovation, look at a vertical wall garden – it may be what you need.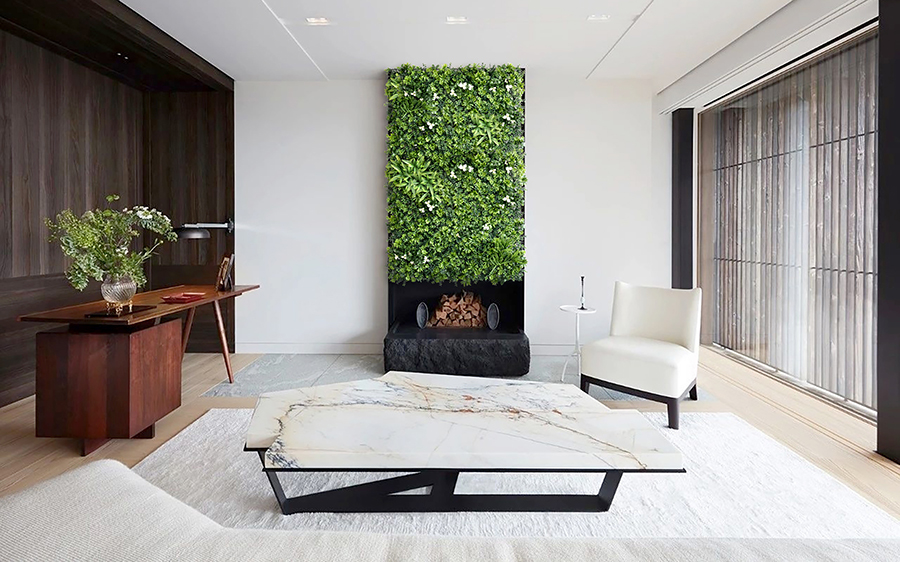 Impress potential clients
Is your workplace a client-facing office? You could hold frequent meetings with potential clients and company shareholders. What impresses them is a beautiful office space that feels intimate and inviting, rather than dull and overly corporate.
People always remember the feeling the space gave them, which also reflects on your company. Installing a vertical garden in your office space can enhance the ambience of your workplace and leave a deep, lasting impression on your clients and stakeholders. There's nothing more memorable than being greeted with lush, vibrant greenery.
Working in a green environment has a positive effect on people's well-being. The work environment directly affects the health and mood of employees. Changing this atmosphere with green is an easy way to make employees happier, healthier, and more energetic. A vertical garden wall in your workspace allows you to relax and reduce stress.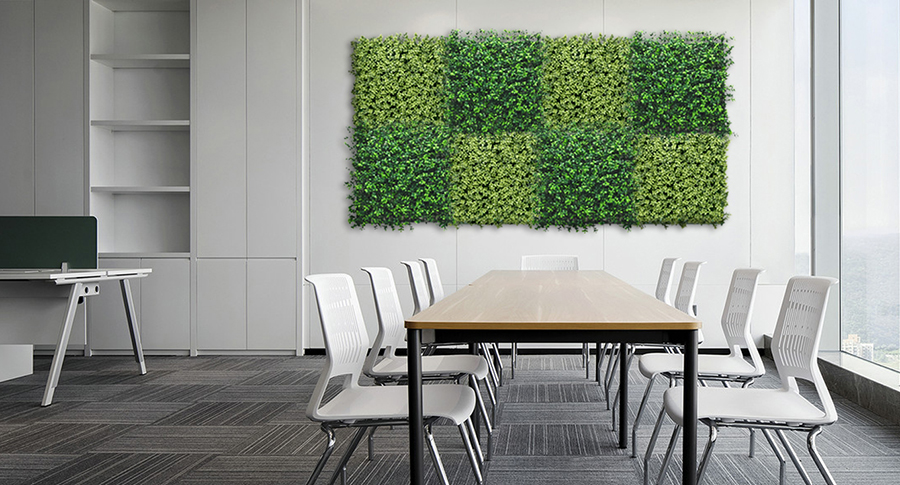 The greenery adds vitality to any office environment, and the bright colors positively affect anyone's mood. Moreover, working or living in a green environment brings people together. An artificial garden wall might be the next best option if your office space doesn't have expansive natural views.
Studies have shown that green is the best shade to promote balance, as it is the easiest for the eyes to perceive without adjustment. We all know the importance of balance in everything we do, as efficiency and satisfaction depend on the requirement of balance, and green reminds employees of this. If your workplace values balance and employee well-being, reinforce this with an artificial green wall.
Create a happy atmosphere
An effective way to show your employees how much you value their hard work is to provide them with a rewarding, happy, and healthy workplace. The best starting point is beautifying the space and ensuring areas are comfortable and functional.
Ergonomic desks and casual meeting lounges are the new standards in office spaces, allowing maximum comfort. As for the aesthetic appeal, installing an indoor vertical garden  may be all that is needed to create a happy atmosphere.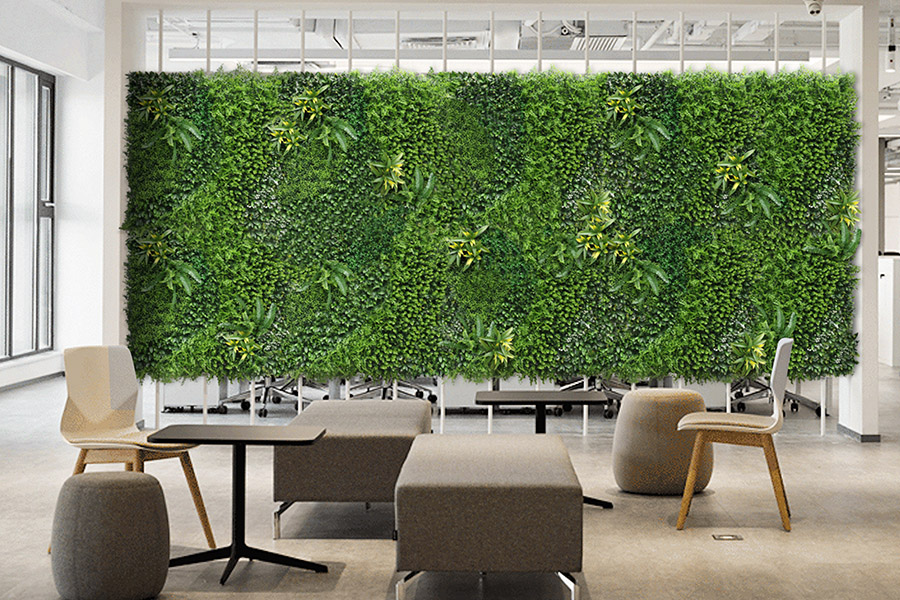 Our artificial wall garden is accessible to intsall. On the other hand, natural grass wall is challenging to install and can cause significant damage to an office. In some cases, plants may take some time to become fully functional.
Since the artificial garden consists of synthetic interlocking panels, installation is simple with minimal disruption. Even better, there is no waiting period for the plants to be fully functional. It means you can start reaping the benefits right away. In an office environment where time is money, this is invaluable.
Conclusion
Imagine how people would experience your business through an ultra-realistic vertical garden wall in your office. Designed functionally to reduce maintenance and adapted to any environment – whether indoor or outdoor – our artificial vertical garden makes an impact. EdenVert's greenery walls for office spaces are designed to transform dull spaces into unforgettable experiences.
The artificial greenery wall of EdenVert can achieve more and is the choice of many luxury workplaces around the world. The reasons why EdenVert is the preferred brand include:
More durable, longerlife expectancy
Flexibility, regardless of the space available
Realistic appearance with minimal care
Quick and easy installation, place them wherever you want
Indoor 8 years & outdoor 5 years warranty
Based on more than ten years of product development and manufacturing experience, our vertical garden products meet the highest leading laboratory test standard. We are committed to providing the best customer service, and we regard customer satisfaction as our top priority. Schedule a free design consultation today! Contact us to learn more. E-mail: [email protected].