How to make an artificial living wall

2022 12 15
The artificial living wall has become increasingly popular recently, especially in luxury home design, business layout and decoration. They are the perfect way to bring nature into urban areas and add lush foliage to small patios and balconies where people can't maintain natural plants.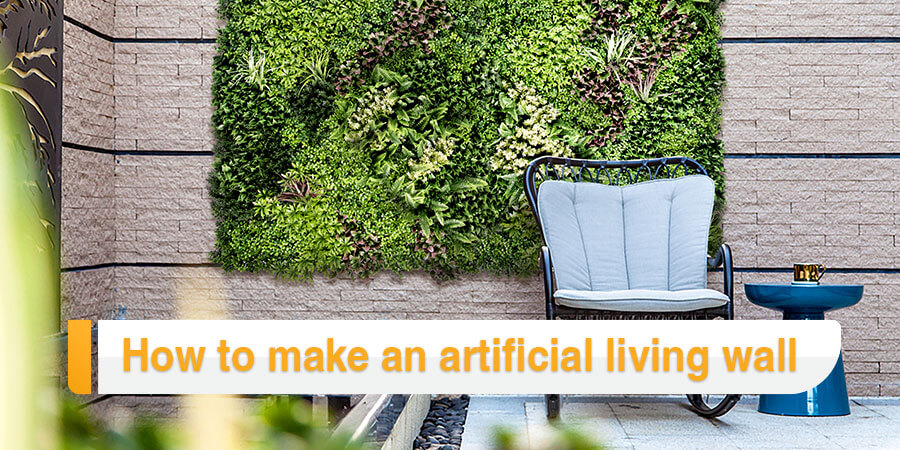 What is an artificial living wall?
An artificial living wall is a vertical garden system that uses interlocking panels of faux plants to create a decorative display. They are usually assembled in sections and fixed to a wall or other surface.
High-quality artificial green wall decoration features low-maintenance and long-lasting decorative advantages, which can add visual interest and luxurious touch to the home, business or commercial space.
Steps to make an artificial living wall
When you build a fake plant green wall, you can flex your decorative skills to create a unique focal point for your space. If you want something more than a standard piece of wall art to liven up a room, read on to learn how to make an artificial living wall.
Select a location
One of the best things about decorating with a faux living wall is that it looks great anywhere. No matter which location, a faux greenery wall is the perfect statement piece for your home, office, or event space.
Indoor vertical garden
If you're looking to spruce up your interior, look no further! An indoor vertical garden can add the right finishing touch to your home. It adds beauty to the living room, kitchen, or anywhere you entertain and spend time. Make it a party to remember with artificial plant walls – they're perfect for bridal showers, birthday parties, and more.
You want to liven up your business with some decorative flair. The walled garden is a beautiful landscape in the office environment. You can create an indoor oasis with an artificial living wall that provides a sense of relaxation in an otherwise stressful environment.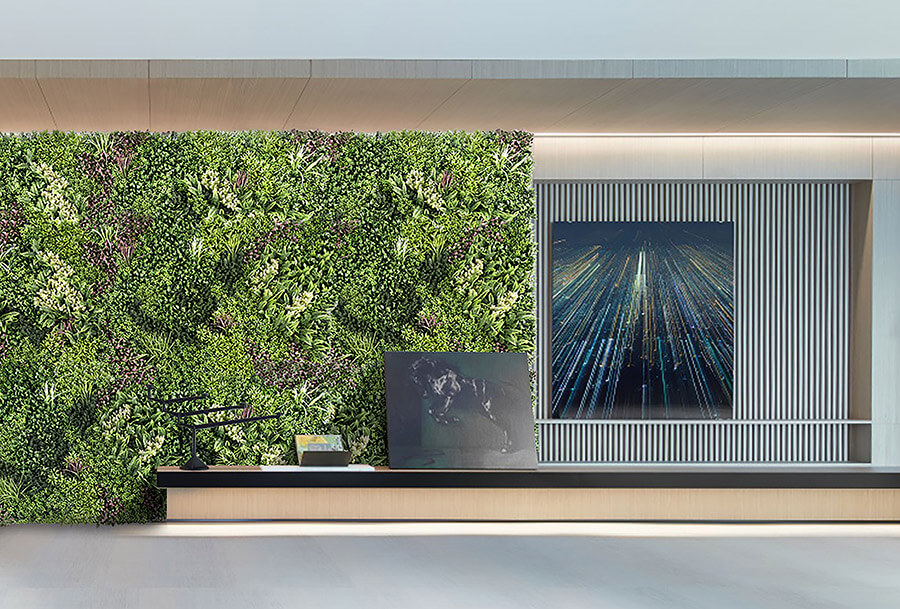 Outdoor artificial living wall
Fake plant wall decoration isn't just for indoors! A fake living wall makes a statement as it greets your guests when installed next to your front door or on a covered porch. It is a great way to welcome people into your living space and leave a lasting impression.
The artificial greenery wall is also a virtually maintenance-free way to add a tropical or forest atmosphere to your yard or patio.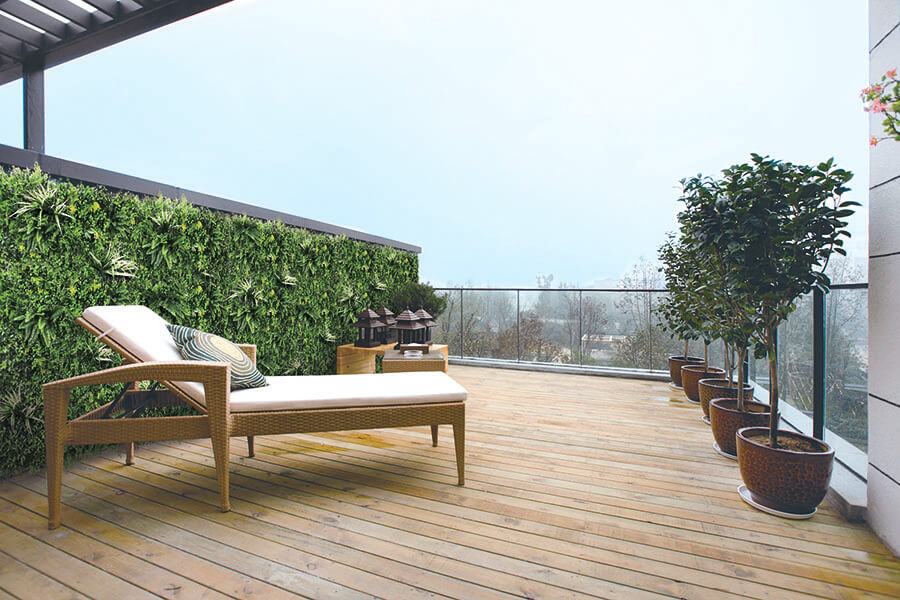 Event or activity locations
Whether setting up at a convention, bridal show, or craft fair, an outdoor faux living wall can make a difference.
Guests and customers will be impressed with your flawless artificial living wall backdrop. A faux living wall backdrop is sure to grab attention and create an unforgettable experience, especially if there are photo ops involved.
Event attendees love taking selfies, and the faux greenery background is perfect for them. Guests will be lining up at the wall to take photos, and the word will quickly spread on social media.
Gather accessories
Before starting to make a faux living wall, you need to prepare suitable tools and decoration materials.
We recommend the following accessories for your artificial wall:
Tape Measure
Steel Wire Grid
Drill
Staple Gun
Plastic Ties
Scissors
 Measure the space
After choosing a location for your artificial living wall project, it's time to plan. Using a tape measure, measure the area. It will help you determine the exact dimensions of your artificial plant wall. It will also be a reference point when you start creating.
Calculate the quantity of panels
With the area you've just measured, you'll know the quantity of artificial green wall panels you need, so place an order accordingly. Or you can check with our professional team for the quantity in need.
Connect the panels with the easy-snap-to-lock system
After getting the size of the area and the quantity of panels, the next step is to connect the panels together by using the easy-snap-to-lock system which comes with the products. Only few operation works will be needed to complete the connection between panels.
Connect all the panels together before fixing them on the wall. If your measurement area and the quantity of panels are different, you can make adjustments at this time.
Measure to define the fixed point for the steel wire gird
The brick or concrete wall is harder and difficult to staple nails. So it is necessary to fix the steel wire grid before installing the artificial wall panels. This step is to confirm the fixed points for the steel wire grid.
Fix the steel wire grid on the wall
Fix the grid board on the wall. The tool used is a drill. It looks very complex, but it is actually a very simple step. Just pay attention to safety. With the support of wire mesh, the panels can be more stably installed on the wall, and the fixation will be easier.
Fix the panels on the steel wire grid with plastic ties
Plastic ties need to be used in this step because the panel needs to be fixed to the wire mesh. The plastic tie is convenient and removable.
Trim the extra plastic ties to finish the installation
The final step is trimming. If there is the extra length for the plastic ties, just use scissors to trim the extra length until they fit perfectly.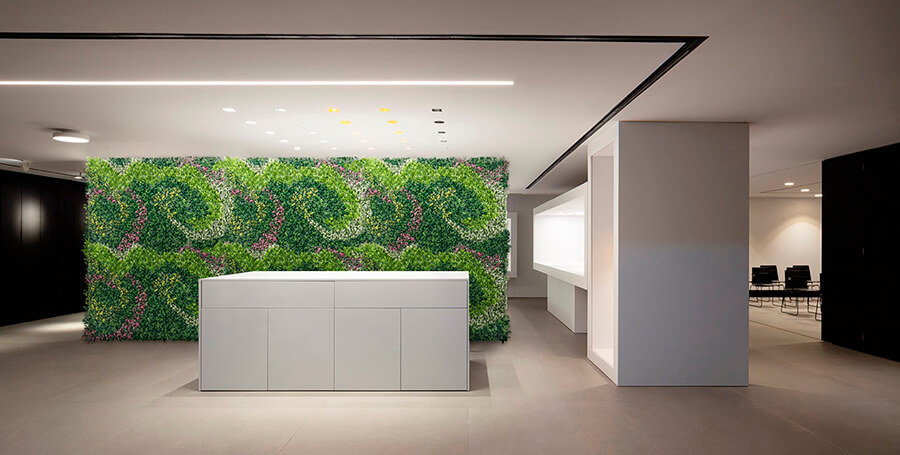 Where can you use an artificial living wall?
Honestly, almost anywhere! Here are some ideas:
In the waiting area of a restaurant, salon, or office
In a dining room
On a patio or balcony
In a bright hallway
In a dark porch
Hide an ugly wall
Provide privacy from neighbors
His defence
There are really no limits – just use your imagination!
Why choose a fake plant wall over a real one?
No seasonal changes
Real plants shed their leaves and flowers, causing them to change in appearance and lose their appeal; this doesn't happen with faux plants as they remain the same throughout the season. But it's best to wash them occasionally to keep them looking fresh and attractive at all times.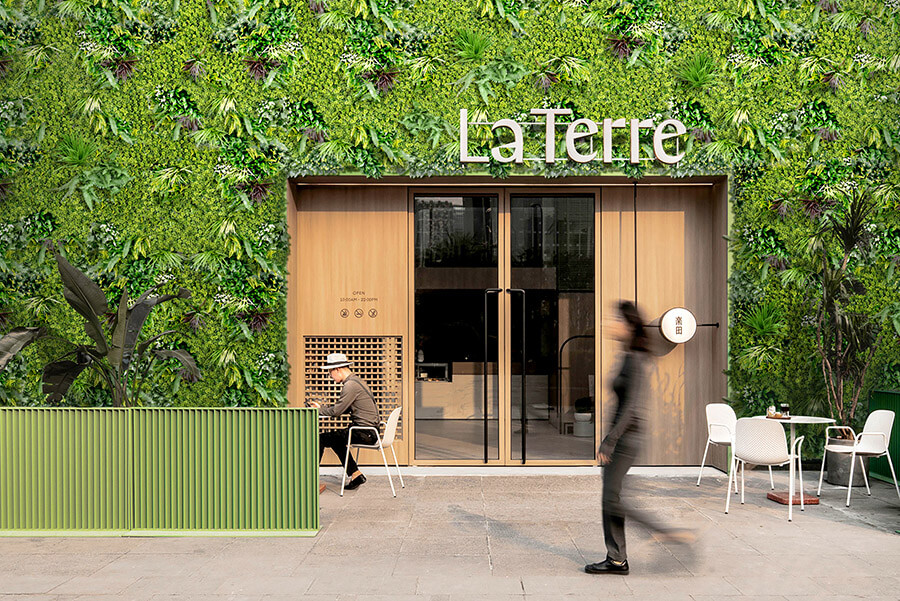 Don't require much attention
Having real plants means you need to keep an eye on them, such as watering, changing soil, or repotting them when they get bigger. This is the exact opposite when you go for fake plants.
You don't even have to trim them. All you need to do is give them a quick dusting to make them look their best. You also don't have to worry about picking up fallen leaves, as there are no such things when it comes to fake green walls.
Long-lasting
Artificial living walls are highly durable and capable of appearing at their best for many years because of the high-quality materials used in their production. UV-resistant plants are often used, ensuring they won't fade when sunlight exposes them.
They also won't wither or be damaged by extreme weather, ensuring your green walls look fabulous no matter what the weather is like, whether it's heavy rain, strong wind, or snow.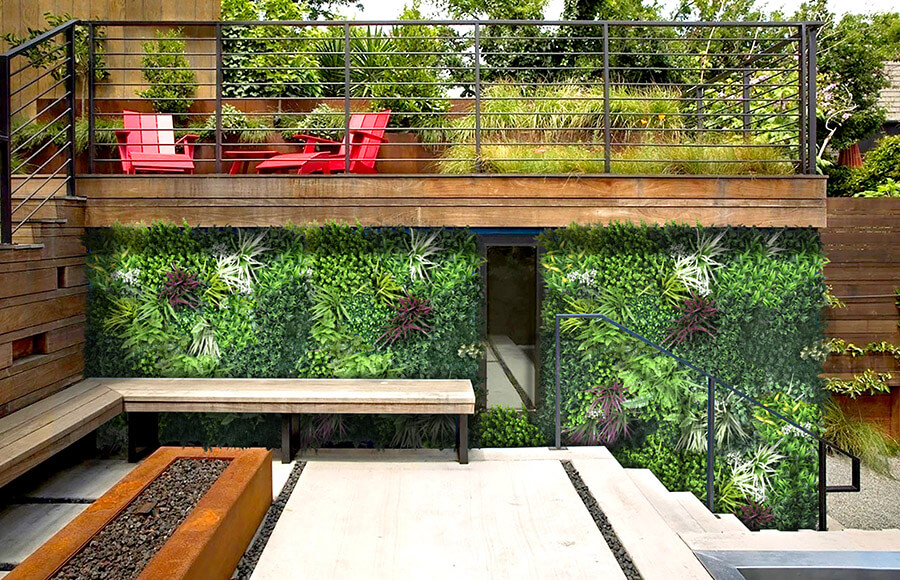 How to care for an artificial living wall?
If the faux living wall is inside your home or business space, all you need to do is dust it now and then. To clean, take a long duster and dust around the leaves to remove any cobwebs. Outside, you may not need any maintenance at all!
Conclusion
As you can see, the artificial living wall has cost-effective, low-maintenance, high-impact features that can serve various purposes. It's easy to install and maintain, customized to your flavour, and doesn't require an expert gardener to keep it looking great year-round.
If you have any other questions about artificial green walls or want to start your project, please contact us today. We are here to help you.