Artificial Green Wall Panels: A Guide to Use and Benefits

2023 03 22
Artificial green wall panels are a popular and innovative solution to incorporate natural beauty into living or working spaces. With vibrant panels, you can easily enhance your living spaces or commercial projects with stunning accent walls that require no maintenance.
Whether you want to create a striking feature or simply add a pop of color, artificial green wall panels make it effortless to achieve your desired look. Just keep reading to discover all the essential information you need to know about these game-changing wall panels that are revolutionizing the decor industry.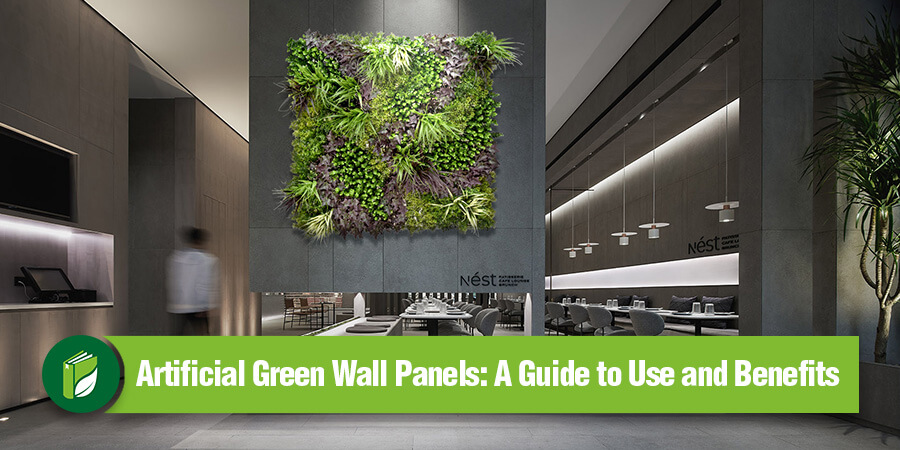 What are artificial green wall panels?
Artificial green wall panels are expertly crafted to mimic the appearance of a lush vertical garden, with interlocking fake plants that look nearly identical to the real thing.
Whether used individually or pieced together in small sections, these lifelike panels create a stunning wall of greenery that can be easily customized to fit your space. With their versatile design, you can create the perfect size and shape to suit your needs.
Types of artificial green wall panels
Artificial green wall panels are ideal for both indoor and outdoor use. Made from flame-retardant and UV-resistant materials, they are not only durable but also 100% recyclable, making them an environmentally friendly choice. With a diverse selection of panels to choose from, you can easily achieve the exact aesthetic you desire.
Some of the available options include:
Artificial hedge panels
Artificial hedge panels are a classic staple in the world of artificial plants and have enjoyed enduring popularity in the market. They offer a wide selection to suit various tastes and needs and are beloved by customers for their natural and lush appearance. By combining different types of plants, such as boxwood or ivy, these artificial hedges can easily elevate any space's aesthetic.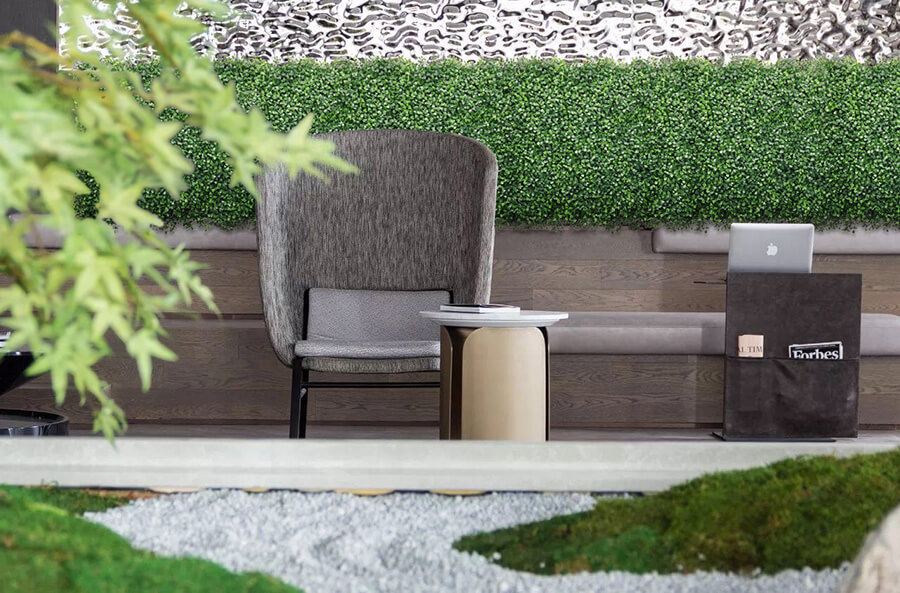 Roma Series vertical garden wall
Roma Series is our flagship green wall panel type, beloved by our high-end customers for its stunning beauty. Hundreds of leaves are combined in countless gorgeous combinations, adding an artistic touch to any environment.
Choose the combination that best suits your unique taste and enjoy the beauty of nature with this wonderful vertical garden wall. It's a perfect way to elevate your daily surroundings and create a natural, calming atmosphere.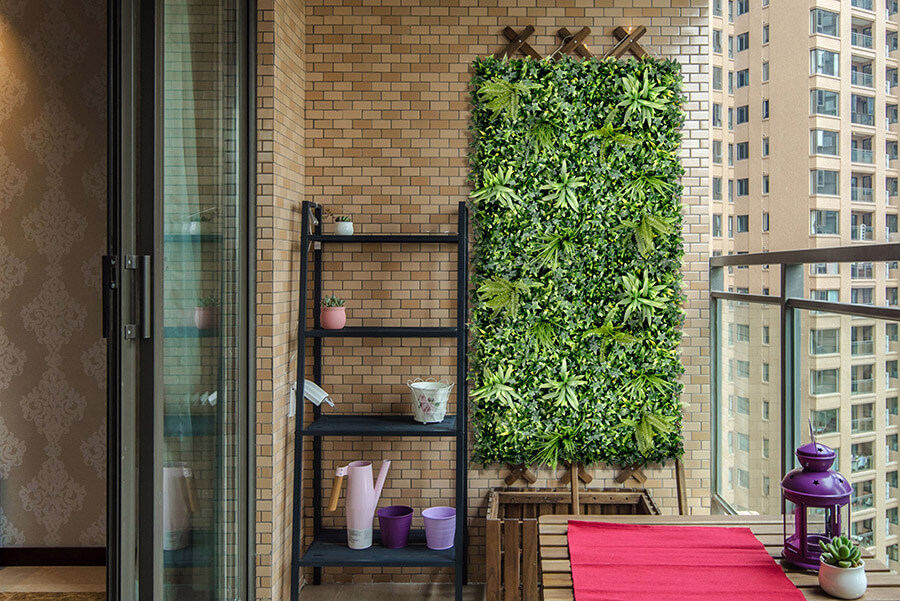 Athens Series artificial plant panels
Achieving tasteful simplicity can be challenging, but the Athens Series is poised to become the new star in the mid-range and high-end market with its stylish appearance and friendly pricing.
The combination of various leaf shapes gives the composition an elegant and outstanding look, appealing to a wide range of customers. With Athens Series artificial plant panels, you can bring the beauty of nature into your space and elevate your surroundings with a fresh and chic touch.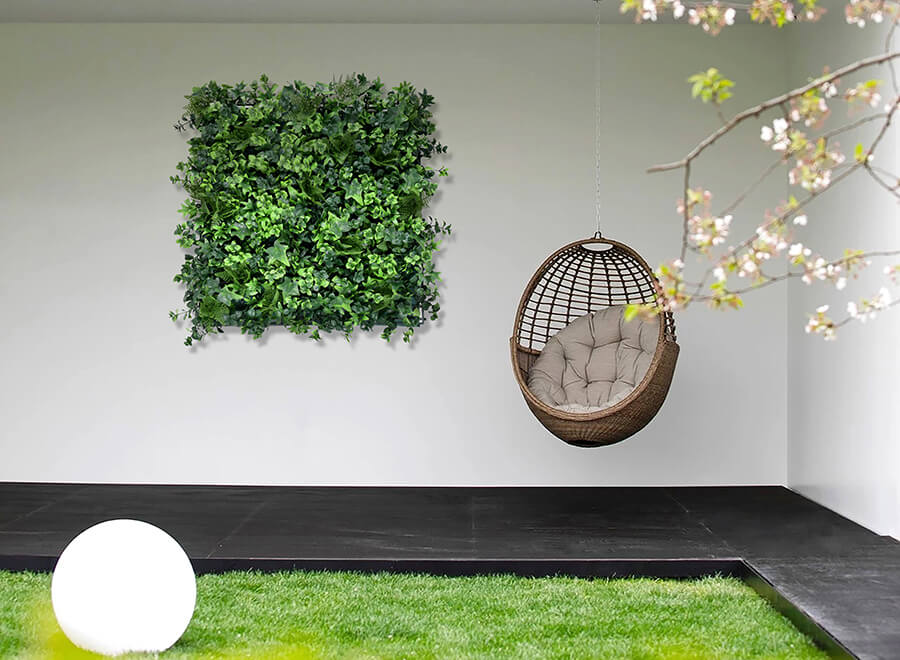 Vienna Series indoor vertical garden
Experience the magnificence of nature without having to travel far with the Vienna Series indoor vertical garden. With a variety of stunning foliage designs to choose from, you can create a luxurious and majestic atmosphere that brings your dream green oasis to life. Whether it's in your home, yard, or office, the Vienna Series garden wall panel is designed to help you relax and unwind in style.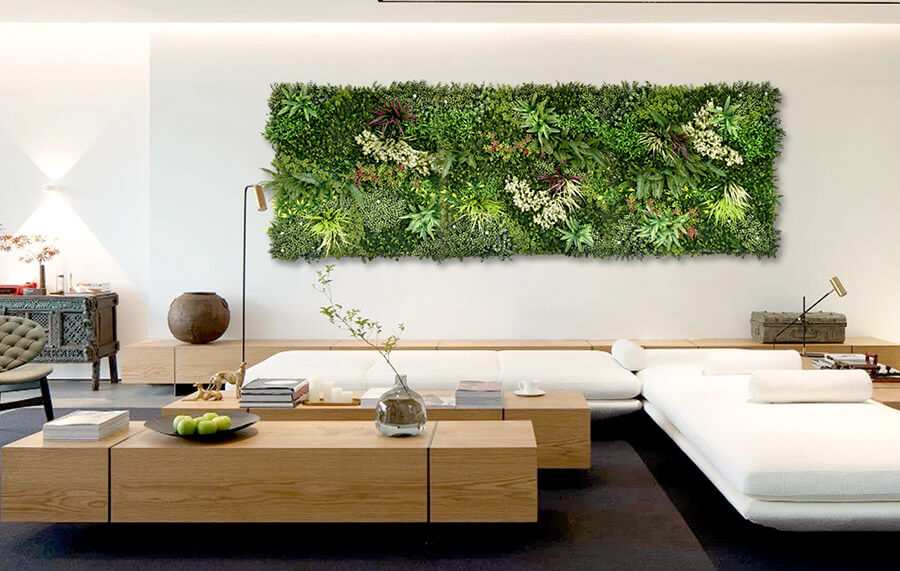 How to integrate artificial green wall panels into your decor
Artificial green wall panels can enhance any design concept by providing a natural ambiance wherever they are placed.
Here are a few examples of how these beautiful panels can be used in your home or business:
Transform eyesores into art
The unsightly elements of your home, such as meters, piping, and fuse boxes, are often the most challenging to conceal. But with the addition of greenery wall panels, you can transform these eyesores into beautiful canvases. Suddenly, your home's most unappealing features become an opportunity for natural beauty.
Revampold or worn fence
Greenery panels are the perfect solution for sprucing up an old or worn fence or adding a pop of color and life to a plain backdrop. They work well in both residential neighborhoods and commercial areas, providing a sharp and stylish aesthetic to the surrounding environment.
Divide up the space
Artificial greenery wall panels are a great way to divide up a space, whether it be in your home or business. Rather than using traditional room dividers or partitions, green walls add a unique touch of natural beauty and vibrancy to any room or outdoor area.
They can be used to create private areas within a larger space, such as a sitting area in a backyard or a reading nook in a living room. The green wall panels come in a variety of shapes, sizes, and colors, so you can customize them to fit your specific needs and design aesthetic.
Create a feature wall
Faux greenery panels can be used in a variety of settings to create a unique and eye-catching feature wall. Use them as an elegant backdrop for memorable wedding photos or add an exotic touch to exhibition spaces and showrooms. These panels are versatile and can be tailored to suit any theme or style, offering endless design possibilities.
Design a chic gallery wall
Don't limit your frames to just art – use them to showcase green wall panels for truly distinctive home decor. Trim individual panels to size and add a decorative frame for a unique aesthetic. For a modern fusion of nature and art deco, frame multiple panels and stagger them on your walls. This creative use of green wall panels is sure to spark conversation and impress your guests.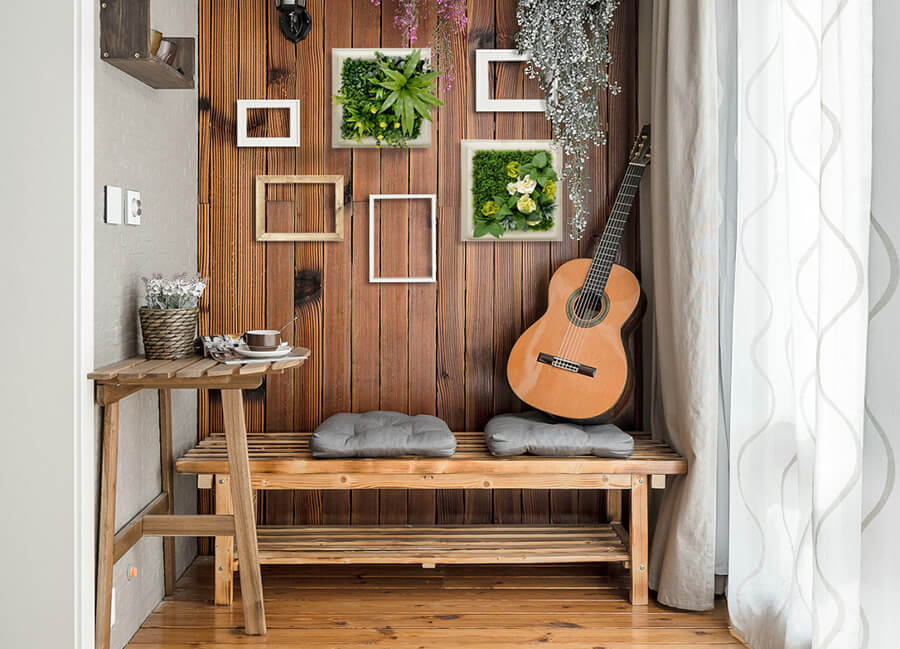 Benefits of using artificial green wall panels
You may be wondering why choose artificial green wall panels over real plants. Following are some of the advantages of artificial green wall panels that natural plants cannot offer.
Lower cost and maintenance
Fake green wall panels offer an affordable and practical solution for those who want to incorporate greenery into their indoor spaces. They are a cost-effective alternative to building a living wall and are available in various sizes and shapes, making them a versatile option.
Unlike real plants, faux greenery wall panels require no watering or maintenance, eliminating the problem of water dripping down walls and onto floors. They are ideal for commercial and residential spaces alike and are not affected by seasonal changes, ensuring year-round beauty. With their lifelike appearance and low-maintenance nature, artificial green panels are an excellent way to bring the outdoors inside without any hassle.
Versatile for all environments
Unlike natural plants, artificial greenery panels are not constrained by climate conditions, seasonal changes, or the availability of sunlight. This means you can place them anywhere you like, without having to worry about their survival. Green wall panels remain unaffected by the surrounding environment, making them a low-maintenance and versatile option for adding a touch of greenery to your home or office.
More durable and long-lasting
Artificial green wall panels have come a long way in terms of durability and longevity. Unlike real plants that require specific conditions to thrive, artificial plant panels are designed to withstand a range of environmental factors and can last for years without requiring any maintenance.
They are typically made from high-quality materials that are resistant to fading, weathering, wear, and tear, ensuring that they remain to look lush and vibrant for a long time.
Additionally, some manufacturers use UV inhibitors to protect the green wall panels from the damaging effects of sunlight. This means that even when used outdoors, the panels can maintain their original appearance for years.