Gain Privacy in a Stylish Way with Artificial Fence

2023 04 3
Privacy is a constant concern for most people. When our neighbors are getting closer. They can easily observe our backyard, or passers-by can see our balcony.
We can take back some privacy with the help of artificial fences and a little creativity. By installing an artificial fence, we can shield ourselves from prying eyes and create a cozy, private outdoor oasis.
Faux privacy fence comes in a variety of materials, styles, and colors, allowing us to choose the option that best complements our outdoor space.
This low-maintenance solution is gaining popularity among design-savvy individuals who appreciate the ability to regain privacy while enhancing the aesthetics of outdoor areas.
Faux fence strikes a balance between function and style. It is ideal for anyone looking for privacy without sacrificing the aesthetics of their outdoor space.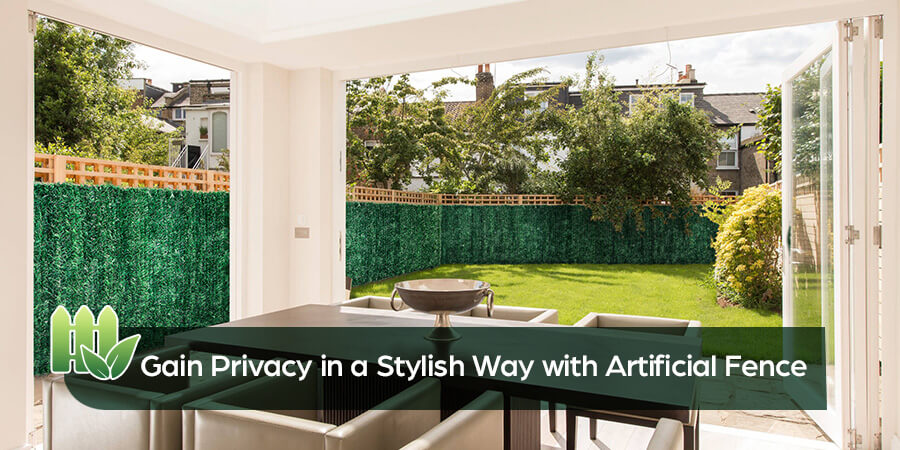 Benefits of Artificial Fence
Artificial plants are a popular choice for homeowners and businesses to improve their outdoor spaces. An artificial hedge fence, in particular, is a great option for those seeking to add privacy to their property.
Their realistic appearance, low maintenance, and ability to withstand harsh weather conditions make them a practical and long-lasting solution.
By incorporating an artificial privacy fence into your design strategy, you can transform your space into a lush, tranquil oasis. To learn more about the benefits of the artificial fence, please check out our comprehensive guide.
Instant Privacy Fence
Artificial leaf fence presents an instant solution for privacy and an aesthetic boost to outdoor spaces. Natural plants take months to grow and take shape, while faux leaves fence can be installed instantly to create privacy and beauty.
This makes them a popular choice to quickly and easily transform an outdoor area. For instant privacy and beauty, consider adding an artificial fence to your design scheme.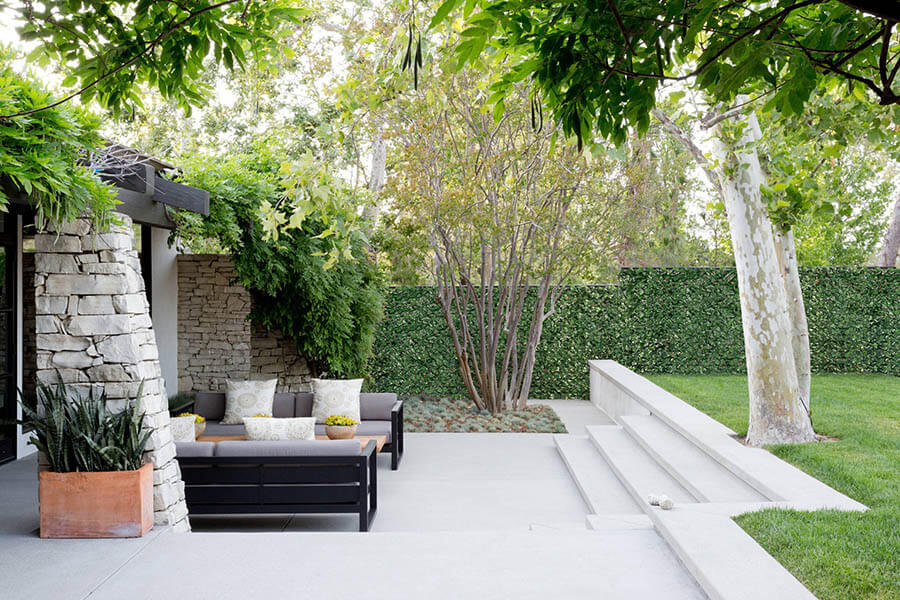 Can Be Placed Anywhere
Artificial hedge fence offers a practical solution to add greenery and privacy to outdoor spaces without worrying about sunlight or growing conditions.
Unlike real plants, which require specific growing conditions, artificial hedges can be easily placed anywhere, making them a versatile choice for any design.
Whether you want to create a unique look in your yard or need a privacy solution for areas that get little sunlight, an artificial fence offers the flexibility to meet your needs.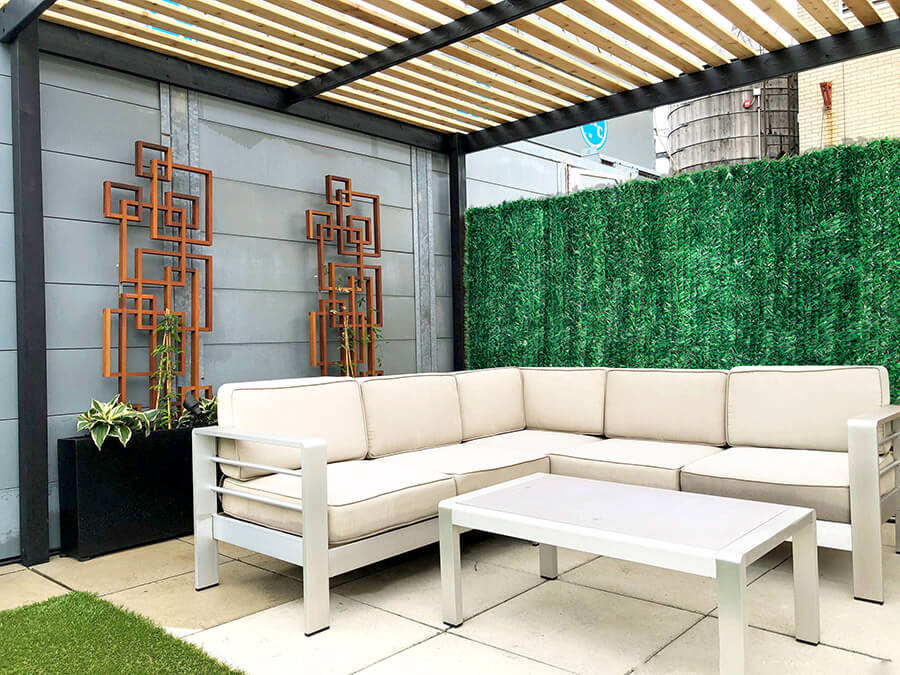 Low-Maintenance Solution for Busy People
If you lack the time to maintain real plants, faux plants can provide a great solution as a privacy fence. Artificial plant fence requires minimal maintenance. Only occasional wiping down or being washed out by rain is enough. Plus, you'll never have to worry about bugs or vermin infesting your fence, which is a huge bonus.
An artificial plant fence requires no trimming or watering, which saves you time and allows you to have a nice, attractive fence year-round. They are an excellent investment for anyone looking for an easy-to-maintain, hassle-free privacy fence that always looks great.
Types of Artificial Fences
Expandable Willow Fence
At EdenVert, the range of artificial willow fence offers a variety of applications in both residential and commercial settings, including gardens, yards, parks and factories, and many more. Our wide selection of expandable faux privacy fence styles allows customers to choose the one that best suits their desired designs, providing both privacy and beauty.

As a professional artificial plant supplier, EdenVert is committed to using only 100% pure raw materials with strong UV stability to ensure the long-lasting vigor of our artificial willow fences.
Our products pass a rigorous 5000-hour UV test, ensuring they can withstand high temperatures and strong sunlight while maintaining their pristine appearance.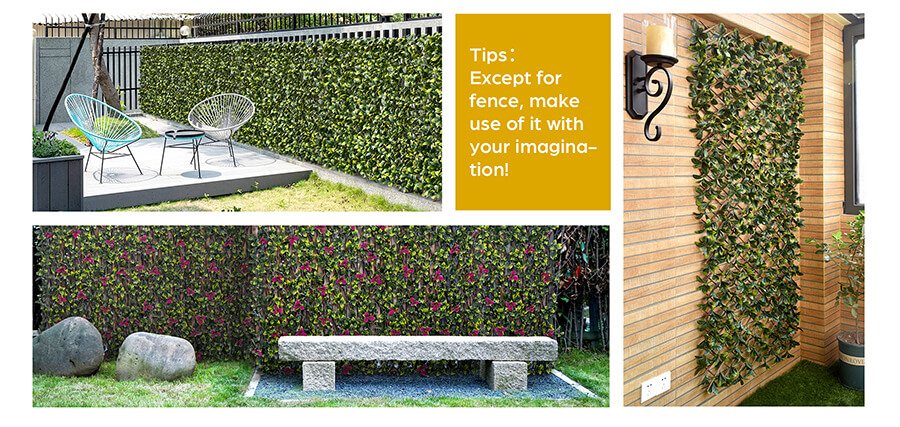 Artificial Foliage Rolls
At EdenVert, we offer fully customizable artificial hedge rolls, enabling our customers to create the style they desire by combining a variety of artificial leaves and flowers.

Our hedge rolls are UV treated to prevent fading ensuring they stay vibrant for many years to come. Manufactured to the highest industry standards, our products are durable and give you peace of mind knowing they will look good for years to come. Experience elevated aesthetics and protect your privacy with EdenVert's artificial hedge rolls.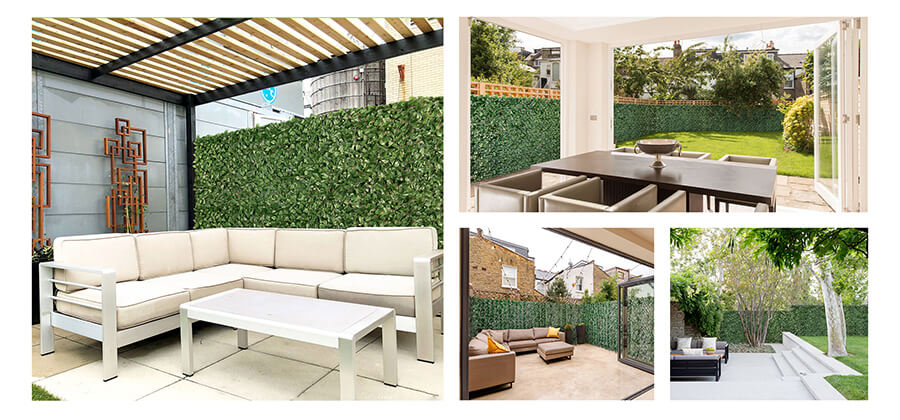 How to Clean and Replace Artificial Fence
Cleaning: Regular cleaning is essential for outdoor products as they tend to accumulate dust which can change the original color of the plants. Fortunately, artificial outdoor plants are easier to clean than houseplants.
Our artificial fence has exceptional durability and can withstand harsh weather conditions. On sunny days, you can easily clean it with a water gun. Once the moisture evaporates, the fence will return to its original luster. (For more maintenance tips can refer to this article "An Ultimate Guide on How to Clean Artificial Plants")
Replacement: In general, we will recommend that customers purchase artificial fences that are UV-resistant. They can last five years outdoors with normal use and don't need to be easily replaced. If you want to replace it, you just need to cut the straps or metal rings used to hold the fence and tie the new replacement product to the fence or wire mesh.
Conclusion
The artificial fence is growing in popularity as an effective solution for restoring privacy and adding greenery to indoor or outdoor spaces. Not only are they easy to install and maintain, but they are also versatile, making them ideal for homeowners and business owners.
Whether you're a retailer, wholesaler, or design company, adding artificial fences to your product line can help you meet the needs of a broader range of customers while also expanding your business.
As a wholesale artificial plant supplier, we offer competitive pricing on all of our artificial fences. Contact us today to learn more about our products and how they can enhance your business with their stunning aesthetics.