Artificial Boxwood Hedges: Safeguarding Privacy with Style

2023 06 29
Looking to master the art of utilizing artificial boxwood hedges for optimal privacy setting? Artificial boxwood hedges serve as an ideal choice for vibrant greenery, free from the burdens of maintenance. Not only are these artificial hedges visually stunning, but they also boast versatile functionality.
Instead of investing a lot of money in a bland fence or letting your outdoor space for the whole neighborhood to see, why not opt for a fake hedge wall to create a protective barrier around your property? Before delving into our vast assortment of fake boxwood hedges, there are a few things to know. Are you ready to uncover further details?

How to Use Artificial Boxwood Hedges Effectively
While the visual appeal of faux boxwood hedge is undoubtedly mesmerizing, their value extends far beyond aesthetics. In fact, their beauty is a secondary feature compared to the multitude of practical benefits they provide, making these hedges an indispensable addition to your surroundings.
In a world where privacy and seclusion are becoming increasingly scarce, it's important to use all available resources to find peace and quiet. Below, we've rounded up some of the ways artificial boxwood hedges can create your personal oasis.
Hide the Lounge Area
 When you have a designated lounge area in your backyard, it's your sanctuary – a place to find solace and retreat from the chaos of modern life. However, if the space remains exposed to neighborhood activities, you may not get the tranquility. That's why it becomes critical to protect your little oasis with seamlessly integrated barriers without disrupting the immersive experience. And what's a better solution than the boxwood privacy hedge?
By strategically installing artificial hedge panels around your lounge area, you can effortlessly create an intimate atmosphere. These fake hedge walls not only add privacy, but also allow you to create secluded nooks and cozy hideaways, perfect for deep conversations, peaceful reading sessions, or simply immersing yourself in the beauty of nature.
In addition, artificial hedges acts as a natural sound barrier, reducing the noise reaching the backyard. Essentially, you can relax and unwind without distractions.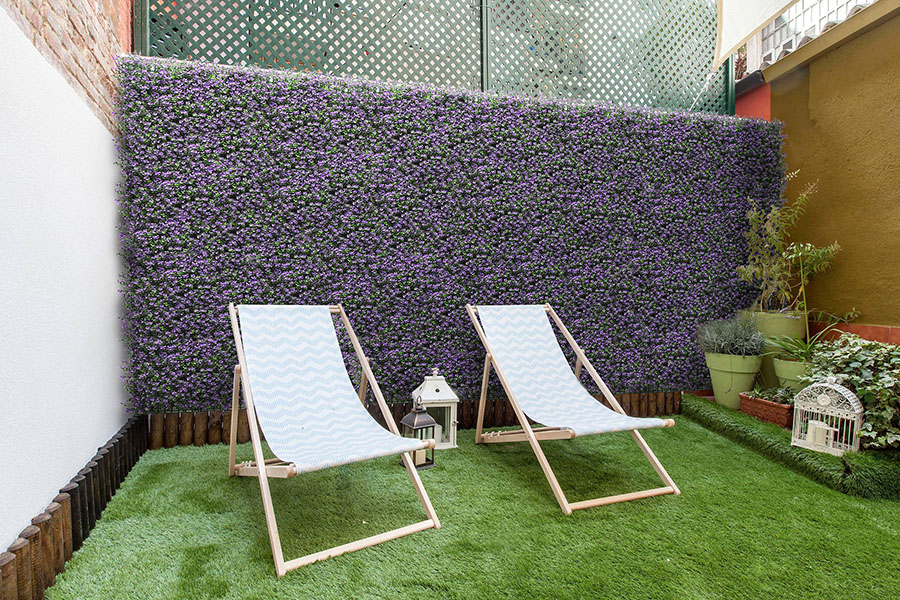 Secure the Pool
A splash of eye-catching greenery in the pool area will enhance the aesthetics of the space and increase the likelihood that guests will be eager to take a dip. In addition, the dense artificial boxwood effectively protects your privacy from prying eyes and shields you from any unwanted exposure. It's safe to say that when you're splashing in the pool, you surely want to avoid the curious eyes of the entire neighborhood, don't you?
When selecting a hedge with a purpose, carefully consider the type. Ideally, the best artificial privacy hedges are tall, mimic a tightly branched evergreen, have no gaps, and maintain a remarkable appearance year-round. Check out the realistic and UV resistant artificial boxwood hedges from EdenVert that meet these criteria perfectly.
Ultimately, by creating an attractive pool area, you not only appreciate its beauty, but you also take the hassle out of clearing leaves, trimming hedges, and pruning. This is a win-win situation for all involved!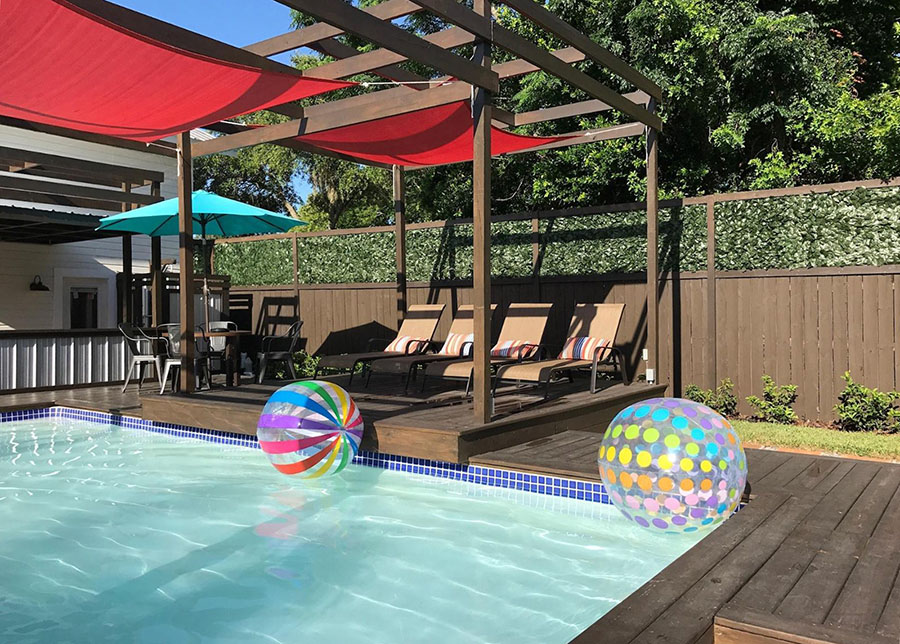 Wrap the Balcony
For those limited to the balcony, it serves as their only outdoor retreat. However, the tranquility of this cherished space can be disrupted by nosy neighbors who invade the precious moments of solitude and introspection.
To ease these struggles, fake privacy hedge may be the perfect solution. These products offer significant convenience without waiting for growth to put a barrier between you and unwanted attention. In an instant, you can admire a stunning freestanding faux boxwood that aligns seamlessly with your railing. Additionally, some of our products come in more sizes, enabling you to choose the desired height for your hedge. Remember, when it comes to privacy, the taller the better!
After enclosing your balcony, you can enjoy a fun weekend BBQ with friends without the fear of strangers judging your grilling skills.
Cover the Windows
The allure of large windows is undeniable, but when you notice your neighbors enjoying the view into your home, you might form different priorities. Rather than opting for the bulkiest wall imaginable, consider the use of faux privacy hedge as a natural window covering solution.
In addition to keeping you away from prying eyes, these faux hedges will imbue your space with charm the instant they are installed. For best results, make sure your hedge is set high above the line of sight of your noisiest neighbors.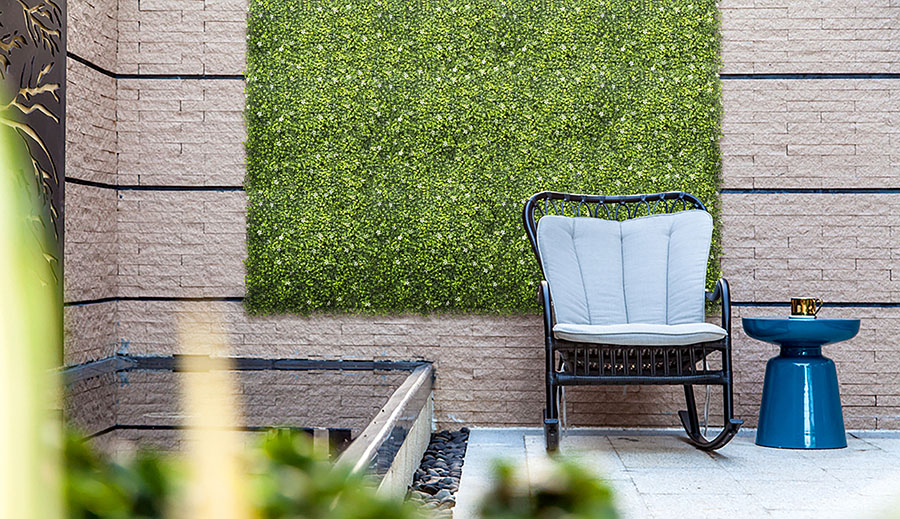 How Long will Artificial Boxwood Last?
The durability of artificial boxwood hedges is a frequently asked question, particularly due to the rising temperatures and extreme weather conditions witnessed in recent years. People often ponder the longevity of their artificial boxwood. The lifespan of boxwood depends largely on the synthetic material used, especially if it has been treated with UV rays to enhance its durability.
UV resistance refers to the capacity to withstand prolonged exposure to sunlight. EdenVert's artificial hedges have successfully passed the rigorous UV 5000H test, which gives us the confidence to provide a 5-8 year product warranty.
Ready for Artificial Boxwood Hedges?
Artificial boxwood hedges are rapidly gaining popularity for their effectiveness in restoring privacy and introducing vibrant greenery to both indoor and outdoor spaces. These hedges possess the advantages of being simple to install and maintain while also being versatile enough to meet the needs of both homeowners and business owners.
Whether you're a retailer, wholesaler, or design company, the addition of artificial hedges to your product line presents an opportunity to meet the diverse needs of a broader range of customers, while also expanding and growing your business.
Get in touch with us today to explore our exquisite products and unlock the transformative power of their stunning aesthetics in elevating your business.