Vital Guidelines for Protecting Artificial Outdoor Plants

2023 07 17
When it comes to a garden, it is a delightful haven filled with vibrant plants, trees and flowers. A garden serves as a space for relaxation, basking in the summer sun, and impressing your friends and family. When you've utilized high-quality artificial outdoor plants, the same that you are immensely proud of your garden beauty. It is crucial to keep it looking fabulous all year round.
Recognizing that not every homeowner has a natural green thumb necessary for plant care, artificial plants have exploded in popularity in recent years. They offer the opportunity to enjoy a beautiful garden year-round without a lot of maintenance.
Nevertheless, homeowners concern how to protect and care for the artificial plants in their garden. How to prevent fading caused by sun rays? How to make they stay fresh throughout the year? Our team at EdenVert have put together this blog to provide insights on protecting artificial outdoor plants.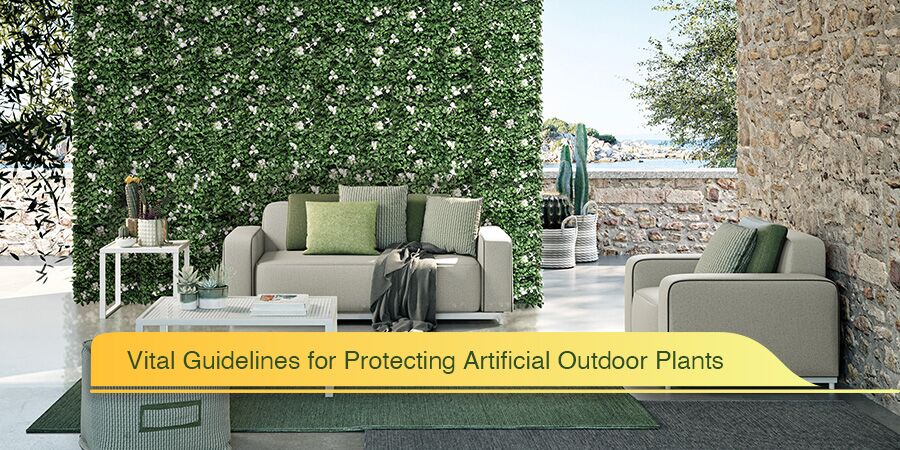 Why do Artificial Plants Fade Outside?
Artificial plants are made from a variety of materials including plastic, silk, wire or fabric. These materials are inherently susceptible to UV light, causing the sun's rays to break down their pigment. As a result, the plants lose color, become brittle and look worn.
The market offers a diverse selection of fake plants created by numerous factories. It's an inescapable truth that there's a substantial disparity in quality and lifespan from different suppliers. This discrepancy becomes particularly evident for outdoor artificial plants with the treatment of UV protection or not.
To ensure long-lasting and fade-resistant artificial plants, reputable factories or manufacturers integrate UV protection directly into the material during the manufacturing process. This meticulous approach produces artificial outdoor plants that withstand fading and cracking. In contrast, some manufacturers opt to apply a UV protection spray after the manufacturing stage, while others unfortunately neglect to provide any UV protection treatment altogether.
So, if your artificial plants will be sunbathing for a longer period, purchase a UV-resistant label artificial plant panel which comes with a lifespan of over 5 years outdoors.
At EdenVert, we prioritize quality by implementing UV treatment during the manufacturing process. Our artificial plants are meticulously crafted using a blend of materials that are non-toxic, durable, and remarkably lifelike. This exceptional feature guarantees that our artificial outdoor plants maintain their vibrant appearance for a long time even exposed to outdoor conditions.
How to Protect Artificial Plants Outside?
Put Artificial Outdoor Plantsin a Good Location
Choosing the right location for your artificial green wall or decorative plants is a crucial decision. Since artificial plant walls do not move easily, it is important to avoid placing them in direct sunlight as this will cause faster fading compared to shaded areas. Whenever possible, position your artificial greenery in areas that offer some protection from extreme weather conditions.
By doing this, you will prolong the life of your artificial outdoor plants and preserve the beauty for a long time. Look for shaded spots, such as balconies and verandas, as they make excellent spaces for greenery walls.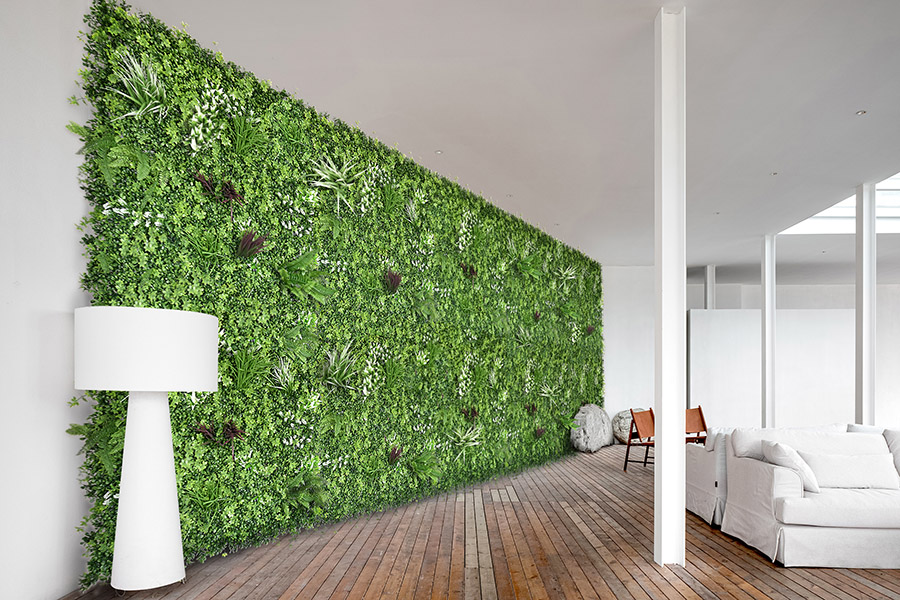 Shield Plants from the Sun
If you've invested in artificial outdoor plants without built-in UV protection, taking measures to safeguard their longevity. Instead of incurring excessive costs on shading, opt for an outdoor umbrella over your plants. This option not only proves to be cost-effective but also offers exceptional versatility. By utilizing umbrellas, you can effortlessly relocate both the plant and the shade, beautifying different areas of your garden with ease.
Another effective solution is to acquire a well-crafted, high-quality awning. This protective feature shields the fake plant wall from rain, wind, sun, and snow while simultaneously serving as an eye-catching element that ties the entire space together. Create a delightful setting by arranging patio furniture beneath the awning and relish your coffee amidst the enchanting presence of lush greenery.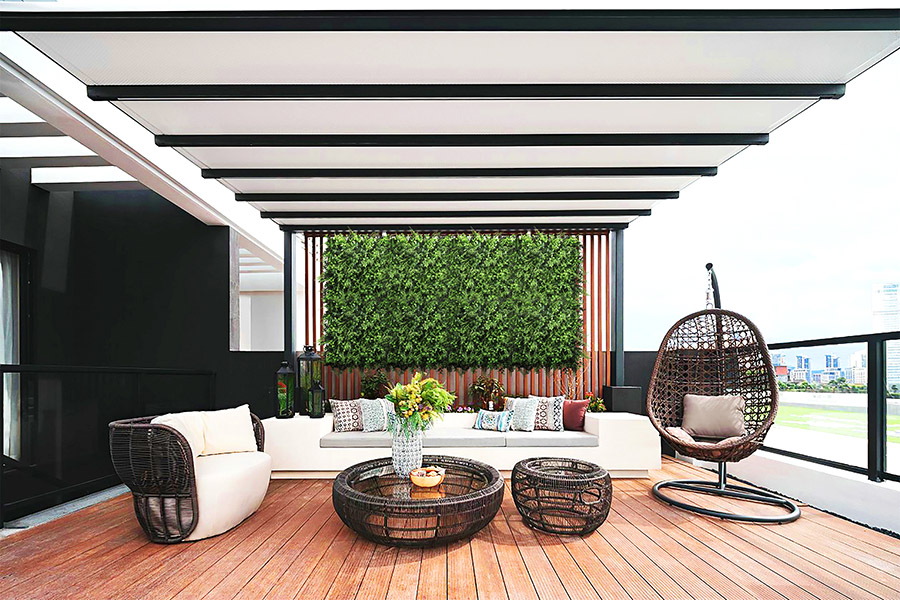 Clean Artificial Outdoor PlantsFrequently
Regular cleaning is essential to keep faux plants looking their best. Neglecting this step can lead to a buildup of dirt and dust that can dull the shine. Use a feather duster to remove dust first, adjusting the strength according to the degree of buildup. If a feather duster isn't enough, use a rag dampened with mild dish soap to remove dust and small particles. Rinse with a clean rag and allow the leaves to air dry.
Spray Plantswith a UV Protection Spray (If Required)
If your artificial plant was manufactured with UV treatment blended within its materials, you can skip this step. However, if your plants have solely been sprayed with a UV treatment spray or lack any UV protection, you can apply a high-quality UV protection spray. This preventive measure is necessary to safeguard artificial outdoor plants from sun-induced damage.
Different Types of Artificial Outdoor Plants
When selecting artificial outdoor plants for your garden, prioritize the space available. If your floor space is limited, it's worth considering taking advantage of vertical space.
Artificial vertical gardens are becoming increasingly popular in small spaces such as balconies, patios and small backyards. Our best selling artificial green wall panels come in a range of different designs and are highly customizable, allowing you to create an outdoor garden that really fits your space!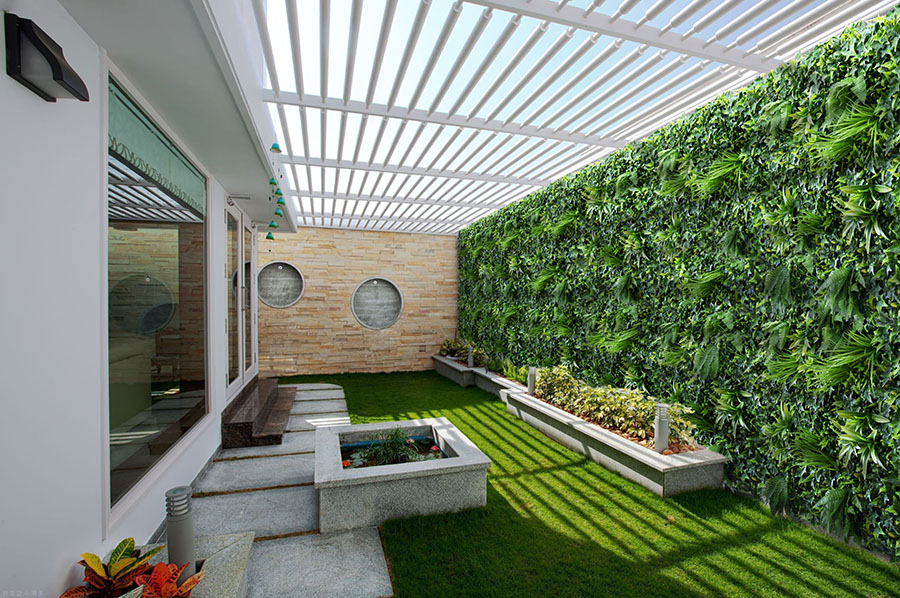 Alternatively, you can use artificial hanging plants to create visual interest in your garden. The best part of outdoor faux plants is that you don't need to take them down to water them. This can save you a lot of time in the long run.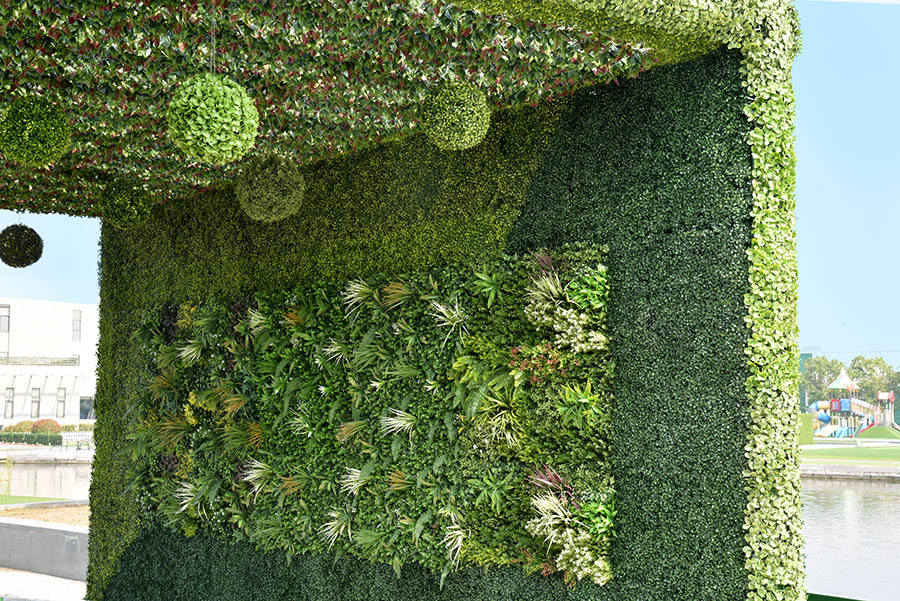 If privacy is important to you, artificial hedges can protect your garden from unwanted attention while still keeping your property looking stylish and attractive. As an added bonus, artificial hedge panels can also update old walls and fences, or conceal unsightly utilities on your property.