Artificial Vines
Who doesn't love the view of a verdantly green vine adorning a wall or a trellis? Now you can enjoy their delicate beauty wherever you desire without the need for tiresome maintenance. Edenvert's series of artificial vines add a charming verdant touch to your environment, letting you enjoy nature's beauty without the need to leave your living space.
Looking for a quick and easy way to spice up your home or office decor? Artificial vines are the answer you're looking for, elevating the enjoyment of your living space by adding a dash of style wherever you fancy, be it indoors or outdoors. Transform your daily surroundings and unleash the artist inside you with Edenvert!
Realistic appearance
100% PE, exquisite craftsmanship captures nature's beauty in every detail.
Tasteful plant combinations
Elegant harmony of colors and floral designs adds an artistic touch to your space.
Fully adjustable for DIY
Diverse designs for mixing & matching with other faux plants.
Detachable branches for flexible DIY.
2 branch types for your choice
Lush Vine: 4 branches extending in multiple directions create a flourishing volume.
Delicate Vine: 2 branches in a vertical line showcase a gentle drooping style.
Ultimate Guide to Artificial Vines
Complimenting both modern and traditional looks, artificial vines can bring natural beauty to any space. An artificial option like EdenVert trailing plants means no worries about constant watering, pruning, fertilizing or dying plants.
Features & Benefits
Cost effective
Zero maintenance
No pests or bugs
Versatility in design
Suitable for any location
Long lasting
Non-allergenic
Applications
Artificial vines for the living area
The living room is a place to relax and enjoy, and hanging plants are one of the most powerful ways to help us do just that. As a constant reminder of the peacefulness of nature, faux hanging plants improve our ability to unwind and reduce stress.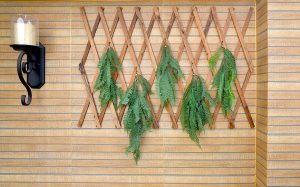 Artificial plant vines for bathroom
Hanging artificial vines liven up your bathroom like no other decoration. Feel the relaxation and serenity that only nature can bring to your personal space. Hung above a mirror or bathtub, this unique decoration takes up virtually no space and is guaranteed to make a big difference in your restroom atmosphere.
Fake hanging plants for dining room
Hanging plants are a centerpiece that add color and life to your dining room while leaving plenty of space. Since they don't have to be set directly on the table, they are a great option for smaller areas or when you just want a clear space.
Looking for the highest quality artificial vines?
Are you looking for the very best artificial vines for your space? Whether you're looking to refresh your home or garden, or make your business stand out from the crowd, EdenVert is here to help.
We are one of the leading suppliers of artificial plants, and we pride ourselves on providing our customers with the most realistic and beautiful solutions. Our artificial greenery is capable of withstanding years of exposure to harsh environments without losing their attractiveness through our tough UV protection. Contact us today for further information.