Artificial Vertical Garden

Artificial Vertical Garden
The category of artificial vertical garden is our representative green wall product that shows creativity and artistry. EdenVert is committed to integrating perfect artificial green wall scenery into your life. By establishing a creative art space and a harmonious living area, EdenVert turns the story of the Garden of Eden into reality to brighten up your space.
With our ongoing and strong R&D ability, we are committed to developing more dream gardens of the Artificial Vertical Garden wall, such as Tropical, Selva, Gentle Jungle, Color Meadow, White Domain… Moreover, we can customize different vertical green wall products to enrich the product line and enable our customers to gain more market share.
Ultimate Guide to Artificial Vertical Garden
Vertical garden is gaining popularity worldwide for various reasons. Artificial vertical garden is becoming increasingly popular because of their convenience, lower maintenance and cheaper overall cost. No matter if you're thinking about installing a vertical wall garden in your home or commercial project, there are a few things you should know about it.
Features & Benefits
Instantly Green and Long Lasting
Easier to install than natural plants
Lower maintenance and ongoing costs
Don't need sunlight to survive
They don't need to be watered for sustenance
Don't require pesticides or fertilizers
No fear of pest attacks
Don't cause allergies
Applications
Outdoor artificial vertical garden
Whether it's a way to beautify your backyard fence, bright addition to your apartment balcony, or a stunning entrance to your house, the artificial garden can also make the outdoor space full of vitality. Check out how our artificial green wall is applied outdoors.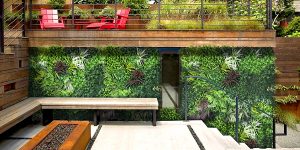 Indoor artificial greenery wall
Whether it's an attractive feature for your apartment living room, safe addition to your child's bedroom, or a way to bring some nature into your home or office, garden wall panels can be the perfect indoor feature. Some of our customers have used their indoor green walls creatively, like this eye-catching wall decoration: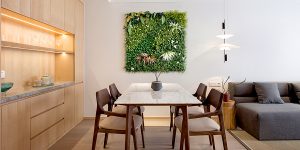 Why choose artificial vertical garden?
Unlike traditional green walls, artificial vertical garden is a creative and functional solution to challenging environments where real plants would otherwise struggle to thrive. With greater design freedoms, your garden or commercial project can become more natural with our garden wall panels.