Artificial Topiary
Whether you're looking to add a touch a style to your daily home decoration or deck your halls for a special occasion, look no further than EdenVert's artificial topiary. A stylish decoration for both commercial and residential applications, it is the perfect addition to a wide range of places such as homes, offices, shops, restaurants, creating a cozy, inviting atmosphere.
EdenVert is the top leading manufacturer of topiary, boxwood balls and hanging balls in China, supplying a wide range of faux topiary plants in various popular species, such as jasmine, buxus, gardenia and gypsophila. Crafted from premium quality material, our indoor and outdoor topiaries boast of stunning realism and natural-like features which will become a part of your garden, patio, entranceway or interiors instantly.
EdenVert's artificial topiaries offer you a smart, hassle-free way to invite nature to your daily surroundings. Free from the hassle of installation and maintenance, our artificial greenery balls let you enjoy nature's beauty with a carefree frame of mind.
Ultimate Guide to Artificial Topiary
Artificial topiary is a stylish decoration for both commercial and residential applications such as homes, offices, shops, and restaurants, creating a cozy and inviting atmosphere. Every artificial topiary ball in our portfolio is special enough, giving the space unlimited artistic flexibility in the way they're composed.
Features & Benefits
It will always look great
Realistic appearance with minimal care
No need to think about natural factors
No bugs or pests
Quick and easy installation
Applications
Indoor artificial topiary decoration
Strengthen or upgrade the indoor plantscape with artificial topiary balls. Due to various shapes and sizes, these fake topiary balls are ideal for bringing art of nature into hotels, restaurants, retail spaces and office buildings.
Otherwise, it is one of the most suitable landscape solutions to apply artificial hanging balls into residential and commercial interiors.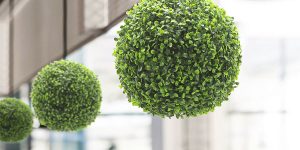 Outdoor faux boxwood topiary decoration
Under similar occasions, enhance the outdoor plantscape with artificial boxwood topiary. Without doubt, in order to keep stable in exteriors, the fake topiary tends to store in planters. Of course, some residents prefer to use artificial greenery balls on both sides of the front door.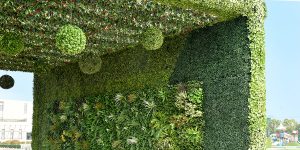 More decor ideas of artificial topiaries
EdenVert is an industry leader with innovative ideas. We want to help bring the essence of nature into any space without the cost, time, and energy that real plants require. To do so, we developed our line of artificial topiary. Our artificial topiaries are quick and easy to install and rearrange.  They are are made to last with their synthetic nature by UV protection to help avoid fading.