Why are artificial vertical gardens so popular?

2021 12 22
Vertical gardens are becoming more and more popular in corporate and residential spaces. Artificial vertical gardens particularly provide an easy way to improve the aesthetics of interior and exterior areas, ensuring people always under the feeling of nature.
Choosing an artificial vertical garden can avoid the responsibility of massive watering and maintenance, and there is no need to replace dying plants. The artificial vertical gardens only need minimal maintenance, and it looks great no matter what condition or location it is placed.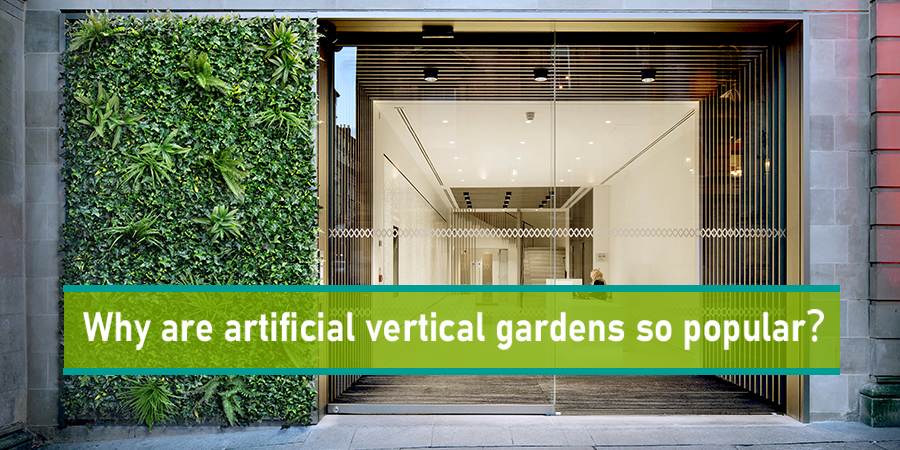 What is artificial vertical garden?
Vertical garden is different from traditional garden. It takes up less space but creates an enlarged beauty. The artificial vertical garden is made up of fake plants standing vertically with the help of interlocking panels. High quality artificial vertical garden is lifelike, low maintenance cost and long lasting, while lower quality ones may appear overly glossy and synthetic.
Compared with using real plants, artificial vertical gardens have several advantages. They can be used for residential and commercial projects, such as backyards, balconies, shop decoration, offices and reception areas.
What are the benefits of artificial vertical gardens?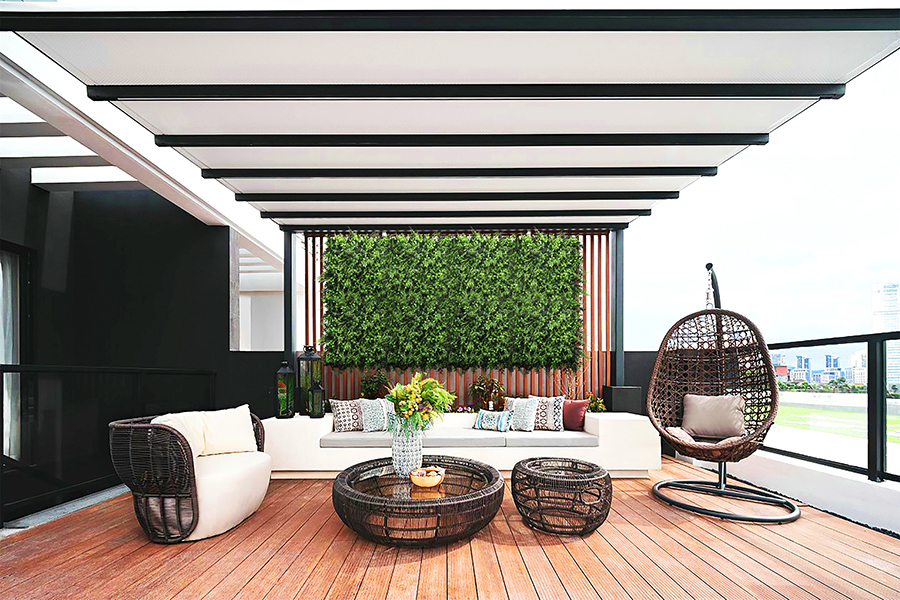 Lower maintenance and ongoing costs
Taking care of plants can be time-consuming, especially if you choose to grow plants from seed. It seems to take a long time to see a flower bloom. Before that, you need to water, control the temperature and kill pests and so on. Many times, you have to sweep the fallen leaves every day when it's season turning time.
You need to dedicate yourself to the garden so that you can enjoy the beauty in front of you. But artificial vertical gardens won't keep you waiting that long. Once installed, it's really simple and you'll see a lush garden wall with flourishing plants and flowers at any time.
Creating calmer space
Environments with green features encourage relaxation and reduce stress, having a positive impact on everything from blood pressure to muscle tension. A dozen research papers have pointed out that simply looking at green stuff can benefit your eyes. The artificial greenery can relax your eyes like real foliages. And the existence of a lush artificial vertical garden wall can bring great benefits to your mind.
Free of allergies
Some people may say that these plants are fake. They can neither inhale carbon dioxide nor exhale oxygen. They can't purify the indoor air. What's the advantage? It is true that artificial vertical garden walls cannot emit anything, but it also ensure that pets and allergic patients can be free of pollens.
Noise reduction
The artificial vertical garden can be applied as a screen to create a private space. The statistics say that plastic artificial leaves can reduce the level of ambient noise in a space, which is especially useful in the office. That means, it can mildly lower down the noise volume and bring you peace.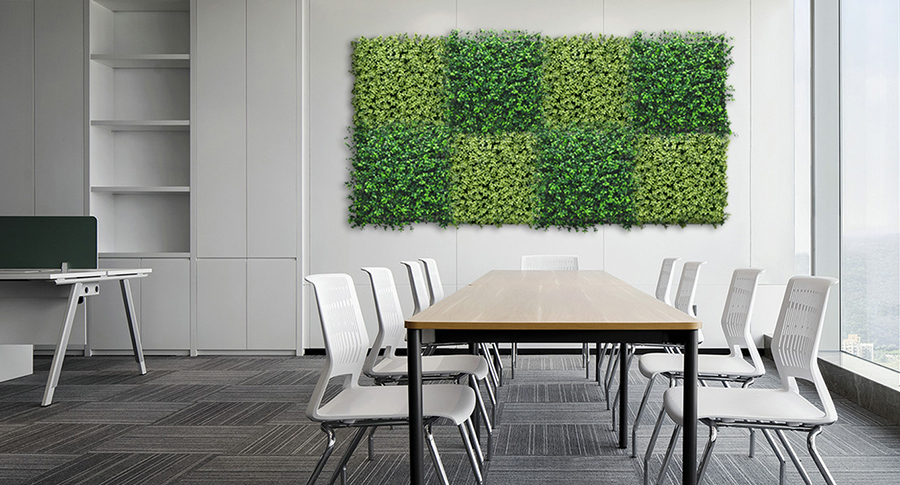 Improving productivity
As a result of the positive impact that green plants have on wellbeing, productivity has also improved. In fact, plants in the workplace can increase motivation. Moreover, employees will feel more stable, satisfied and engaged.
Where to install artificial vertical garden?
Wall covering
In terms of interior design, you can consider transforming one wall into a vertical garden wall to add more greenery to your space. Carefully selected flowers and foliages will make the home interior design more attractive.
For example, you can use an artificial vertical garden to create a unique TV background. The bookshelf decorated with foliages is also very eye-catching.
If it is used for exterior wall covering, you will be surprised at how good the artificial vertical garden is in dealing with peeling off walls. The wall restoration project is completed in no time. And the effect is amazing!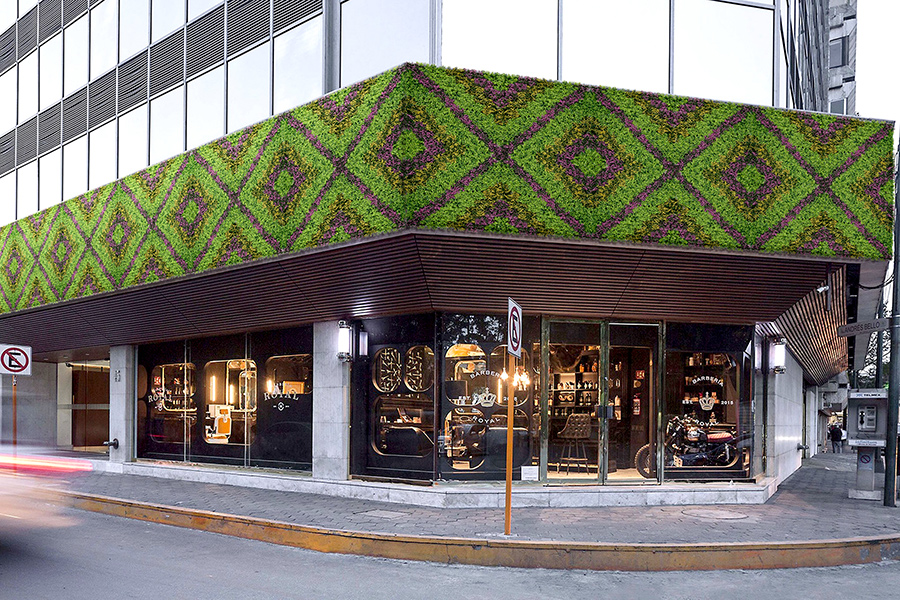 Shopping mall decoration
In addition to seasonal promotions, you can also use seasonal leaves to attract more customers. Innovative interior design will never fail. The application of artificial vertical garden can impress customers. A large area of leaf coverage has an overwhelming effect. It can move customers to tropical islands or anywhere. They are happy because they will enjoy a shopping experience different from their daily life.
Office decoration
Green plants are beneficial to people's physical and mental health. If the work environment needs to be improved immediately, they should choose the artificial vertical garden. It illuminates the space with lifelike foliages and flowers. The soothing effect will soon be felt by everyone. Under the embrace of nature, employees feel more comfortable and can recover their energy faster than ever before.
A dynamic work environment is always more effective than a high-pressure work environment because job satisfaction is very important. The vertical garden wall can provide different landscapes with only a little adjustment. The installation and fastening system is very easy and simple.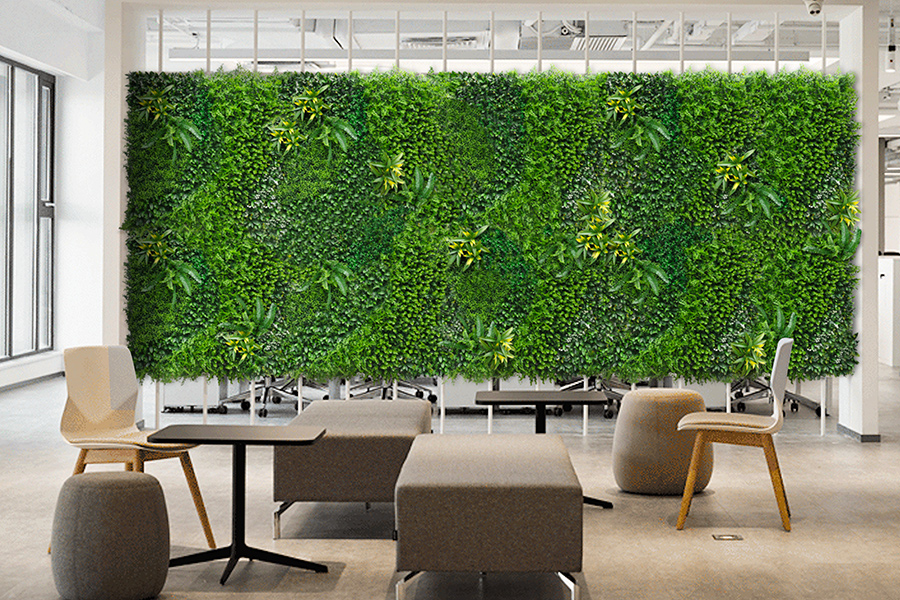 Event decoration
Nowadays we have parties all year round. Sometimes it's hard to come up with innovative decoration ideas. DIY vertical garden wall can solve this problem well. Artificial branches of various shapes and colors can provide a series of theme backgrounds. They are a good complement to balloons, lights and various amusement facilities.
With all the information and ideas about artificial vertical gardens, you can try and see what surprises artificial plants can bring to you. If you have any other questions about artificial vertical gardens, need any help with buying your artificial plants, or would just like to get in touch to talk about your next project, please contact us by Telephone: +86 25 69811778 and Email: [email protected], so that our team can help you to choose the perfect one for your space!