The top 10 benefits of artificial plants

2021 12 17
It is a dream for everyone to have a lush garden. But when it comes to maintenance, some environmental factors such as sunlight, pests, temperature, but also operational ones, including watering, pruning and weeding would cost people more time and energy. It makes people to spend more time on maintenance instead of enjoying their garden that is why artificial plants become a huge popular trend.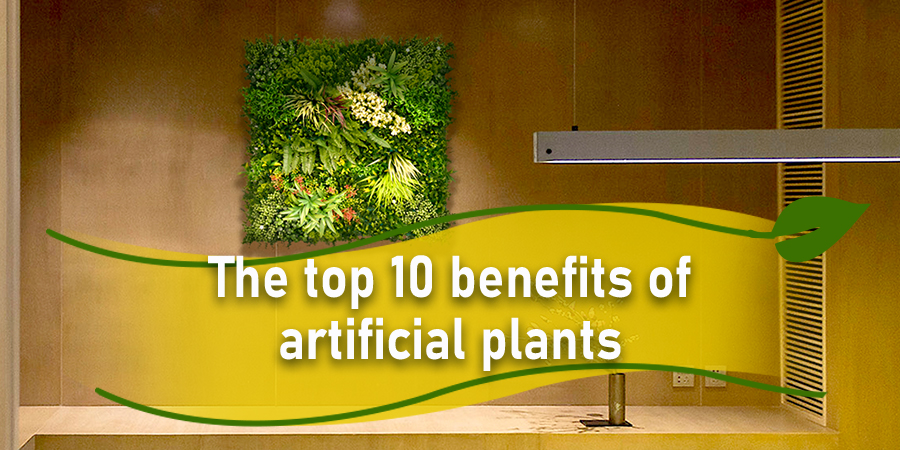 Artificial plants include artificial hedge mat, artificial vertical garden, artificial fence and artificial topiary. We list the top 10 benefits of artificial plants here to show you why artificial plants become so permanent nowadays.
Artificial plants are made of 100% pure materials
You can rest assured that quality artificial plant abiding by relevant industry standards aren't going to pose any hazards to the health or safety of human beings or pets. The 100% pure and recyclable raw materials used in EdenVert manufacturing should not pose any risks to the health and safety of their users. This makes sure that when you turn to artificial green wall decorations, you can choose a product of your liking and use it with a peace of mind.  What's more, as some people are allergic to some elements which come from real plant, artificial plant seems more suitable to use because they are non-hypoallergenic, and safe and healthy to the families especially with children or elderly people.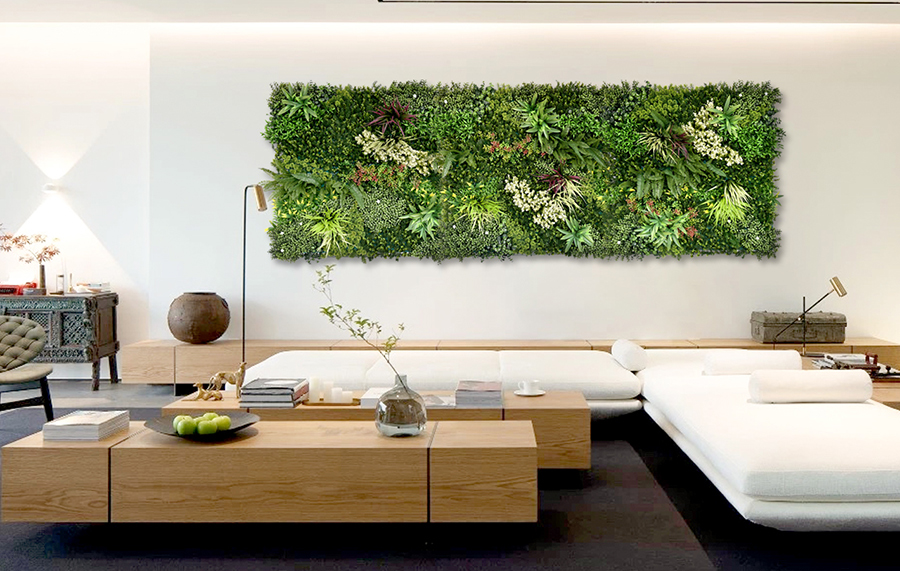 Artificial plants are non-toxic
Many people have no idea about how toxic some of the most popular green plants can be! For example, snake plants, devil's ivy and birds of paradise are those plants which are harmful for children and pets, as certain people and pets are allergic to pollen which comes from natural plants, this can be a problem when nature plants are applied no matter indoor or outdoor. However, you don't have to worry about this problem if you use artificial plant, they are manufactured in strict accordance with standards to ensure that they are completely non-toxic in all aspects.
For example, all of our artificial plant have passed Health & Safety test, including REACH, RoHs and PAHs tests. These tests check the safety of components of the raw materials used. They are conducted in accordance with strict standards and performed by independent third party laboratories, which ensures the obtained result is reliable and trustworthy, that can cause no harm to people and environment.
Artificial plants look realistic
The visual effects of artificial plant are promising. High-quality artificial plant usually use 100% pure raw materials to achieve lifelike details, vivid colors and compelling texture, just like natural plants. You can check our rich product lines and cases on our website to get a glimpse of the beauty of artificial plants.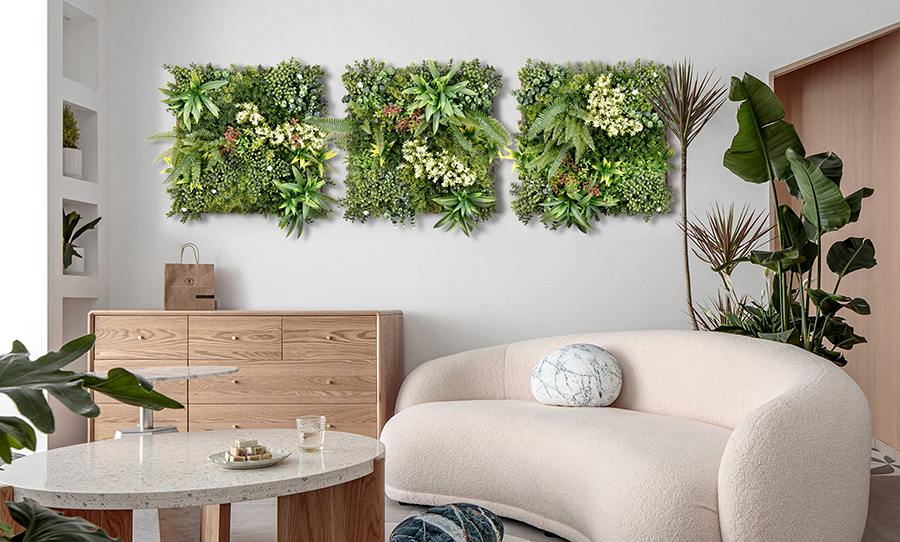 Artificial plants are more durable
It is common that artificial plants are more durable than their real counterparts because of high quality materials, which are UV treated, even in harsh weather like strong wind and heavy rain, they still can maintain good status.
However, not all manufacturers are committed to manufacturing durable artificial plant. Therefore, if you plan to buy plants that will not crack, fade or collapse after a few years, we suggest you do sufficient research and data search before purchasing. A key factor in your search for durable plants is UV protected because these plants can better withstand the damage of the sun, and live longer than live plants. More information about UV, you can click this page: UV Protected Artificial Plants
Artificial plants are evergreen
For natural plants, it is not easy to always maintain an evergreen appearance and healthy state. This is one of the reasons why we provide you with artificial plants. Unlike natural plants, fake plants can maintain a beautiful appearance and straight status for a long time. You only need a little cleaning to maintain its loveliness.

Also, there is no need to worry about the overgrowth of plants, which is one of the troubles of many plant keepers. Let's help you relax your hands and have a relaxing holiday.
Artificial plants are cost-effective
As we all know time is money. The rule also works for artificial plant. One top advantage of fake plants is cost-effective, which can save your time and cost. Compared with real plants, it will be time-saving for artificial plant to keep blossom and alive. Imagine that you have to prune, weed and water natural plants all the time without forgetting, otherwise they will get sick, wither or die.
But for an artificial plant, what you need to do is just enjoy the nature and beauty at your space. Therefore, if you compare the cost between real plant and artificial plant, considering the cost to maintain it on time and money, you will find how expensive it is to have a real plant.
Artificial plants have low requirements
Natural plants have high requirements for sunlight, soil, water, nutrients, etc., while artificial plants are just the opposite. A quiet corner, without sunlight and moisture, is the place where artificial plants bloom. These corners are illuminated and stunning under the decoration of artificial plants.
Also moving a natural plant can be a challenge because you don't want to harm its roots and leaves. Artificial plants can move flexibly and are not afraid of being destroyed. So artificial plants have become a great choice for decoration, whether it is indoor or outdoor spaces.
Artificial plants can be quick and easy DIY
With artificial plant, you could decorate space by yourself easily. There is no need to dig or prepare soil. In addition, you can combine different seasonal plants together, and build a DIY landscape as your wish, which is not the natural plant could offer for you.
Decoration with real plants would limit your action because they cannot be applied at a dark or poor light room. Moreover, most of them will be wither in winter. Therefore, you may have to repeat these decorations every year, which greatly reduces the fun of doing it yourself.
Artificial plants have immediate decoration effects
Here is a typical advantage of artificial plants. There is no need to wait the growth of artificial plants, you could enjoy the immediate decoration effect at the very first time.

What you can get from artificial plants supplier is the finished leaves with best performance. But for natural plants, it needs to take a long time before it grows up. For example, in artificial vertical garden series, different kinds of leaves and flowers from different seasons could be combined together. You can have your magic garden all year around.
Artificial plants can be replaced simply
For the replacement of artificial plants, the process is very simple. All of our artificial hedge panels can be easily disassembled and reconnected to form almost any shape or size you can think of. You can replace the artificial plants you want at any time. But for real plants, you need to consider a lot before changing it, like the time, cost, season etc.
If you are searching for information of artificial plants that are healthy & safe, long-lasting and beautiful, EdenVert would be your best choice. We offer a wide range on artificial hedge mats, artificial vertical garden, artificial fence and so on. More than 200 kinds of products are available now.
In addition, we are committed to constantly innovating good products for our clients to ensure that our artificial plants are a new and exciting blend of high style and simplicity of function. If you have any questions, welcome to contact us by Telephone: +86 25 69811778 and Email:[email protected].