How to Import Artificial Plants from China

2021 11 29
As an important part of home and commercial decoration, artificial plant decoration is becoming a rapidly developing industry. China is one of the world's largest producers of artificial plants. Global wholesalers, traders, and large supermarkets all choose to wholesale from China. This article helps you learn more about artificial plants and how to import artificial plants from China.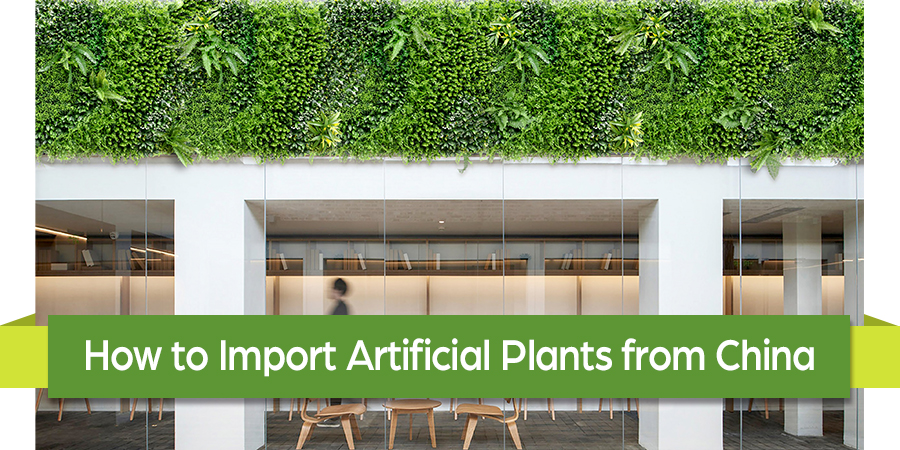 What is artificial plant
Artificial plants are imitations of real plants, which can be used for both indoor and outdoor decorations. Unlike natural plants, fake ones do not wither that they stay green for a very long time. For this reason, there is no need to water or fertilize them which can save your plenty of time and cost.
The materials of artificial plants are diverse. For example, silk plants, polyester plants and polyethylene plants. Among these, PE plants and silk plants are the most common.
Where do we use artificial plants
People prefer natural plants because they present a fresh and beautiful impression, which can be seen on many occasions, such as home decoration, commercial spaces, and some grand occasions. However, the disadvantages of real plants are not long-lasting and have high environmental requirements, which is not a good choice for people who do not have green fingers.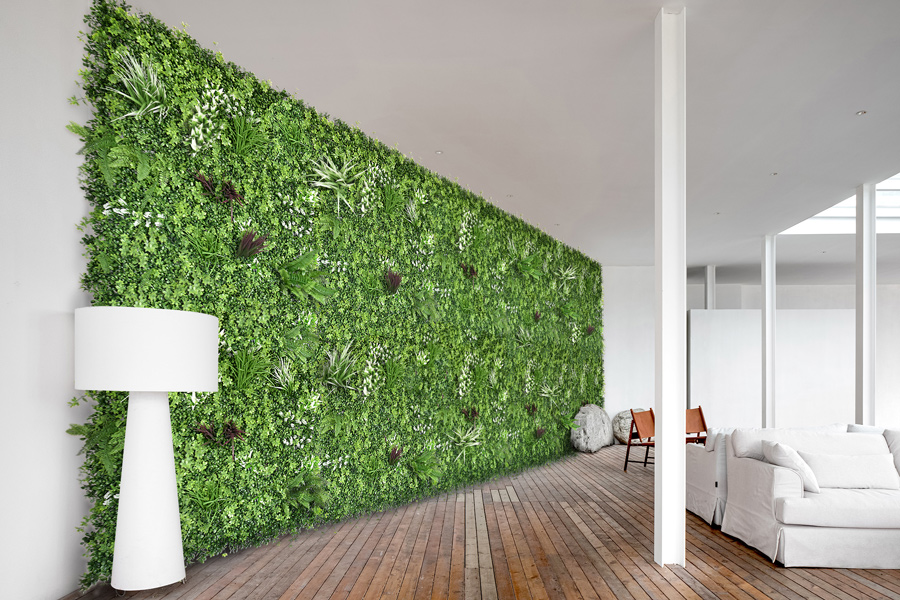 The design of artificial plants is flexible and rich in colors, targeting different groups of people and spaces. For example, young people are busy with work and don't have enough time to look after plants, causing plants to wither and die in a short time. Artificial plants are good substitutes that do not need to be replaced frequently.
In all, artificial plants can be applied widely on many occasions, such as large stage, home decoration, office meeting room, shopping mall, wedding and birthday parties, festival celebrations, entertainment events and many more. High quality artificial plants are not only beautiful in appearance but also featured with strong UV ability and fire retardant ability, which make your choice and use peace of mind.
Benefits of artificial plants
When you import artificial plants from China, you definitely want to know what advantages they possess, why they become so popular, and why people tend to use artificial plants.
Keep green and alive for a long time
Have you ever taken care of real plants before? Keeping them staying green and blooming is not easy because you always have to spend time watering and fertilizing them.
Durability is an important advantage of artificial plants, especially for PE materials with UV treatment. The long-lasting durability makes artificial plants very popular, with limited time and money to bring evergreen decorations. Whether in bad weather or season, as long as you properly maintain them, artificial plants can maintain the same color and shape. Read this article to get more tips on maintaining artificial plants, https://www.eden-vert.com/news/how-long-can-outdoor-artificial-plants-last/.
Low maintenance
In comparison to natural plants, applying artificial plants requires low maintenance. This is a very special one among the advantages of artificial plants. They do not need a large amount of irrigation, mowing or fertilizing. Aside from a little wipe down now and then, your artificial plants will continue to look perfect for years on end.

Allergy-free
As we all know, certain people and pets are allergic to pollen, a substance that comes from natural plants. This can be a problem when nature flowers are applied indoor. However, you don't have to worry about allergies if you apply artificial flowers, artificial balls or artificial vertical gardens instead. These artificial plants don't have pollen, and they are produced from high quality materials.
Why import artificial plants from China
More profits
China, as a major producer of artificial plants, has the largest production scale in the world. A large proportion of products are manufactured or assembled in China, and the export volume is increasing year by year. You will find artificial plant decorations made in China everywhere.
Large-scale and efficient production makes our products and prices more competitive in the market. Importing artificial plants from China will be a wise choice, giving your business more market space and profit margins.
Less competition
As the competition in the global artificial grass market becomes increasingly day-to-day, the artificial plant industry has emerged. It is a niche industry with multiple product lines such as artificial green walls, artificial trees, artificial edges, artificial balls and so on. More and more Chinese artificial grass manufacturers are expanding their artificial plant production line. These factories have a long production history, strong production experience, standardized management experience, good product quality, high production efficiency and cost-effectiveness. Therefore, if you are participating in or want to expand the artificial plant business, we strongly recommend that you import artificial plants from China.
Premium quality
Quality is the foundation of the product. Chinese manufacturers have been deeply involved in the artificial plant industry for decades and have seized the foundation of quality. Excellent export volume allows us to enter a healthy development process. Most Chinese factories have qualified production lines and professional R&D teams. Our products have passed various international tests, such as REACH, RoHs and PAHs tests. And we provide customized products, such as anti-UV products, fireproof products, etc., to enrich your product line and meet your diversified market needs. What are you waiting for? Come to China, and import artificial plants from China.
Where to find the artificial plant manufacturers in China

Artificial plant factories are mainly gathered in the following regions in China. Whether you choose suppliers online or on-site, we have organized the major areas to help you import artificial plants from China more easily.
Yiwu—the largest small commodity wholesale market
Yiwu International Wholesale Market is the largest small commodity wholesale market in the world. Not all suppliers there are factories, some are wholesalers, and some are trading companies. The artificial plant factories in Yiwu are not all in-house production, while they buy semifinished products from other places and then assemble them.
If you are just starting out and don't order a lot of products for a design, then this is the best place to import artificial plants from China.
Jiangsu/Guangdong/Shandong—where middle & high level artificial plant manufacturers are located
If you are searching for middle and high-end artificial plants, you can visit Jiangsu, Guangdong or Shandong where the manufacturers have a complete industrial chain for the production of artificial plants. Every year, many people come to import artificial plants from China.
Why choose EdenVert as your supplier
EdenVert is a top professional manufacturer and supplier of artificial green walls in China. We supply a wide range of indoor and outdoor products, covering artificial plant walls, artificial hedge & fences, artificial vertical gardens and artificial topiary.
EdenVert has an ongoing commitment to quality. Based on more than ten years of product development and manufacturing experience, our artificial plant wall products meet the highest leading laboratory test standard. Tested to UVA 5000 hours and REACH, RoHS, PAHs, our artificial plants contain no lead, no heavy metals or any other harmful chemicals.
Since the beginning of 2008, EdenVert has been delivering natural scenery of artificial panels to importers, wholesalers, contractors, chain stores, all different sales channel customers. If you want to import artificial plants from China, welcome to contact us by Telephone: +86 25 69811778 and Email: [email protected].