Full Guide to Faux Green Wall for Wholesale

2023 08 18
Amidst the hustle and bustle of modern life, a simple yet profound remedy lies within the natural world – plants and greenery. As countless studies have revealed, immersing ourselves in the beauty of nature can wield remarkable effects on our mood and well-being.
Today, technology and design make fake plants look realistic with a depth of multiple colors and textures. When properly selected, designed, and installed, faux green walls can help to relax just as easily as they can with natural plants.
To get the look of nature without a lot of work, fertilizer and pest control, you can create a faux green wall indoors or outdoors at your ease. Artificial plant walls only require intermittent dusting after the initial installation. Start with these insights.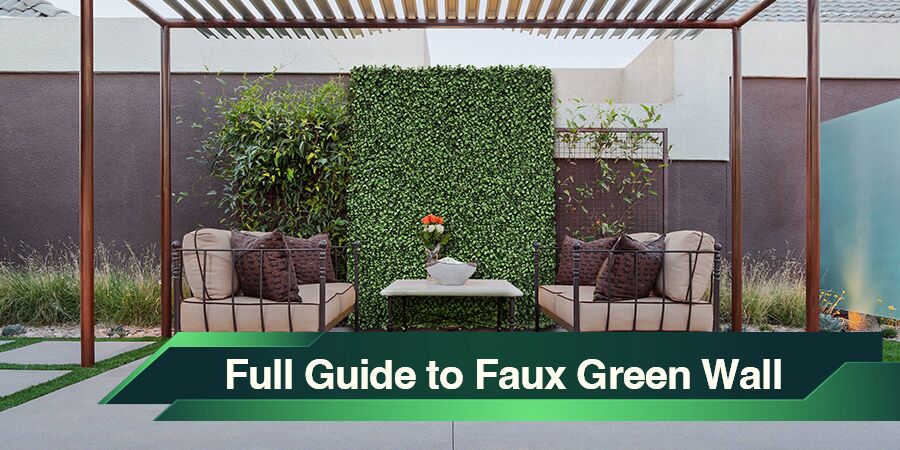 5 benefits of installing faux green walls
Cost-effective
Faux green walls can reduce initial and long-term costs. The initial setup cost of the artificial living wall is a fraction of the price of a living plant wall. There are also no long-term maintenance costs or replacement costs.
No bugs or pests
The faux green wall panels do not attract bugs or pests. This means you don't have to use any pesticides, and you don't have to worry about this kind of problems around your walls or furniture.
Low maintenance
A living wall takes lots of care, taking time to water, prune, fertilize and replace plants as needed. Most businesses hire outside services to care for their plants, which is an added expense. The fake plant wall doesn't need this! Just dust it off now and then saves you all the time it takes to care for real plants year-round.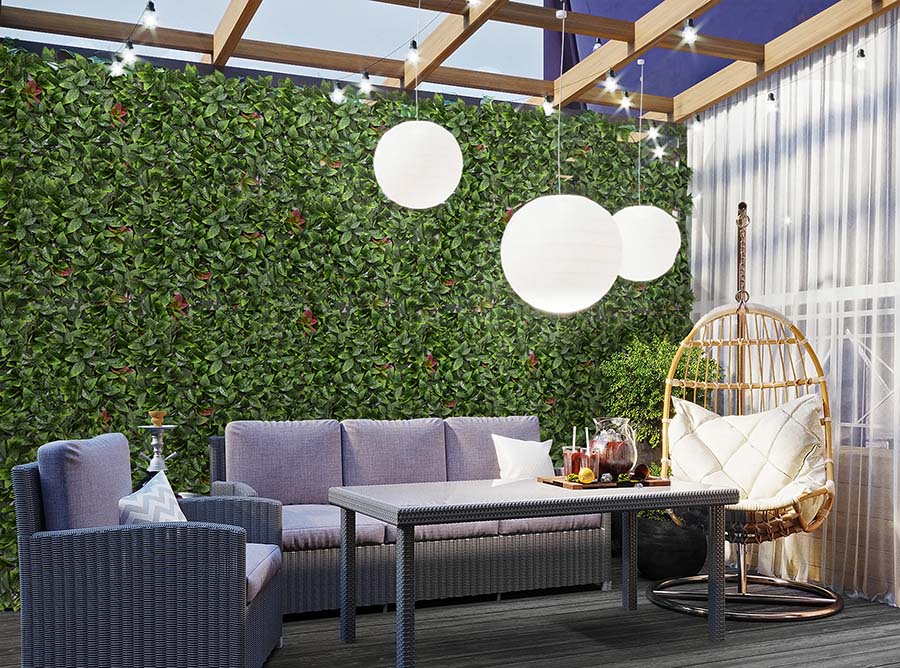 Add color and life
Plants add color and life to a space – faux plants do too. Many fake plants, such as those from EdenVert, look realistic enough to help you experience a stress-reducing life. The look of artificial plant walls can help create the appearance of more life in your office, restaurant, or other commercial space.
Noise reduction
Especially if you are located in a high-traffic area, artificial greenery walls can buffer sounds from neighbors, roads and city life. They can also help reduce sound from your space, reducing disruption to other nearby businesses.
Faux green wall DIY tips
Find the right place
If you don't know where you want to put your green wall, evaluating your walls is your first step. Remember, The greenery wall can be installed indoors or outdoors. If you have a rooftop patio or yard, that can be a great space. If you're looking inside, consider a lobby or lounge area.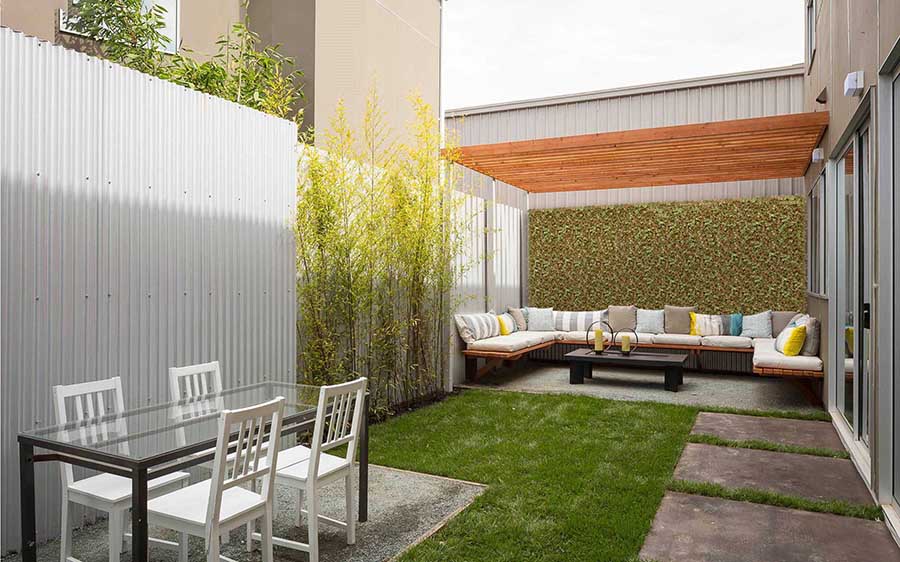 Find design inspiration and ideas
There are plenty of resources for design inspiration online. Pinterest, Instagram, and even Google Images can give you an idea of how others have designed and installed wall gardens in office buildings, restaurants, and more. You can even figure out how others have paired fake green walls with hardscapes, fountains, or lawns.
Determine which colors and textures to include
Faux plants are very similar to real plants in that they come in many different colors, textures and shapes. Your faux living wall can have any look you want, from exciting and wild to trimmed and traditional.
Where can you use faux green walls?
Indoor plant wallfor homes and apartments
You can decorate the interior walls of your house with different artificial plants. They come in different styles, sizes and colors depending on your preference. Vertical wall gardens are also compact, taking up less space in your house or apartment. Using them in homes and apartments is a great way to introduce a sense of nature without any messy maintenance.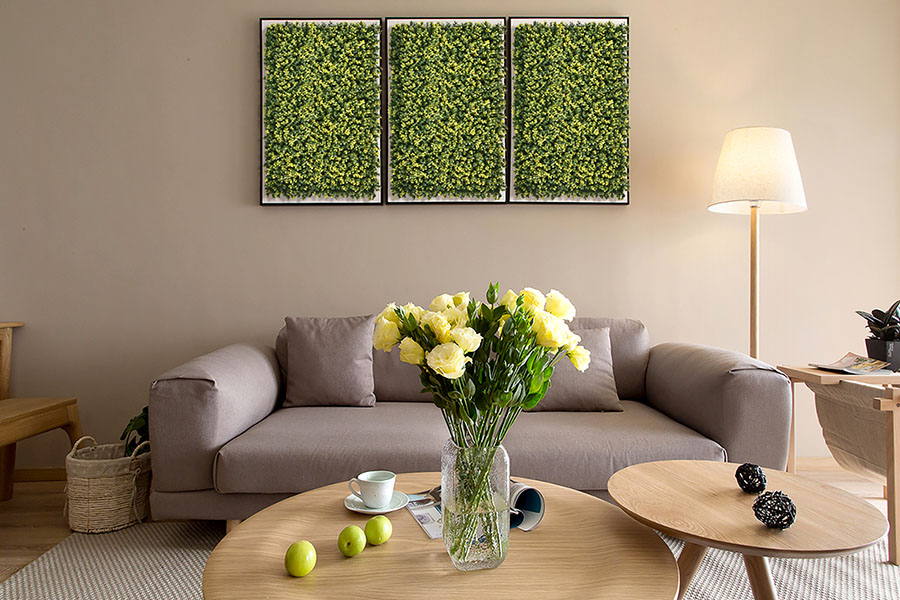 Outdoor green wall for homes and apartments
Fake living walls can be placed outdoors if they are made of UV-resistant materials, which means they can last for years in their natural environment. Using them as screening panels can cover unsightly parts of walls and fences. In these cases, faux green walls can improve privacy and add a sense of nature to your space, making outdoor areas safer and more enjoyable.
Vertical garden for offices, shops and receptions
When choosing vertical garden walls in these areas, consider the shape, size, and colour for the right option in your space. It is essential to do your research in order to obtain an artificial vertical garden that is aesthetically pleasing, low maintenance and affordable. As far as shape goes, it's not as big of a deal as you might think. While you are on-site, our greenery walls can be easily customized by cutting them to the exact dimensions you need.
How to install faux green walls?
Installing a faux green wall is relatively easy. While the installation may seem simple, careful planning and measurements are crucial. To avoid frustration and overspending money, double-check that the measurements for the area you are working in are accurate.
The installation methods vary depending on the material you're attaching them to. If you are searching for information on how to install the faux green wall, you can read this article for help: https://www.eden-vert.com/products/how-to-install-artificial-hedges/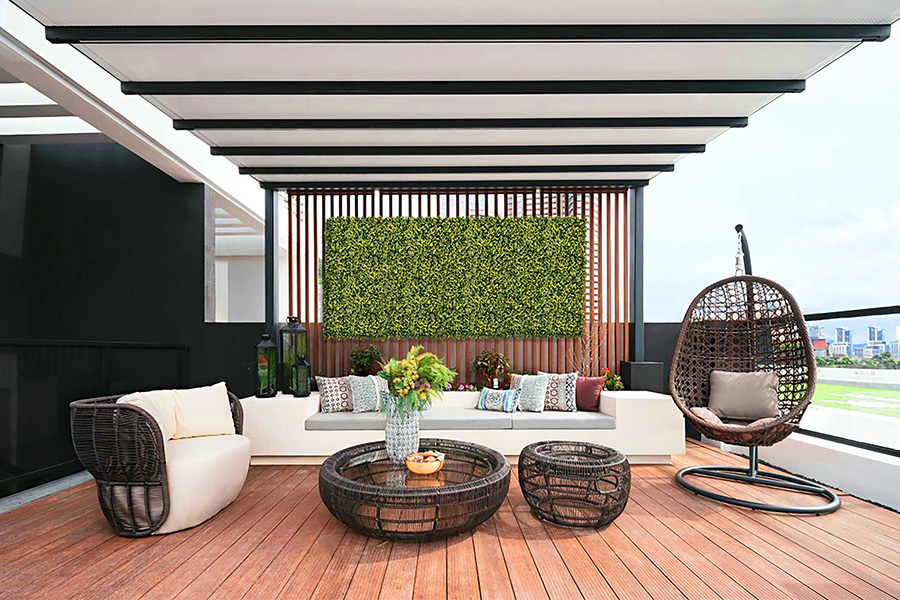 How to maintain artificial wall plants?
Maintaining artificial plant walls is reasonably cheap as they don't require weeding, watering, or fertilisers.
For artificial plants made of good quality materials, you can wash them off with water – if they are kept outside, using a garden hose is probably easiest.
FAQs about Faux Green Walls
How long will an artificial plant wall last?
The lifespan of artificial plants is largely related to the material they are made of, whether it is UV-treated or not. Plants made from specific synthetic materials which have undergone UV treatment can be expected to last significantly longer.
EdenVert's artificial greenery has passed the UV 5000H test conducted by an independent third-party laboratory, which gives us the confidence to provide a product warranty for a period of five to eight years.
Are faux green walls fireproof?
 EdenVert's range of artificial greenery boasts great fire retardant properties, verified by experiments and certified by the authoritative testing agency SGS.
Artificial plants produced in this way remain flame retardant for the rest of their lifespan, and such a property is called "inherently fire retardant". Artificial plants of this kind aren't prone to ignition and combustion even when exposed to high temperatures or open flames for an extended period of time.
 Can you move the faux green wall?
The answer is yes! You just need to remove the nails or ties and leave it intact. You can also unhook the buckle and reattach it if you want to restyle it. This offers the possibility of relocation and reuse, reducing costs.