Artificial Plant Wall: Elevate Your Hotel or B&B Ambiance and Decor Effortlessly

2023 08 9
In the ever-evolving hospitality industry, creating an engaging, aesthetically pleasing environment is essential for every hotel and bed & breakfast (B&B) establishment. Aesthetic appeal combined with comfortable accommodations can dramatically influence a guest's overall experience. As such, a burgeoning trend in the industry is the use of artificial plant wall decor to enhance the ambiance and decor of these spaces.

The Lush Appeal with Zero Hassle
Artificial plant wall art offers the captivating charm of verdant greenery without maintenance hassle. Crafted with intricate detail, these hanging plant installations replicate the real thing, presenting guests with an aesthetically pleasing view. Available in a multitude of styles, sizes, and configurations, hanging wall artificial plants can be customized to align seamlessly with your existing decor, enhancing the visual interest and providing a refreshing backdrop.
Minimal Maintenance, Maximum Impact
One of the primary advantages of building an artificial plant wall is the ease of maintenance. Unlike real plants, these artificial installations require minimal upkeep. Without the need for watering, pruning, or fertilizing, artificial plants eliminate concerns about potential water damage or pest infestations often associated with real plants. An vertical artificial plant greenry retains their vibrant appeal throughout the year, offering a constant, refreshing sight irrespective of weather or seasonal changes, effectively maximizing the visual impact with minimal maintenance.
Boosting Guest Experience
Artificial plant walls can significantly contribute to creating a soothing, welcoming environment, a key component of an enhanced guest experience. The presence of lush greenery can evoke feelings of calm and tranquility, improving guest comfort and satisfaction. Psychological research supports the positive effects of green spaces, even artificial ones, on mood and stress levels. Therefore, integrating these artificial vertical gardens can aid in creating an environment conducive to relaxation and rejuvenation, thereby boosting the overall guest experience.

Versatile Space Optimization
Artificial plants provide incredible flexibility in terms of installation. To cover indoor or ourdoor fake plants on walls can effortlessly transform any area—be it lobbies, corridors, dining spaces, guest rooms, or outdoor patios—into a serene oasis. Moreover, these walls can serve as decorative dividers to create more private spaces or highlight specific areas. The ease of reconfiguring or relocating these installations supports their adaptability to changing decor needs or layout modifications, offering a versatile solution to space optimization.
Long-Term Cost Efficiency
While the initial cost of building or mounting an artificial vertical garden wall may seem high, a closer look reveals their long-term financial benefits. Real plants incur ongoing costs including water, fertilizers, regular pruning, and potential replacement due to disease or death. Over time, these expenses add up, making it a costly investment. In contrast, artificial fake plants present a cost-effective solution with their one-time investment and minimal maintenance expenses.
Unleashing Decor Creativity with Artificial Plant Walls
The benefits of hanging artificial plants are many, and the artificial plant wall art can be incorporated into your decor in innovative ways:
1.Accent Walls: making a vertical garden wall serves as attractive accent walls in shared spaces or guest rooms. They create a visually appealing and serene atmosphere that delights guests. By choosing a diverse range of faux plants, you can design your feature indoor artificial plant wall that will leave your guests in awe.
2.Entrance and Reception Areas: Make a lasting first impression with artificial plant decor in your entrance and reception areas. This plant panels can create a welcoming and calming environment, setting the stage for a positive stay right from the start.
3.Roof-Top Gardens: For hotels with rooftop access, an outdoor artificial plant wall offer an excellent opportunity to mimic rooftop gardens. Guests can enjoy a peaceful retreat amidst the bustling cityscape, without the usual upkeep that traditional gardens require.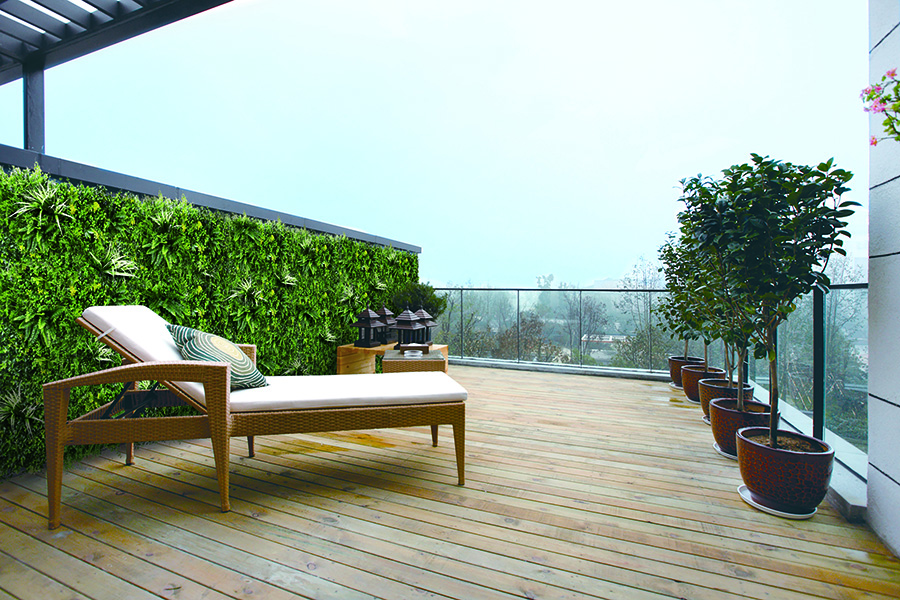 4.Spa and Wellness Centers: Spas are meant to provide a calming ambiance. By introducing an artificial wall plants, you can intensify this soothing environment, thereby contributing to your guests' overall wellness experience.
5.Conference and Meeting Rooms: Infuse energy into your meeting or conference rooms with hanging artificial plants. The refreshing greenery can create an inviting and relaxing environment that encourages productive discussions and creative thinking.
6.Bathroom Decor: Bathrooms can be transformed into tranquil spaces with artificial plants decor, offering a spa-like experience. The green elements can turn a functional space into a serene retreat.
7.Outdoor Patios and Poolside: Outdoor artificial plants are perfect for brightening up spaces like patios or poolside areas. Not only do they enhance visual appeal, but they also add a refreshing touch, making these areas more inviting.
8.Stairway Embellishment: Dress up your stairways with fake plants. This dramatic and stylish statement ensures that every corner of your establishment leaves a lasting impression on your guests, enhancing their overall experience.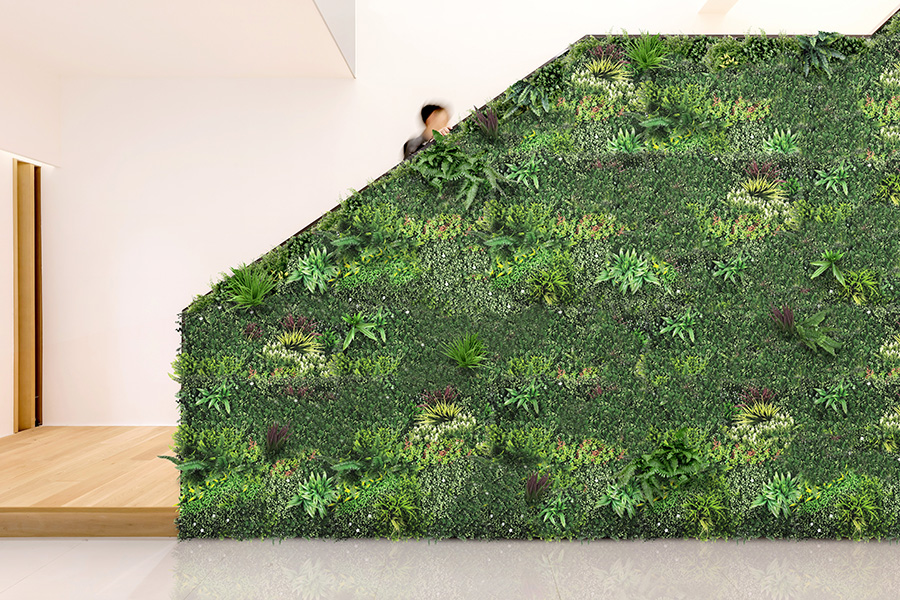 9.Thematic Room Decorations: If you offer themed rooms or suites, making artificial plant walls can be a unique tool for amplifying the intended atmosphere. A wall of artificial tropical plants, for example, can intensify the feeling of a tropical escape, fully immersing guests in the theme.
10.Event Spaces: For venues with event spaces, a feature wall with artificial hedge mats can serve as elegant backdrops. They add a touch of elegance and nature to any event, without the worry of wilting or falling apart, and cater to various themes, making your space more customizable.
11.Outdoor Dining and Lounge Areas: Many hotels and B&Bs have outdoor spaces for dining and relaxation. Integrating an artificial plant or flower decor here can add vibrancy and create a secluded, intimate atmosphere. It also provides a picturesque background for guest photos, enhancing your social media presence.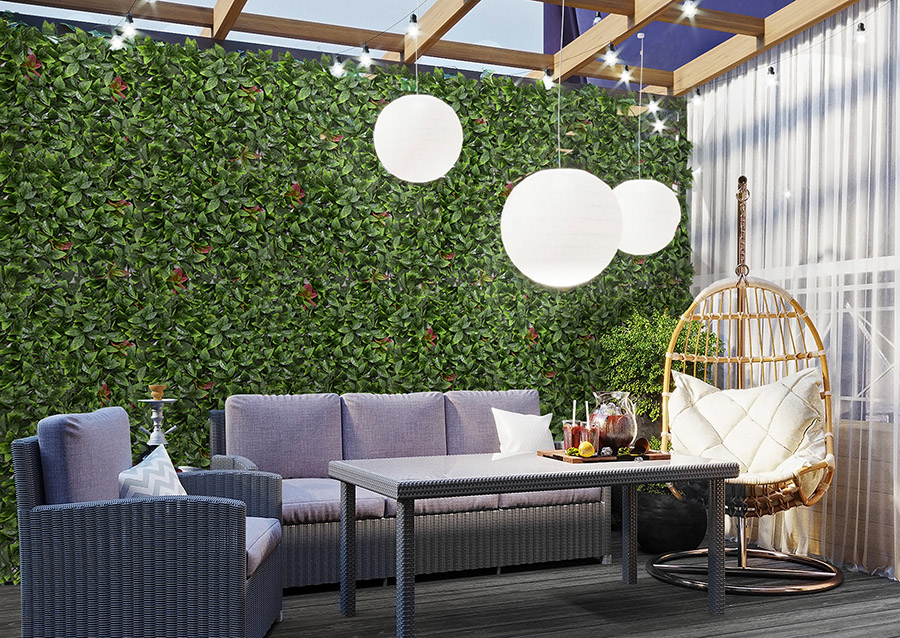 Conclusion
As we draw our exploration of artificial plant walls to a close, it's clear that these fake and faux plants and flowers offer an impactful way to fuse aesthetics and practicality in a hotel or B&B setting. With their low maintenance and high visual appeal, these in door and outdoor artificial plant constructs can transform any space into a soothing and attractive area. Their broad applicability, from common areas to event spaces, proves their utility, especially in urban settings where natural greenery might struggle.
Moving forward in a world that emphasizes sustainability and eco-friendliness, the popularity of such artificial panel installations is bound to rise. This trend showcases the power of design and innovation in creating aesthetically pleasing, sustainable, and welcoming spaces within the hospitality industry. Regardless of where they're utilized, be it a themed suite, a peaceful spa, or a lively outdoor dining area, the incorporation of artificial plant walls significantly uplifts the guest experience. This enhancement can make your establishment stand out as a top choice for travelers and guests seeking a memorable and comfortable stay.