A Comprehansive Guide to Artificial Boxwood

2022 11 16
The boxwood hedge is a gorgeous, shapeable greenery that people can place in residential and commercial gardens or landscapes to create artistic designs, forge pathways, divide spaces, or provide privacy.
However, traditional natural boxwood hedges can be costly and hard to maintain. Artificial boxwood offers a convenient and affordable option. They are easy to install and support, and they also come in a variety of shapes and sizes to fit any space.
Shopping malls use artificial boxwood to bring outdoor greenery into the building or to create private "nooks" for shoppers to sit in.
Restaurants use artificial boxwood panels to build a greenery wall around their outdoor patios or to block noise pollution. In residential areas, faux boxwood hedge is used as privacy screens to keep others from prying.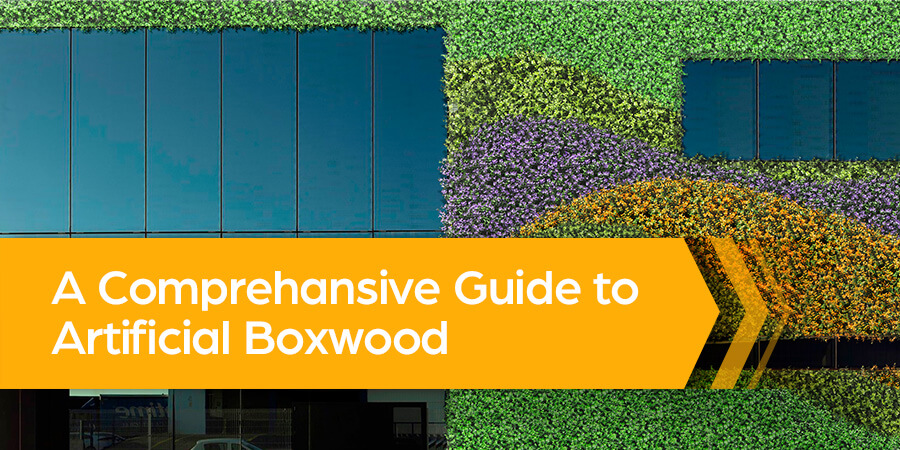 What is artificial boxwood exactly?
Boxwood hedge is popular for landscaping because of their lush, verdant foliage. But keeping a natural boxwood hedge trimmed and looking its best can be challenging. That's where artificial boxwood hedges come in handy. Artificial boxwood is a great way to add instant charm to your place.
Compared to natural boxwood hedges, faux boxwood requires no watering, sun exposure, pruning, or maintenance. It provides you with all the benefits of natural walls. Furthermore, it is maintenance-free. That means no high-cost landscape maintainers, no wilting or dying greenery, or no fading.
Best of all, faux boxwood comes in various shapes and sizes, so you can find the one that works best for your space. A fake boxwood hedge is a perfect solution, whether you want to add a little privacy or brighten a room.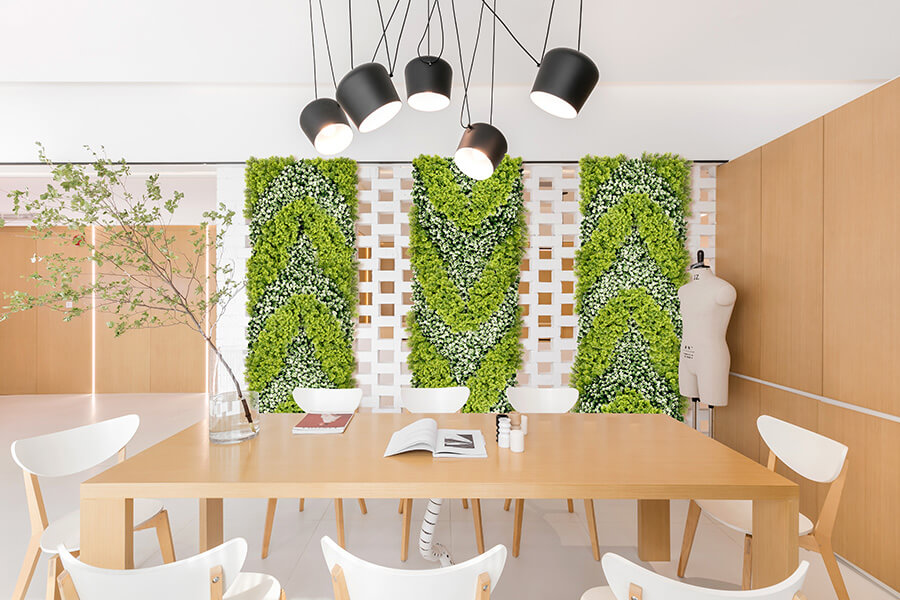 What are the benefits of artificial boxwood?
If you're looking for a way to break up the monotonous decoration, consider using some plants to create a green wall. Faux boxwood panel is a great way to add natural texture and color to a space without taking up too much space.
Plus, it has many benefits that make it perfect for decorating. Here are some of them:
Artificial boxwood is low maintenance and requires very little upkeep.
They are pest and disease-resistant, so they are long-lasting.
Artificial boxwood can last for years without fading or withering.
They are a great source of privacy and can be used to separate different areas.
They add a natural green color to your space and help improve your mood and productivity.
Artificial boxwood is versatile. It can be used indoors or outdoors and in any climate.
How to give a style look to artificial boxwood?
 When it comes to styling artificial boxwood, there are endless possibilities. You can use them to divide the space, create a visual barrier, or add a touch of green to your decoration. Because of its versatility, people use artificial boxwood in various settings, including workplaces, retail stores, and even homes.
There are no rules to the styling of artificial boxwood, and you can create any look you want. You can choose a sleek modern style or a classic traditional style – the possibilities are endless. Faux boxwood is perfect for any decoration.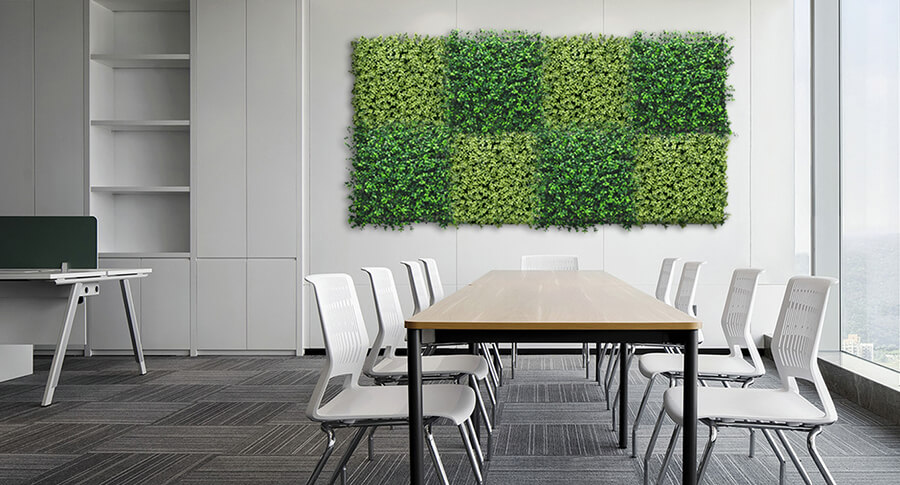 How to care for artificial boxwood?
To keep your artificial boxwood looking its best, we recommend dusting it with a soft cloth every few weeks. Outdoor artificial boxwood is more likely to accumulate dust. If it has not been dusted for a long time, it will increase the difficulty of cleaning and weaken the ability of UV protection.
Therefore, regular cleaning is essential. Please obtain the specific cleaning methods by reading the article: Powerful guide on how to clean artificial plants.
How long will artificial boxwood last?
This question is often asked, mainly because of the heat and extreme weather in recent years. People wonder how long their faux boxwood will last. The boxwood will last longer if made from a specific synthetic material that has been UV-treated.
UV resistance is the ability to stand for sunlight exposure. EdenVert artificial boxwood hedges pass the authoritative UV 5000H test to ensure to stand in a high level of sunlight, which gives us the confidence to provide a product warranty for 5-8 years. If not UV-treated, the lifespan will be very short, for several months.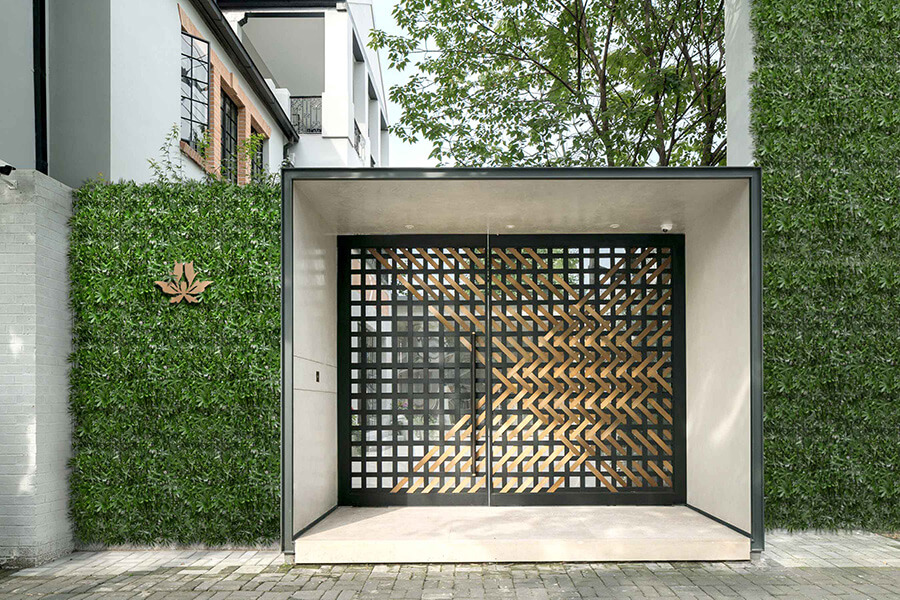 How to choose the right artificial boxwood for your places?
When choosing the right artificial boxwood for your place, there are a few things to consider. Size, shape, and color all matter, so take a moment to think about what you want and need.
A compact artificial boxwood hedge might be the best choice if you have a small patio or balcony. If you want something to fill ample space, go for a fuller shape.
As far as colors go, you can choose from a wide variety of greens and even mix in several shades. Our faux boxwood panels are available in classic and contemporary styles, so you can find something to suit your taste.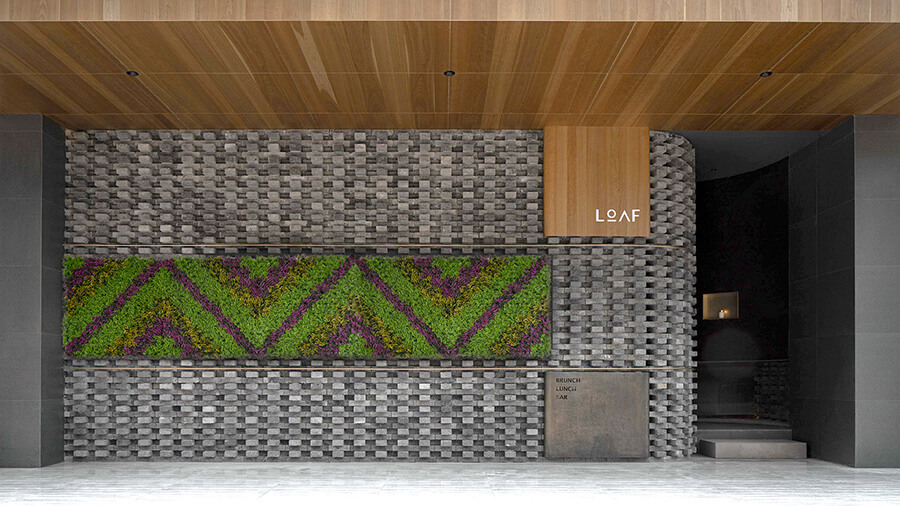 Conclusion
Artificial boxwood has become a popular choice for place owners with its lush greenery and ability to increase privacy quickly. Synthetic boxwood panels are the perfect solution whether you want to dress up your front yard or add some privacy to your backyard.