Are Artificial Plants Fire Retardant?

2022 11 1
When you're thinking about architectural design or home renovations, whether indoors or outdoors, fire safety always comes first. This important point places demands on your material selection.
As you may have noticed that artificial plants are often used as greenery wall backgrounds, photo frame decorations, hanging balls, etc. in both household and commercial places.
Then choosing artificial plants with flame retardant properties will not only bring you beautiful effects but also make your decoration without worries.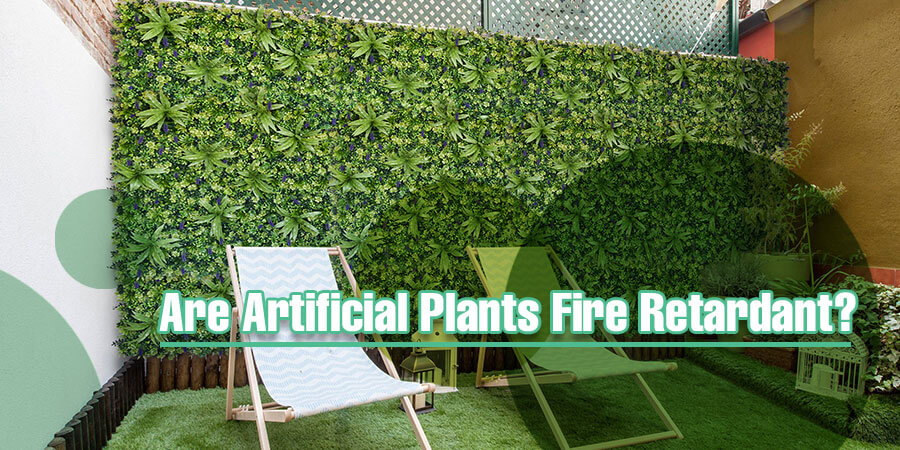 What are fire retardant artificial plants?
Artificial plants themselves do not have fire resistance. EdenVert's range of fire retardant artificial plants is produced with FR additives added during the manufacturing process. This endows them with excellent flame retardant properties, tested to the BS EN13501-1:2018 standards of reaction to fire.
Artificial plants produced in this way remain flame retardant for the rest of their lifespan, and such a property is called "inherently fire retardant". Artificial plants of this kind aren't prone to ignition and combustion even when exposed to high temperatures or open flames for an extended period of time.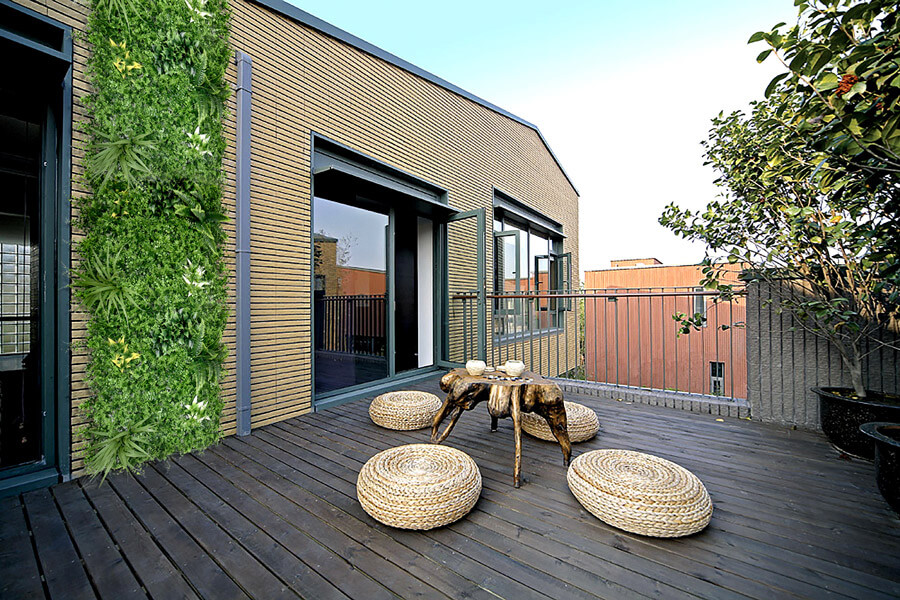 The benefits of fire retardant artificial plants
Safer decorations
Fake plants with flame retardant properties help ensure peace of mind when creating a space both indoors and outdoors. Especially if the artificial living wall is likely to be placed near a fireplace or heat source, you can rest assured that faux plants are considerably low risk.
Low maintenance
Fire rated artificial green walls are easy to install. Once installed, there is not much else to do. You don't need to consider a schedule for maintaining the greenery wall or worry about replacing plants that aren't growing. All you need to do is dust off the leaves every now and then to make sure they look their best.
Stunning all year round
A fire rated fake plant wall does not require specific conditions to thrive. You don't have to consider the humidity, whether there's enough light to encourage growth, or whether the climate is right for the foliage. In fact, you can place the faux living wall anywhere. Seasonality isn't an issue either, you don't need to wait for the plants on the living walls to bloom to really enjoy it, as it does all year round.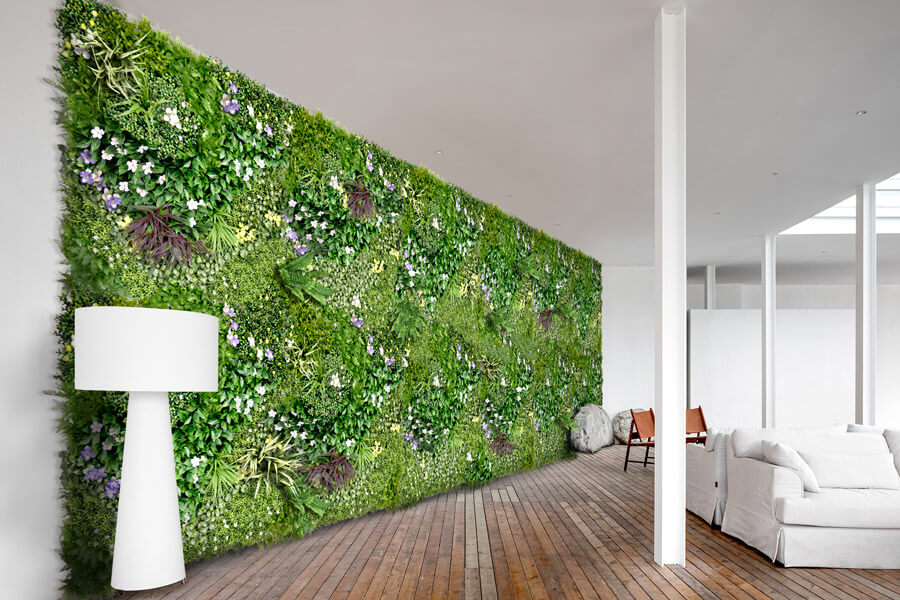 Is it necessary to choose fire retardant artificial plants?
If you are buying for public buildings or commercial premises. In this case, we recommend that it is necessary for you to seek advice from your fire safety officer before ordering your artificial greenery products.
For some other relatively safe outdoor spaces, our standard range of artificial plants is ideal. Generally, you can get more options at a lower price to purchase standard artificial plant products that are not fire retardant.
How to choose reliable fire retardant artificial plants?
l Find a qualified artificial plant supplier
A qualified artificial plant supplier is one of the most important factors in ensuring the success of your project. They can provide high-quality products, professional recommendations, excellent service, and an after-sales guarantee.
Then, how to find a professional and trustworthy supplier? Check out this article to learn: Choosing an Artificial Plant Supplier: What to Know
Check the fire retardancy test report
The fire retardancy test report issued by the third-party authority is strong proof that the product has a flame retardant effect. EdenVert's fire retardancy test is conducted by the authoritative laboratory SGS in accordance with BS EN 13501-1:2018 standards of reaction to fire.
It is conducted independently and abides by strict standards, which ensures its reliability. You can thus have confidence in the fire safety of EdenVert's artificial plants, whether for outdoor or indoor use.
Ask for a free sample
Before buying artificial plants, you should ask for a free sample from the supplier. Samples can truly reflect the quality and appearance of the product. Once you get a sample, you can do a little test to see if it has good flame retardant properties.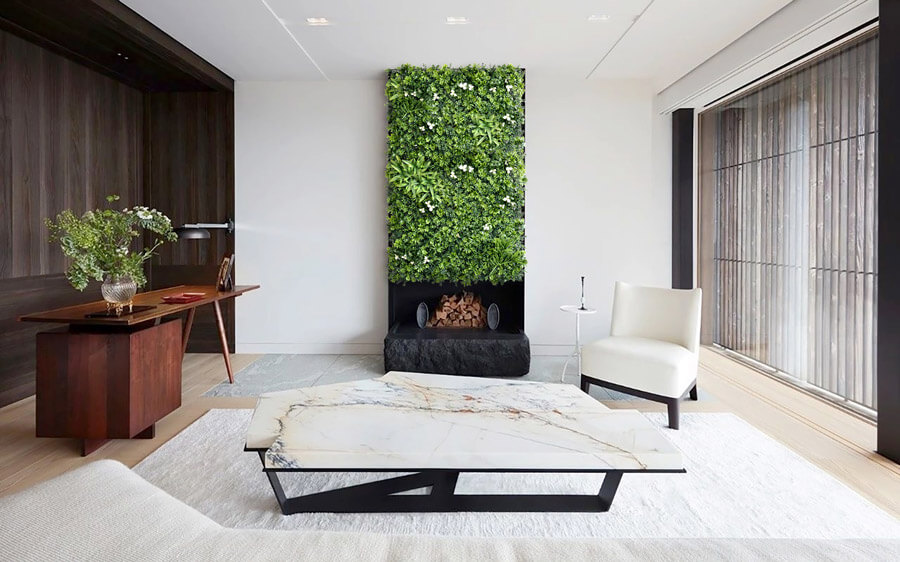 Conclusion
Fire retardancy is an important factor to consider as a way of ensuring user safety in both outdoor and indoor artificial plants. It is highly recommended that you pay attention to flame retardant properties so as not to risk your safety of yourself and those around you.
EdenVert is a leading artificial plant supplier with two factories based in China. We have an ongoing commitment to quality and customer satisfaction. Based on more than ten years of product development and manufacturing experience, our artificial green wall products meet the strictest standards of leading laboratories.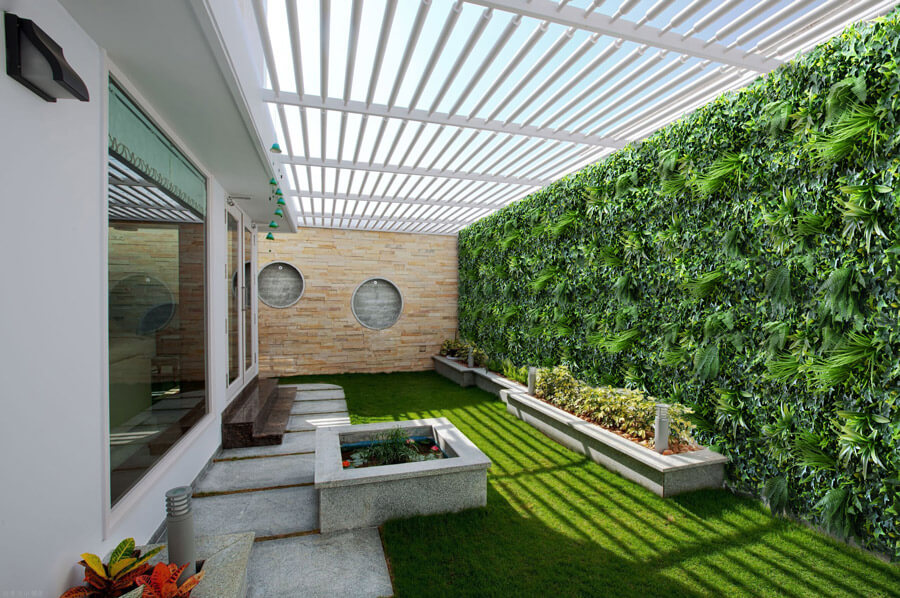 In addition, being a customer-oriented enterprise, we accept product customization orders according to your wishes. Don't hesitate to contact us: Tel: +86 25 69811778, Email: [email protected].