Top 9 Uses of Artificial Hedge

2022 10 9
Most residential and commercial properties have some element of nature in their outdoor spaces as trees and plants bring a lot of tranquility and joy to the area. Individual homeowners like the idea of setting a privacy screen on their property. While commercial properties require hedges to divide space in their expansive landscapes.
However, maintaining natural plants in the landscape can be difficult. All types of hedges and plants require continuous maintenance, including watering, pruning, soil aeration, and pest control. The best way to ensure that you don't have to deal with these problems is to choose an artificial hedge
Nowadays, commercial spaces use artificial hedges in exciting ways to bring a fresh feel and function to their spaces. From boxwood to eucalyptus, formal to whimsical landscaping, and outdoor to indoor hedges, many varieties are used as features or functions in designs. Here are 9 of the best uses for indoor and outdoor hedges that will spark your imagination.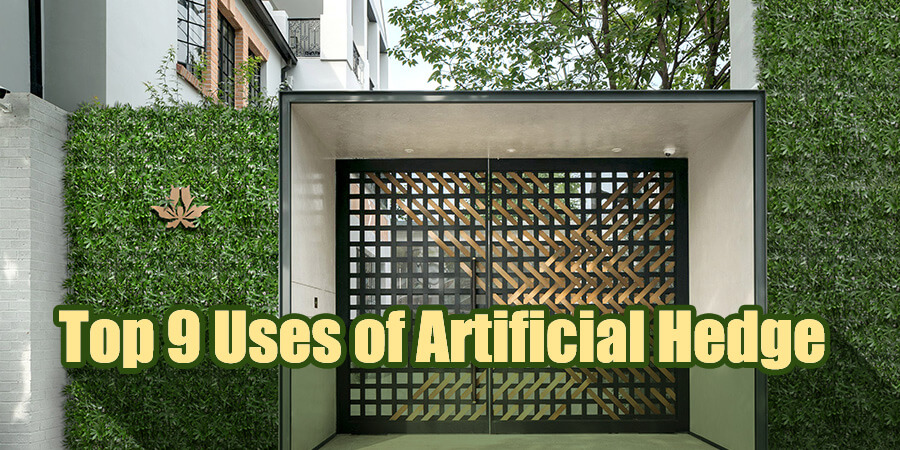 Artificial hedge screening
Whether your goal is to block the sight of your neighbors in the outdoor space, or you want a screen to divide your large indoor room, the artificial hedge is undoubtedly the perfect choice.
The most common use of a fake hedge is to serve as a privacy screen. Not only will they block prying eyes and bring privacy to the environment, but they will add a touch of warmth to your landscape design.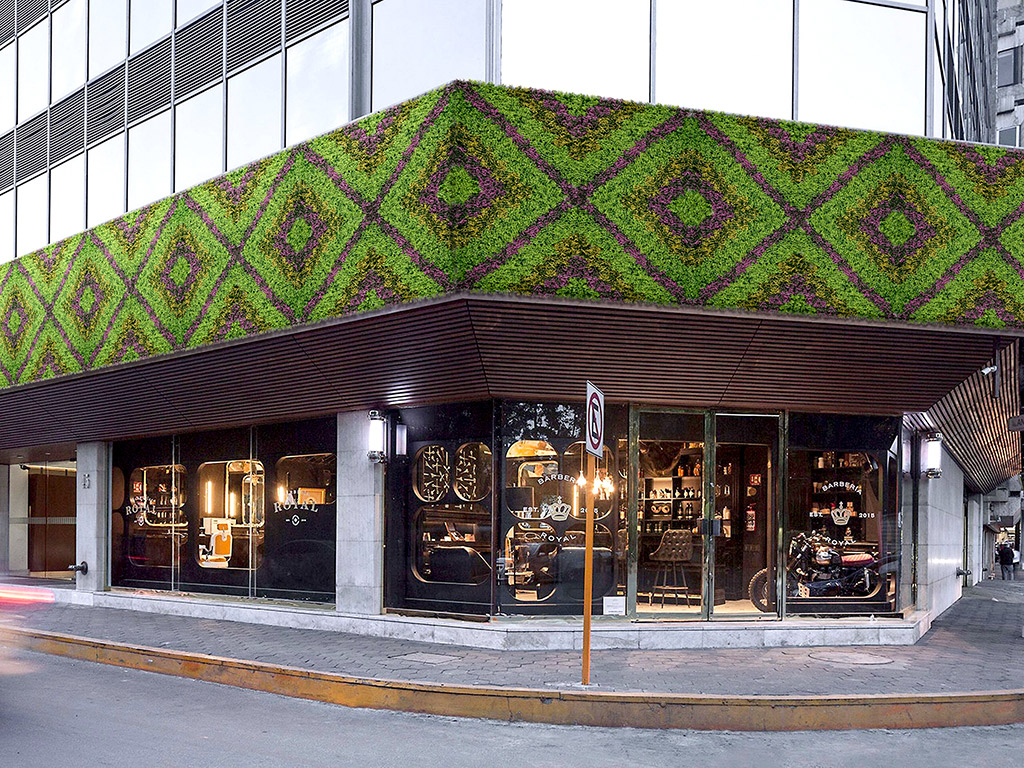 Define an area
Fake hedges provide a simple way to define an area in the landscape. You can use them around focal points or special features in the landscape, enhancing the overall appeal. They also effectively contrast bright flowering plants and bring all attention to the main feature.
Hide unsightly views
Artificial hedge wall provides a natural and chic way to hide unsightly views indoors and outdoors. From masking damaged walls to concealing HVAC boxes and other utility items, faux hedges soften the space and add a pristine backdrop to the setting. They are great for hiding problem areas in the landscape.
Fence/wall extension
Do you have a fence or wall that is too low, or doesn't have enough space to provide adequate privacy? Our long-lasting artificial hedge panels are easy to attach to fences and walls and are fully customizable so they block the view at any height for instant privacy.
Moreover, since our artificial hedges are UV resistant, they will remain lush and green for many years with no watering or care required!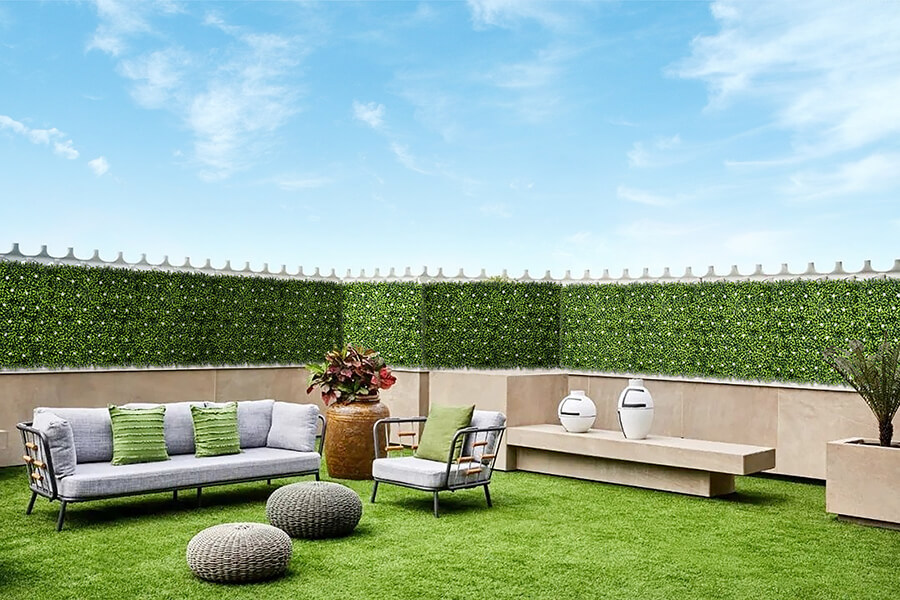 Noise reduction
Are you bothered by the constant noise on a busy street? With the highway nearby, is your restaurant's patio a little too noisy for customers? Artificial boxwood to the rescue!
Not only do our artificial boxwood hedges block unsightly views, but they also largely mask annoying noises in the environment. So you no longer have to worry about your neighbor's dog going crazy and barking when it sees you because our artificial hedge screen is completely blocking it. Even when it barks, the bushy hedges cover up the sound!
Stress reduction
Besides being eye-catching, artificial hedge walls have many practical benefits. For commercial offices, applying artificial hedge mats no doubt promotes a sense of tranquility and reduces stress levels for employees.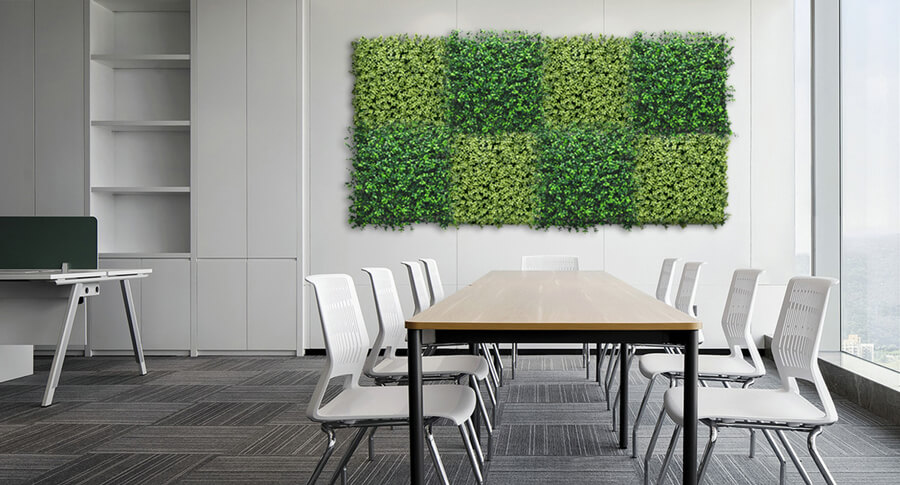 Artificial hedge for balcony
Do you like to sit on the balcony and relax when the weather is nice? If so, a splash of green on your balcony can instantly change the atmosphere. You can use the artificial green wall and smaller plant pots throughout the space to create a welcoming and friendly vibe.
Artificial hedge for restaurants
The only criterion for the first-time customer to judge a restaurant is its appearance. Decorating the exterior of your restaurant with an artificial plant wall can give it a more appealing ambience and attract more first-time customers.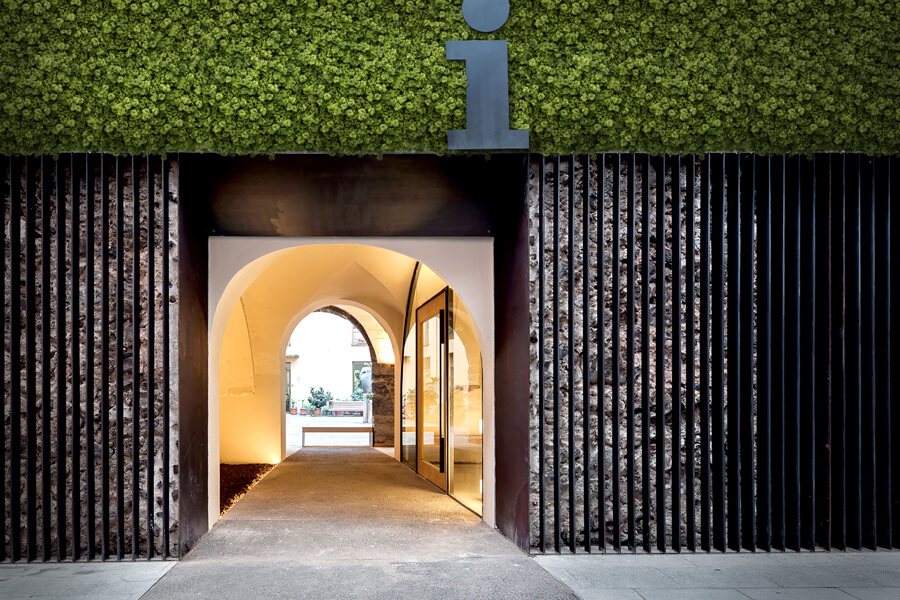 Artificial hedge for salon's interior
Do you own a beauty salon where consumers can get soothing services such as haircuts, facials, and manicures? Artificial topiary can be used to provide wow elements to your service, giving your consumers a fully immersive experience.
Allow your clients to relax and release physical tension while enjoying the services provided for you in a green environment.
How to care for the artificial hedge?
If you're looking for a low-maintenance way to green your space, an artificial hedge is a great option! They provide some much-needed greenery but also add style. You don't have to worry about watering them, fertilizing them, or dealing with pesky insects. All you need to do is to dust them every now and then and they will look like new.
Conclusion
An artificial hedge is an excellent way to create energy-efficient and water-efficient landscaping. You don't have to waste these resources on landscaping, which reduces the pressure on the environment. There is no need for pesticides, herbicides, and fertilizers, which also help maintain the health of the ecosystem over the long term.
For any other information about our artificial hedge, please do not hesitate to contact us. Our team will provide you with all the information on these products. You can contact us at [email protected].