Perfect Privacy Screen of Artificial Hedges

2022 04 28
If you need more privacy for your property, or you want to create a privacy fence for your backyard or garden, artificial hedges may be a good solution. Or if you want to keep your outdoor area to be as natural as possible, why not install artificial boxwood hedges? Let's see how artificial boxwood hedge works and its benefits.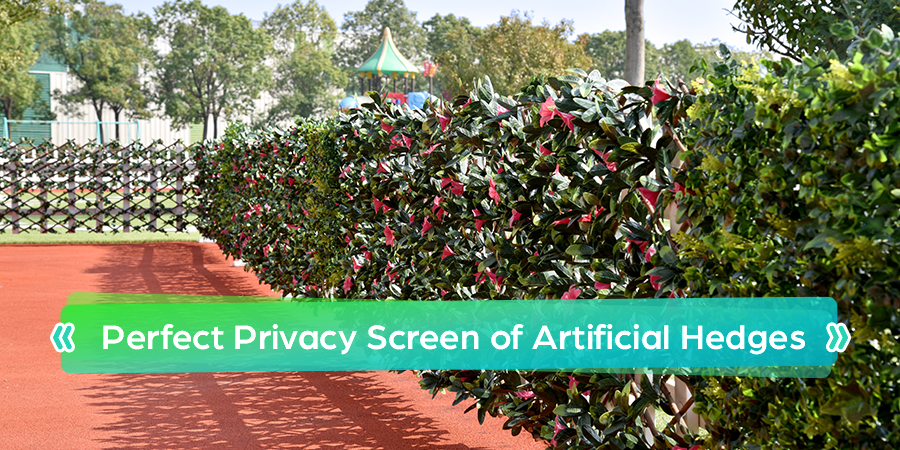 Why choose artificial hedges for privacy screen
Privacy protector & boundary setter
We live in a world where neighbors are living increasingly closer to each other. Whether you have a house or an apartment, the lack of privacy is an ongoing issue for most of us! Perhaps your next-door neighbors can see directly into your yard, or maybe everyone who walks up and down your street can view your entire balcony.
Using a fake boxwood hedge for privacy screens is a good choice, especially for people who want both privacy and aesthetics.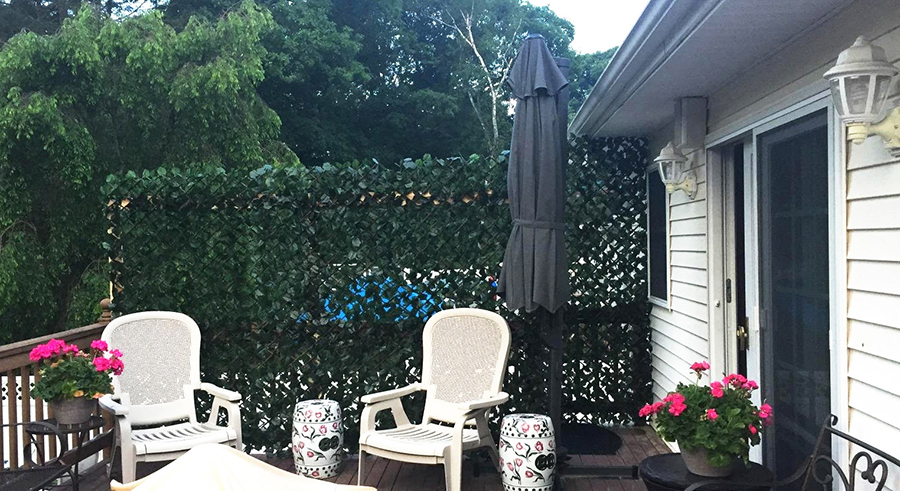 Landscaping choice
Artificial hedge panels are a popular landscaping choice for their versatility and easy maintenance. It can quickly create a green space with lush green leaves.
You don't have to wait for the real boxwood hedge to fully grow up, which will take months or years. What you can get from your supplier is the finished leaves with the best performance. You can have your magic green space all year around.
Low maintenance
Caring for real boxwood hedges can be quite time-consuming, including keeping a pruning schedule, maintaining a certain blade length, and dealing with foliage clippings.
Then there's the fertilizing, watering, weeding, and pest control to think about. It's enough to overwhelm even the most driven among us. If you choose an artificial hedge, just install the hedge panels and simply move on with your life!
No cutting required, no watering needed, and no fussing over those pesky weeds. This low-maintenance option means you won't have to sacrifice your precious weekends to keep it looking beautiful. It maintains its color and form on its own.
Cost-effective
A real boxwood hedge can be expensive to maintain, while a fake boxwood hedge is a one-time cost. Artificial boxwood hedge is not restricted by natural conditions such as sunlight, air, water and seasons, and can be selected according to the needs of the site.
If you'd like to create your own privacy screen, take a look at artificial boxwood hedges to help in planning your project.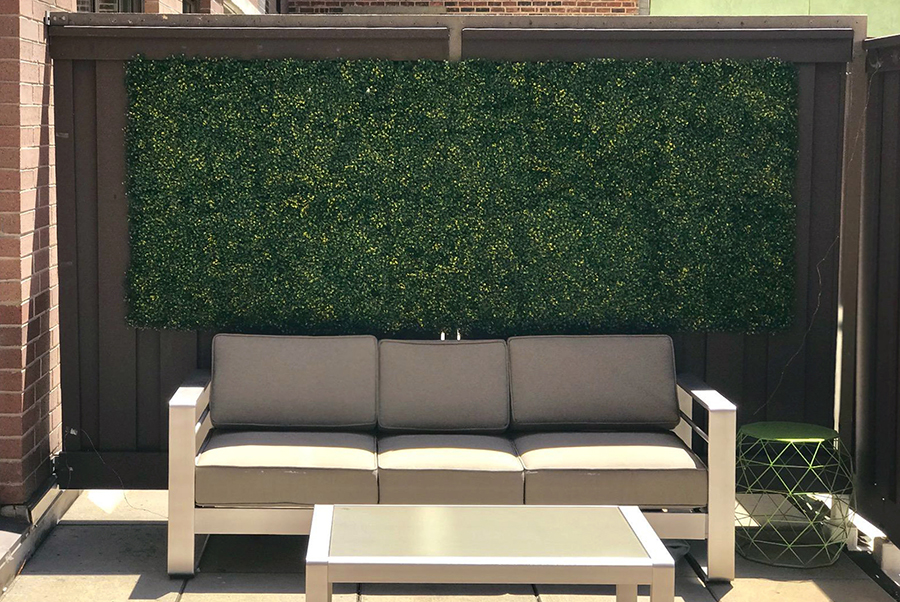 Easy to install
With just a few tools and supplies, you can easily install artificial hedge panels. There's no getting your hands dirty here, because there's no digging required! You can install them on a variety of existing surfaces, including wooden fences, brick walls, and wire fences.
Alternatively, you can opt for portable artificial hedge panels, which can be easily moved around your property. Artificial hedges are also much easier to protect eyes compared to other privacy screening options like large fencing.
Long-lasting
Artificial boxwood hedges can stand the test of time (and heat) without the disappointments of browning, withering, or dying. In order to meet the highest requirements, our leaves are tested with UV throughout the processing, not just on the surface.
All artificial hedges are guaranteed to be UV resistant for 5-8 years. Thanks to this technological process, leaves do not lose their luster despite high exposure. In addition, the stem can remain elastic even under drought conditions.
Healthy and safe
Maybe you're thinking that how can faux boxwood hedges be safer than real and natural hedges? For health and safety reasons, the selection of raw materials for artificial hedge panels needs to be cautious, especially for children and pets.
EdenVert artificial hedge products have been tested through third-party certification with rigorous health assurance, such as RoHS, PAHs, and REACH, which prove that our products are healthy and environmentally friendly.
RoHS: safe, non-toxic, and heavy metals free
REACH: free from substances of very concern
PAHs: no cancer-causing chemicals
Where to use artificial hedges?
Artificial hedges are often used as coverings and extensions of fences to enhance privacy and prevent others from peeping. An artificial hedge wall has almost all the beauty and benefits of natural grass walls without ongoing work or worries after installation, which is perfect for dressing up an old wall or fence.
What's more, there are some special using methods you don't know before which may surprise you. Today's architects often use fake boxwood hedges as a privacy screen to create sound barriers in echo-prone spaces, such as office buildings and restaurants.
How to install artificial hedge panels

Collect tools and materials
All that you will require in order to install artificial hedge panels is a tape measure, plastic ties and scissors.
Measure the fenced area
Installing artificial hedge panels on a paling fence is simple and easy. The careful calculation is very important. By doing so, you can avoid too much wastage or less preparation to ensure the installation is more smooth and more effective.
So we need to measure the privacy fence area with a tape measure, mainly length and width. The calculation formula is length * width/height.
Attach the hedge panels together
After getting the size of the area and the quantity of hedges, the next step is to attach the artificial boxwood hedge panels together by using the easy-snap-to-lock system which comes with the products. Only a few operation works will be needed to complete the connection between panels.
Fix the panels on the fence
After connecting the panels to the required size, just fix artificial boxwood hedge panels on the fence with plastic ties. Be careful to align the hedge panels with the fence to ensure the aesthetics of the installation.
Trim any overhang
The final step is trimming. If there is an extra length for the plastic ties, just use scissors to trim the extra length until they fit perfectly.
Other ways to use artificial hedges
Divide the area around your yard
You can use artificial boxwood panels to separate different areas, such as the barbecue area, game area, and dining area.
Keep your pool safe
If you want to enjoy a little greenery while keeping the pool safe, choose the artificial hedge panels around the pool fence.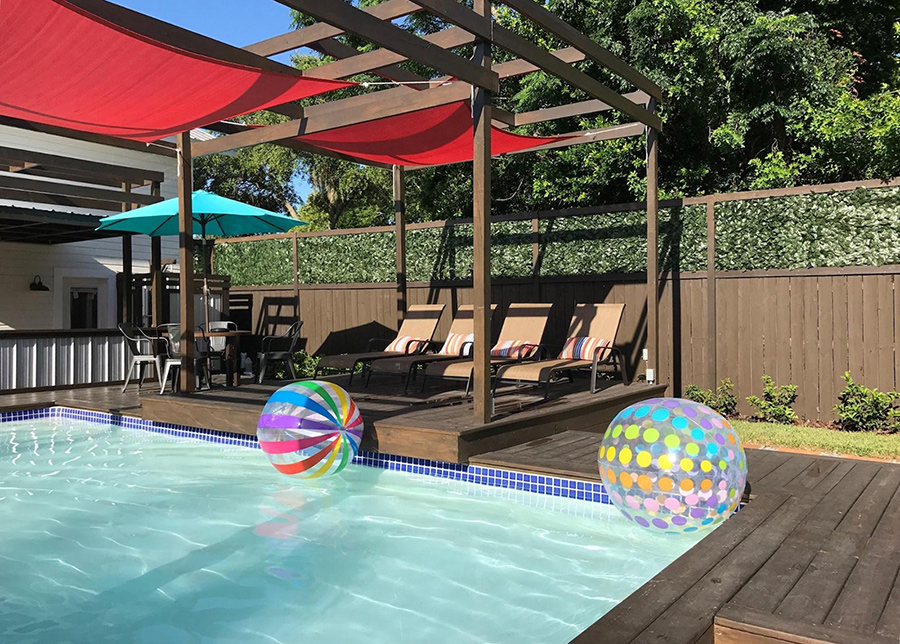 Cover up unwanted facilities
Is there an ugly hot water tank or an old shed? Use a fake plant wall as a privacy screen to remove them from view and add a bit more greenery to your yard.
Used as interior decoration
An artificial hedge is a great way to create a fake green wall or even half wall in your home! There are many ways you can decorate with artificial hedge panels for your interiors.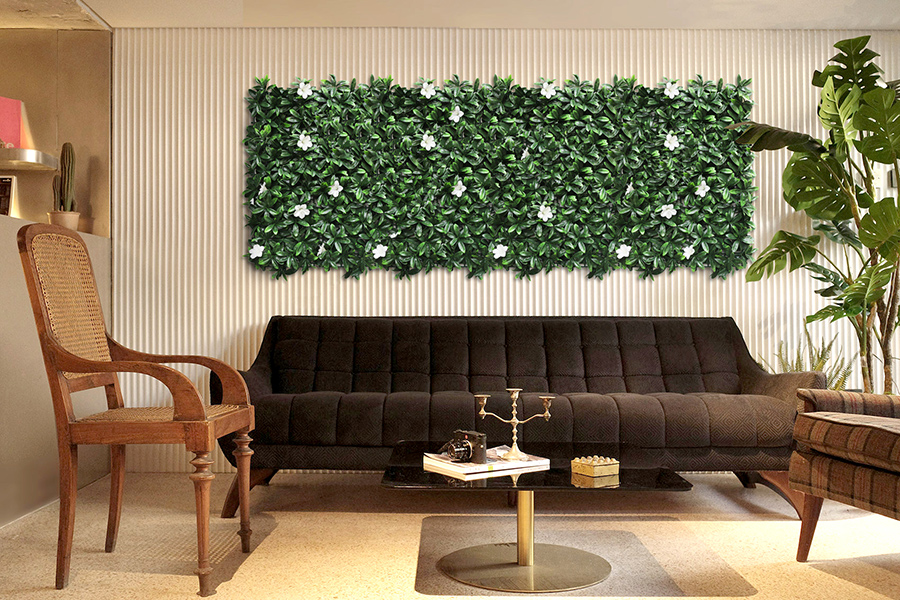 Use artificial hedges to camouflage
If your existing privacy fence is faded and looks worn out, you can disguise it with artificial boxwood hedges and create a new look without replacing the whole fence!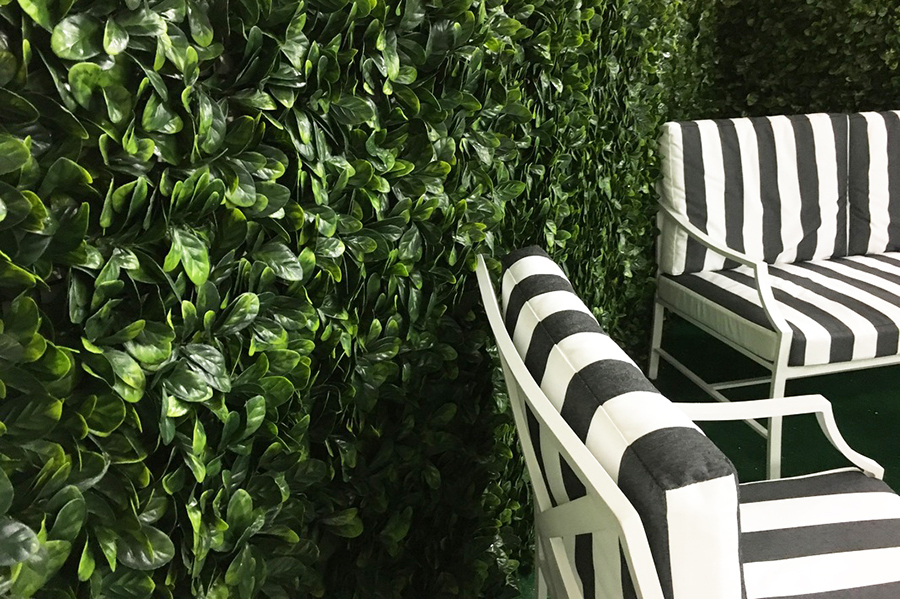 Use faux hedges as portable fencing
Many of our commercial clients use faux hedges as portable fences in their activities. It's great for crowd control and creating paths to guide people to specific areas.
Create a protective edge around the garden
Pets may be notoriously cheeky when they dig holes and destroy flowers and plants around the garden! Place a low artificial hedge panel around the garden bed to protect your leaves.
Conclusion
Not like real boxwood hedges can be time-consuming and costly to maintain, you can opt for a highly cost-effective option in an artificial hedge for a privacy screen.  You can enjoy beauty and comfort in your yard.
If your outdoor space is limited to a balcony or patio, you can spruce it up with a patch of lovely hedge and make your small space a bit more colorful. With such versatility in its possible uses, the artificial boxwood hedge can be a great addition to your yard.
If you have any questions, welcome to contact us by Telephone: +86 25 69811778 and Email: [email protected].