Guide to Artificial Topiary Balls

2022 04 2
Whether you're looking to add a touch of style to your daily home decoration or to deck your halls for a special occasion, look no further than our artificial topiary balls.
It is a stylish decoration for both commercial and residential applications such as homes, offices, shops, and restaurants, creating a cozy and inviting atmosphere.
Every artificial topiary in our portfolio is special enough, giving the space unlimited artistic flexibility in the way they're composed. To help you better understand artificial topiary, we list all frequently asked questions below.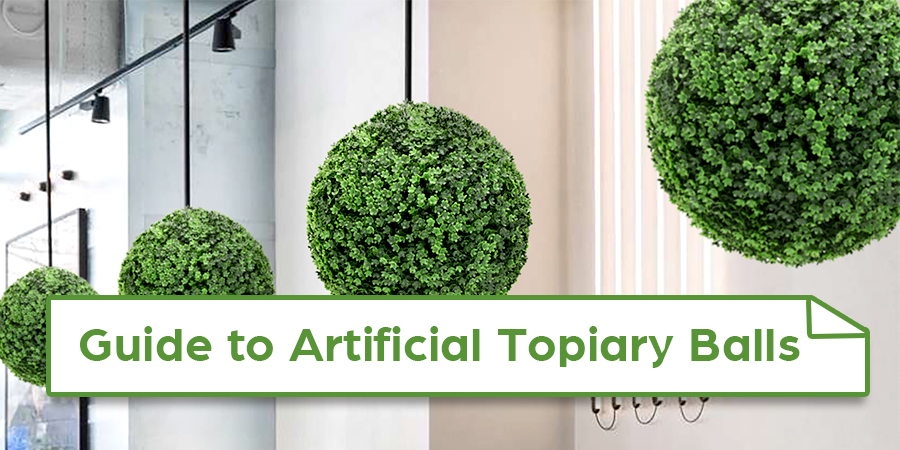 What are artificial topiary balls?
Artificial balls are one of the classifications of artificial plant products. They are made with greenery or flowers and are constructed in specific shapes.
Compared with real plants, artificial balls require no watering, pest control, or pruning, and can stay fresh for a long time. It is an ideal choice for people who are not have green fingers, which gives you the look you want without creating it.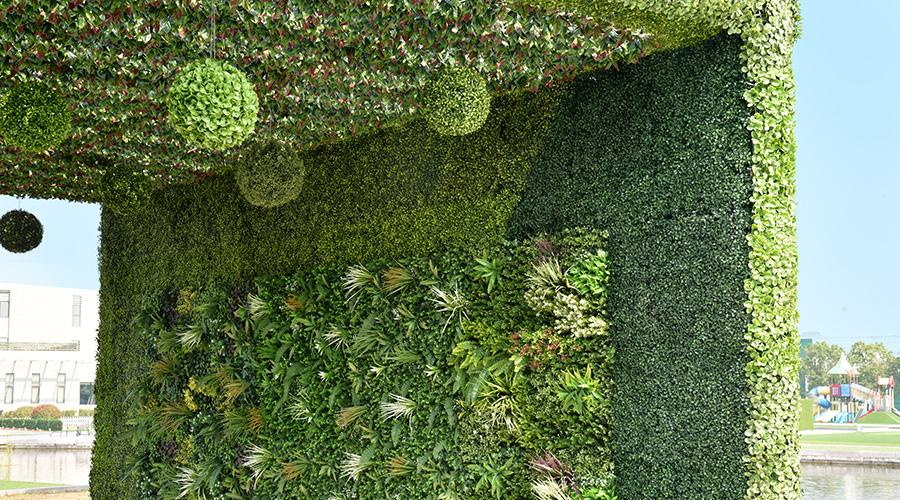 What are artificial balls made of
Most artificial balls are made of PE materials, and sometimes iron would be used for structural support. Thanks to industry-leading technology, our artificial balls are very firm and not easy to damage.
EdenVert balls are made with ultra-tough, UV-treated materials that can withstand bad weather, and protect you from having to replace them year after year.
The benefits of artificial topiary
No water need
One of the great advantages of artificial topiary is no watering need on a regular basis. Maintaining a live topiary can be time-consuming, but artificial topiary is much easier to take care of, and it can both bring beauty and brightness to your space without fading and shedding in harsh weather.
Aside from a little wipe-down now and then, your topiary will continue to look perfect for years on end.
Easy to clean
Another powerful benefit of artificial topiary balls is easy to clean. When you leave a ball someplace for a period of time, the topiary will start to collect dust.
Cleaning a real plant is difficult and time-consuming because you don't want to hurt it and make leaves fall down, while you can clean the fake one whatever you like and you don't have to worry about damaging it.
Look realistic
A good quality artificial topiary ball will look comparable to the real ones, even then you look at it in a close way. With artificial topiary, you can create a relaxing environment wherever you want, and bring a luxurious feeling to your space.
Of course, not all artificial topiary has high quality and look very realistic. Some lower-quality ones can easily fade and look dull in a short time.
Flexible
Compared with live plant pots, artificial topiary balls can be put anywhere you want, because they don't require any natural light. This benefit gives you more flexibility when it comes to decorating your room, as you can even put it in the place without any light and wind, but can add a green ornament.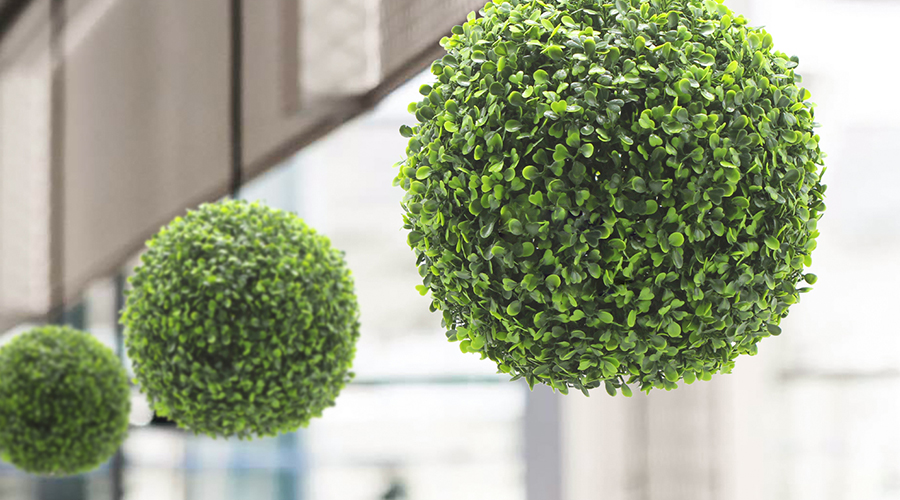 How to clean artificial topiary balls
Although artificial balls do not need careful maintenance like natural plants with regular cleaning, however, they will accumulate dust just as real plants do, so it is necessary to clean them on a regular basis.
An easy way to clean artificial balls is to gently wipe the leaves with a damp cloth. The specific step is to make a mixed solution of half vinegar and half water. Put the solution in a bottle, spray it on your artificial ball, let the vinegar solution stay on the plant for five minutes, and then wipe as much dust as possible with a damp cloth.
Can you put topiary balls outside
You absolutely can put artificial topiary balls outside. Topiary is made of the same materials such as PE and other additives like UV protection and fire retardant to be better applied in indoor and outdoor situations. Thus, we highly recommend that you choose high UV treated artificial balls which can stay green and have good performance for years.
How long do topiary plants balls last
This question is often asked, especially because of high temperatures and extreme weather in recent years, people want to know how long their topiary balls can last. If the topiary is made of specific synthetic materials which have been UV treated, they will last longer.
UV resistance is the ability to stand for sunlight exposure. EdenVert topiary balls pass the UV 5000H test to ensure to stand high level of sunlight, which gives us the confidence to provide a product warranty for 5-8 years. If not UV-treated ones, the lifespan will be very short, for just several months.
Why buy topiary balls at EdenVert
As the leading artificial plant manufacturer in China, EdenVert has started production in 2008 with more than 10 years of manufacturing experience. All topiary balls are produced by EdenVert not only with beautiful colors and designs but also with high quality.
Whether you're designing artificial topiary plants balls in your offices or home, EdenVert has got all the solutions down to the component parts. Our artificial topiary balls are customized in scope and scale beyond what we've shown on our website.
If you have any vision, just let us know, and our design team will make it happen. Telephone: +86 25 69811778 and Email: [email protected].