How to build an artificial vertical garden

2022 05 11
Artificial vertical gardens have been popular in recent days, with more people tending to have greenery in their empty balconies or backyard. Compared with real plants, fake ones are easy to keep alive.
You don't have to spare your time on watering or fertilizing them. Thus, building an artificial vertical garden or artificial green wall is a perfect solution. After reading this article, you can find some useful information on how to build your own vertical garden.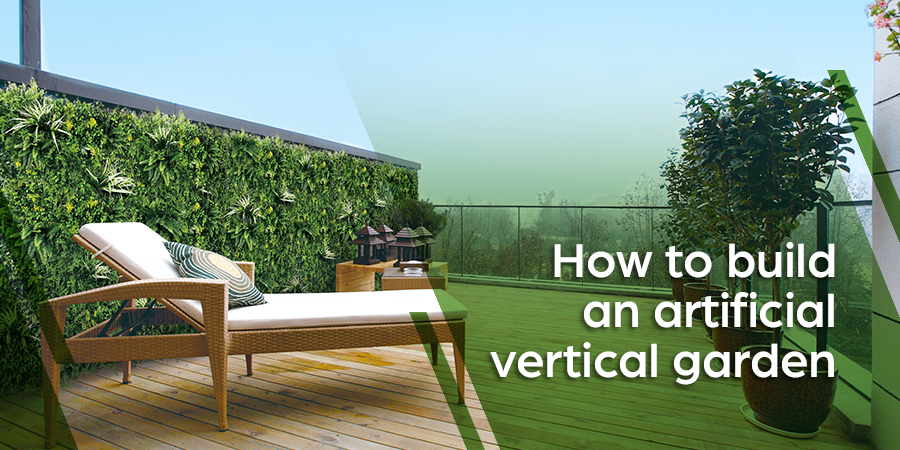 What is an artificial vertical garden?
As its name, it is a garden that is decorated in vertical spaces such as paling fences, timber cladding walls, brick walls, etc by installing fake plants instead of real ones, so it doesn't need any maintenance.
A perfect artificial vertical garden can show a realistic appearance that you hardly distinguish from natural plants. Building a fake garden wall is an alternative option for those who have limited horizontal spaces but want to cover an unattractive wall, or just want something different.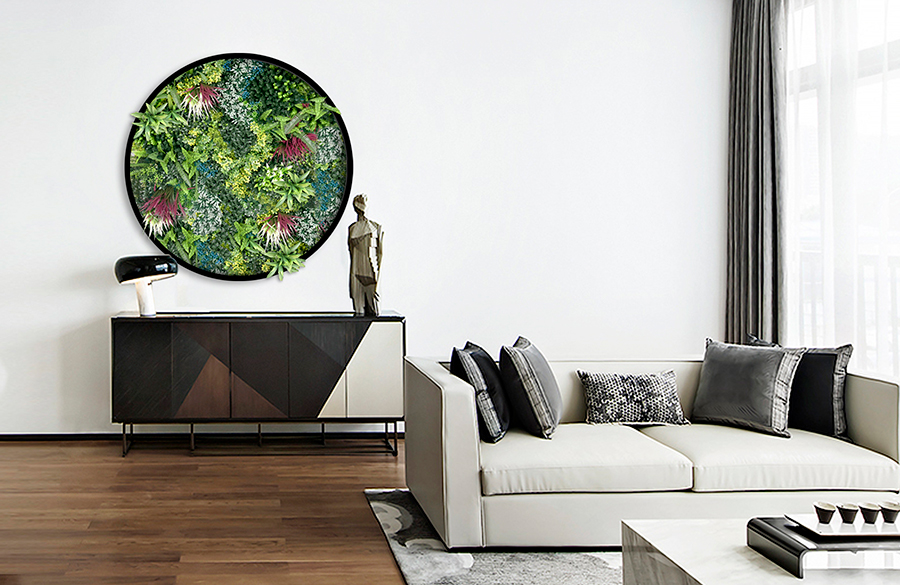 What is the vertical garden made of?
The material of the artificial vertical garden will depend on the type and quality of the product you buy. Cheap faux plants can be made of plastic, silk, and paper. Some cheaper ones can even use materials containing heavy metals.
On the better end of the spectrum, our vertical garden panels are made of high-quality and UV-tested synthetic materials, so they will remain beautiful for years to come. Our green wall panel even has obtained the official fire protection certification, making it a safe and beautiful part of your space.
What certificates should high-quality artificial plants have?
Some important SGS certifications are required, such as UV protection certificates, heavy metal-free reports, and fire retardant test reports for large commercial projects.
Benefits of a vertical garden
A vertical garden with artificial plants doesn't need watering, fertilization, and pest control. You don't have to worry about pruning vertical gardens either, because they are real evergreen plants that maintain amazing shapes all their lives!
They are also easy to customize according to your space because you can install and reshape your vertical garden plants the way you want.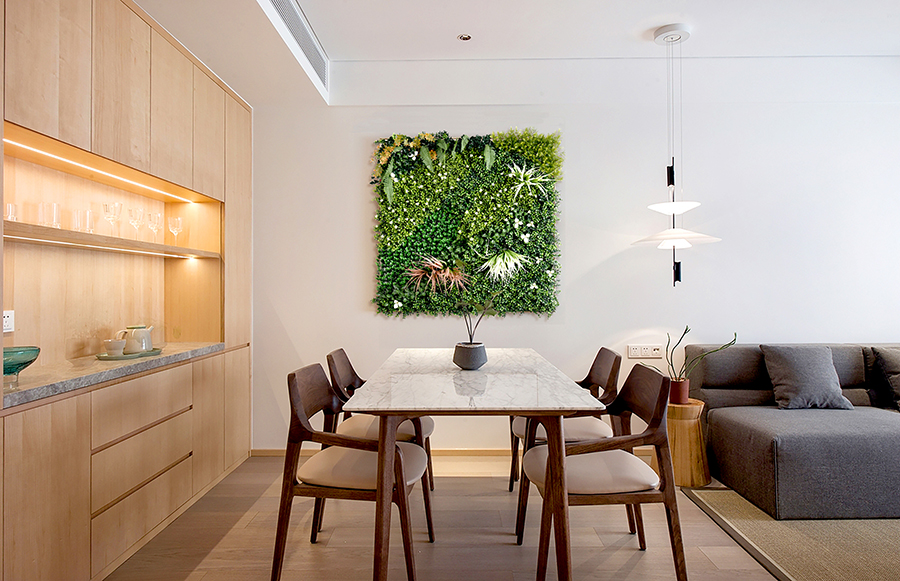 How to build a vertical garden
 Find an ideal location
First of all, you should choose a surface in your house that you would like to decorate vertical garden panels. It could be on your balcony, your backyard, your roof, or anywhere in your house.
Generally speaking, you don't have to worry about the installation aesthetics, because these plant panels could be cut, bent, and adhered to virtually any surface whether flat or contoured.
For example, a piece of 1 m x 1 m panel can be used instead of your art painting. Firstly, throw away your old pictures or art paintings to restore your home to its original appearance.
Different from painting, the artificial garden wall is made up of leaves of various shapes, showing a three-dimensional effect, full of grandeur, complexity, and diversity.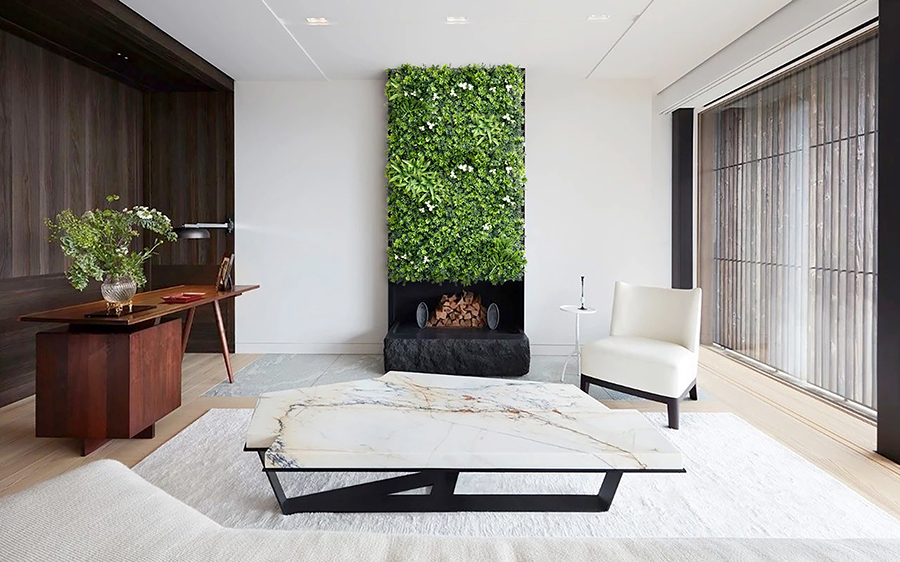 Tools you need to build an artificial vertical garden
Panels
No matter what kind of wall you want, the right panels are the first thing you need to check. You should measure the wall size you want to decorate with a vertical garden and prepare enough panels.
Tape measure
To measure the size of walls and panels which can ensure you get the right quantity and make the installation successful.
Interlocking tool
All the panels are in a snap-to-lock system, which offers an easy and simple operation for connecting the panels quickly.
Zip ties
To secure the vertical garden panels onto any surface or grid, (Some surfaces may require staples to fasten.) Zip ties need to be used in this step.
Scissors
Simply use scissors to trim the excess lengths of the plastic ties until they fit perfectly, no matter for panels or zip ties.
Other tools you may need:
Staple guns: to fix the panels onto the timber cladding wall.
Calculators: to calculate the wall size and panel quantity.
Steel wire grid: to help fix the panels on the wall without damaging the wall, especially for renting.
EdenVert could help customers to customize the tool bags.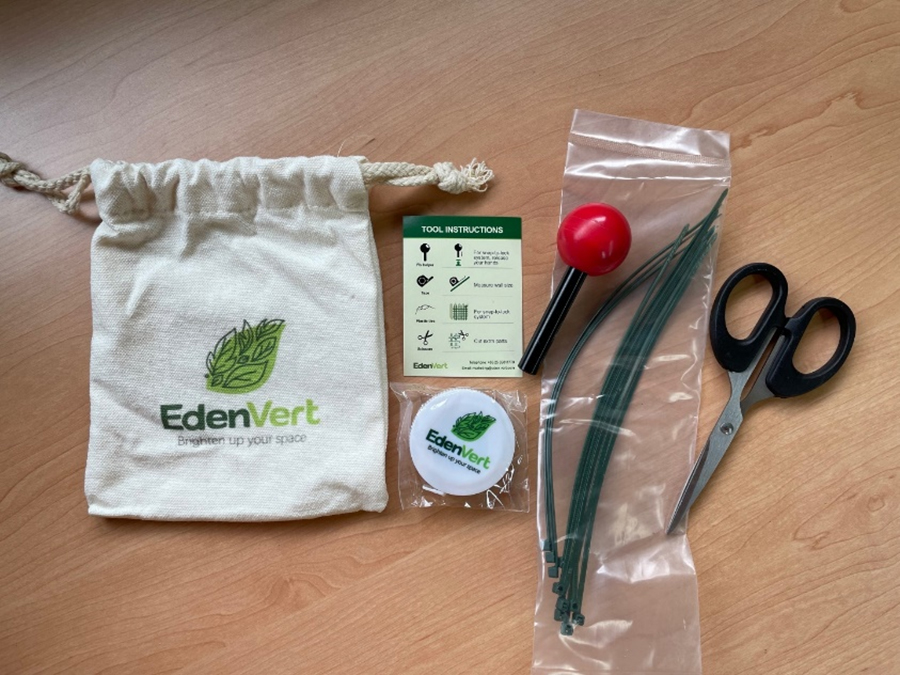 Four generic steps to build an artificial vertical garden
Use the tape measure to get the wall size.
Calculate the number of panels that are needed.
Connect the panels together using the easy snap-to-lock system. You could use the interlocking tool for help.
Fix the panels together to the requested size.

Extra steps to build a fake garden wall on different materials for paling fence:
Fix the aligned panels on the fence with zip ties.
Trim the extra panels and zip ties to finish the installation.
For timber cladding wall:
Secure the panels with a staple gun.
Trim the extra panels and zip ties to finish the installation.
For brick or concrete wall
Measure to define the fixed point.
Fix the steel wire grid on the wall.
Fix the panels on the steel wire grid with zip ties.
Trim the extra panels and zip ties to finish the installation.
You could also see below installation videos:
Where to import artificial vertical garden?
As for the faux greenery wall in the global market, most artificial plants, such as the popular artificial boxwood, artificial hedge mat, artificial balls, etc, are imported from China.
The quality may vary for different artificial plant suppliers. Buyers or importers need to consider how to choose the correct and responsible exporters or suppliers for their business.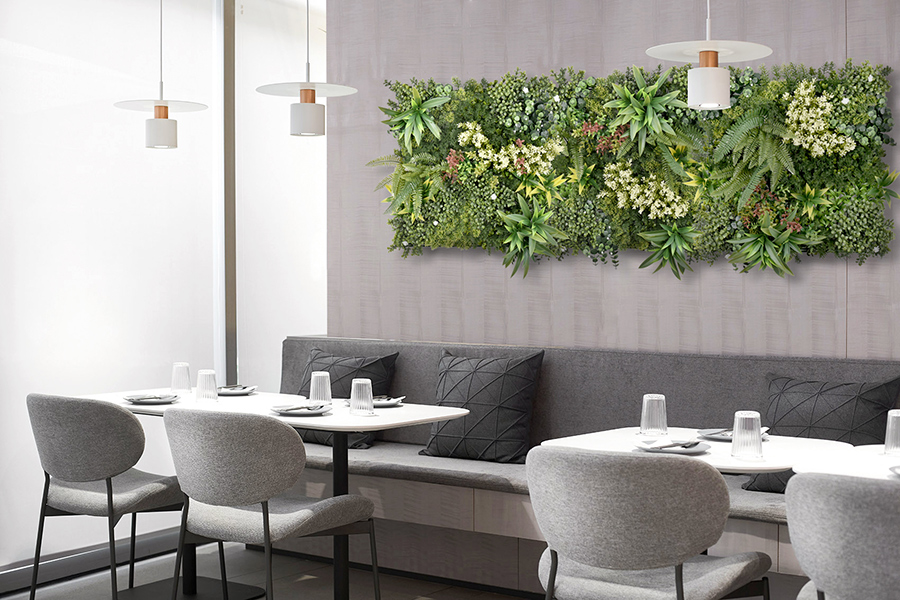 How to maintain or clean your artificial vertical garden?
The artificial garden hardly needs the maintenance of large projects. Compared with the time-consuming and laborious maintenance of the real garden, the artificial garden only needs to be cleaned 1-2 times a year.
In the process of cleaning vertical garden panels, the only thing you need to do is rinse with water or wipe the dust on the artificial plant's foliages with a cloth.
However, for real plants, an irrigation system is needed because different plants have different watering needs, so when irrigating plants, you should make sure each plant's individual needs, which is very troublesome.
What's more, you should also keep an eye out for aphids and pests among your plants, and early signs of water damage on your wall or frames.
But now, you will be free, and no need to worry about either of them if you choose to build an artificial vertical garden!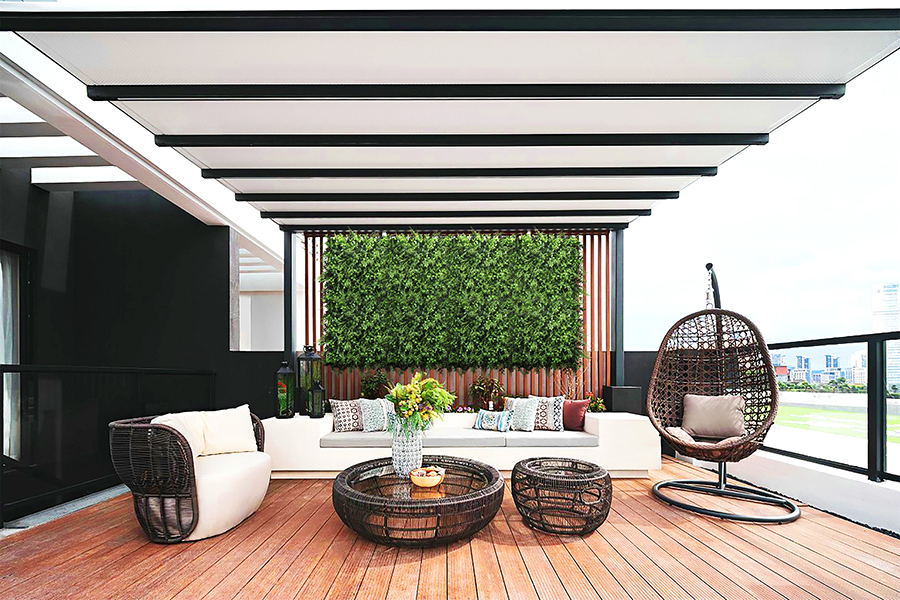 Conclusion
As you can see, artificial vertical gardens are low-cost, low maintenance, and long-lasting. They are easy to install and maintain, can be customized according to personal preferences, and do not need professional gardeners to make them look great all year round.
Are you ready to build an artificial vertical garden? EdenVert provides you with more than 200 different luxury designs. If you have any questions, welcome to contact us by Telephone: +86 25 69811778 and Email: [email protected].