Definitive guide of buying artificial grass walls

2022 05 19
Everyone wants to have a lush and beautiful home and garden, but it is always difficult because of money and time, especially for a very beautiful garden.
More importantly, the garden will need a lot of time to maintain, rather than simply enjoy it. It is a good choice for you to buy artificial grass walls or artificial plant walls which can help realize your dream of a lush home and garden.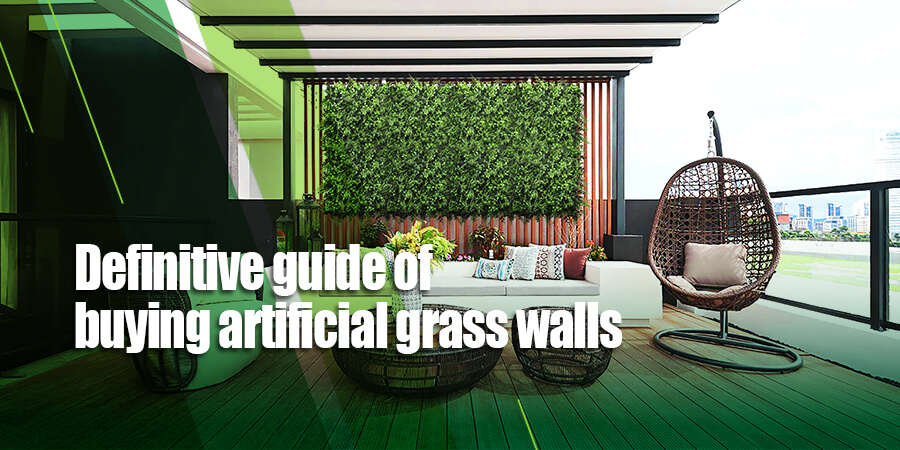 Why choose artificial grass walls
If you choose to buy artificial grass walls, you don't need to do watering, weeding or pruning, etc… Artificial grass walls will not die due to the influence of pests, temperature, or soil.
What you need to care about most is the UV protection level of artificial plants. If they have better UV resistance, artificial green walls can be maintained for a long time of 5 or 8 years. So it's much easier for you to maintain it.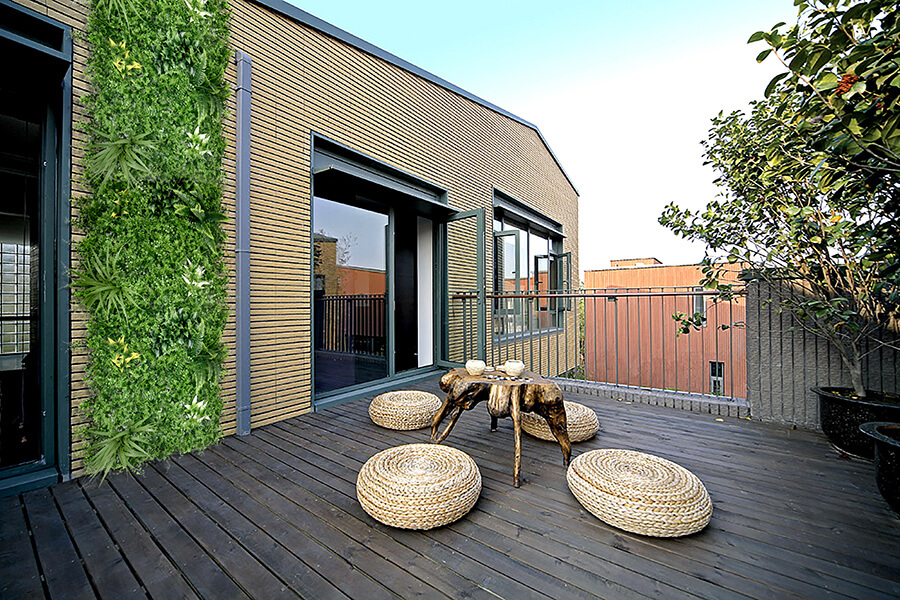 Comparison between fake and real plant walls
Fake plants have a long history of development. As the new technology launched, fake plants now look almost the same as real plants. By adding UV resistant materials inside, it can last longer than real plants. More importantly, it is 100% safe and healthy indoors and outdoors, even some fake plant walls are fire-resistant.
When you buy artificial green walls from professional manufacturers, they can offer certifications like VOC A+, RoHS, PAHS, REACH, etc.., which can prove the materials are safe and environmentally friendly.
If choose artificial plants for your garden, you are able to have any kinds of plants you like or wish. You can have a winter plant in summer or a spring plant in winter.  You can enjoy the lush garden in an easier and more cost-effective way.
What will your artificial grass wall be used for?
Artificial grass walls are designed to reflect the beauty of nature. They can be a great addition to almost any indoor space!
They're just as striking when added to the walls of restaurants, events, or wedding venues that might otherwise look sparse. Similarly, interior decorators purchase these panels in bulk to add unique patterns and layouts to residential projects.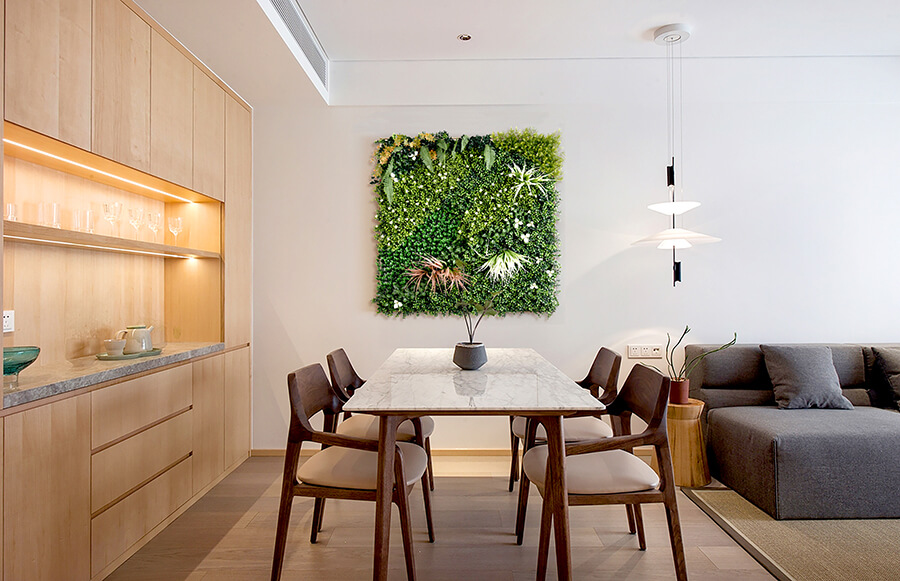 How to choose the best quality artificial plant wall?
When searching for the best quality artificial plant wall, it's vitally important to look at more than just aesthetic appeal. The following three questions will help you to find the best performing artificial plants.
Find out the answers to these questions by checking the supplier's website, and data sheets or talking to them directly before buying.
Has it been tested for harmful substances?
What features should the best artificial plants possess? First and foremost, the raw materials used in their manufacturing should not pose any risks to the health and safety of their users.
The customers should be able to choose a product of their liking and use it with peace of mind. If the raw materials used in production do not fulfill the required standards, they can cause many irreversible health problems to their users.
That is why EdenVert always encourages its customers to choose only the best artificial greenery products that meet the health and safety standards of REACH, RoHS, and PAHs tests. These tests check the safety of components of the raw materials used.
They are conducted in accordance with strict standards and performed by independent third-party laboratories, which ensures the obtained result is reliable and trustworthy. EdenVert gives you peace of mind by offering only products which are non-toxic and safe, whether for commercial or residential purposes.
Is it fireproof?
When selecting faux green wall panels, it is very important to confirm with the manufacturer that it is fire-resistant.
EdenVert's fire retardancy test is conducted by the authoritative laboratory SGS in accordance with EN 13501-1:2018 standards of reaction to fire. It is conducted independently and abiding by strict standards, which ensures its reliability. You can thus have confidence in the fire safety of our artificial plants, whether for outdoor or indoor use.
How long is the warranty?
It goes without saying that the longer the warranty, the better the product is likely to be. Some warranties may be very vague and may not give consumers too much protection. Therefore, it is important to check the small print.
Be sure to look for a warranty that includes UV stability, which will protect the product from fading. It is an essential feature, especially in plants destined to be outside, where the artificial greenery might be exposed to unfavorable weather conditions.
The stronger the sunlight, the more destructive it is to artificial plants and can significantly reduce their lifespan. It is thus of utmost importance to take into consideration the guaranteed level of UV resistance when purchasing artificial plant walls.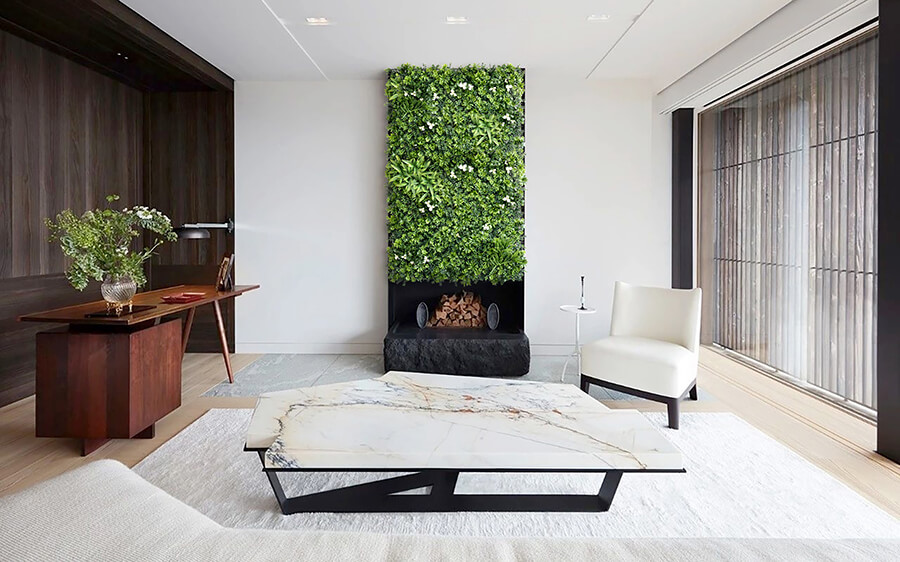 Selection of artificial plants
If you want to buy an artificial grass wall, there are various choices for you. There are more end-users from North America and Europe who choose to buy artificial grass walls to decorate their houses and gardens instead of real ones, and the sales amount increases very fast all over the world.
Generally, our artificial products include artificial hedge mats, vertical gardens, artificial fences,s, and artificial topiary.
Here is a brief introduction to each category.
Artificial hedge mat
If you want to buy artificial grass wall for your landscaping, the artificial hedge is the basic item. There are more than 100 kinds of leaves for this category. For city landscape, it is a preferred choice as it is cost-effective.
Besides, it could be combined easily and meets your needs DIY. The most popular items in this category are boxwood, Buxus, fern, etc…
Vertical garden
The vertical garden is a lush item of the grass wall series. For each item, there are more than 5 kinds of leaves. And for some of them, more than 8 or 10 leaves are combined on it. Just from the appearance, you will find the difference between an artificial hedge mat and an artificial vertical garden.
Although the price of an artificial garden is a little higher than an artificial hedge mat, it is still very popular among end-users. It gives beautiful decoration for their houses or garden and offers a lush feeling. By combining different kinds of leaves from different seasons, it looks so unique and attractive.
Artificial fence
You can call artificial fences other names like artificial willow trellis, extensible trellis, wooden trellis with PE leaves…It is a special product which can provide garden decoration as well as privacy at the same time.
In the past, people often used a simple wooden fence when decorating the courtyard, which looked very cold and ordinary.
But if you buy an artificial grass wall on a fence, you can choose the leaves and colors you like, which can not only meet the functional needs but also be more beautiful. Besides, as it is extensible, you may adjust it as your wishes and it is very easy for you to do the installation.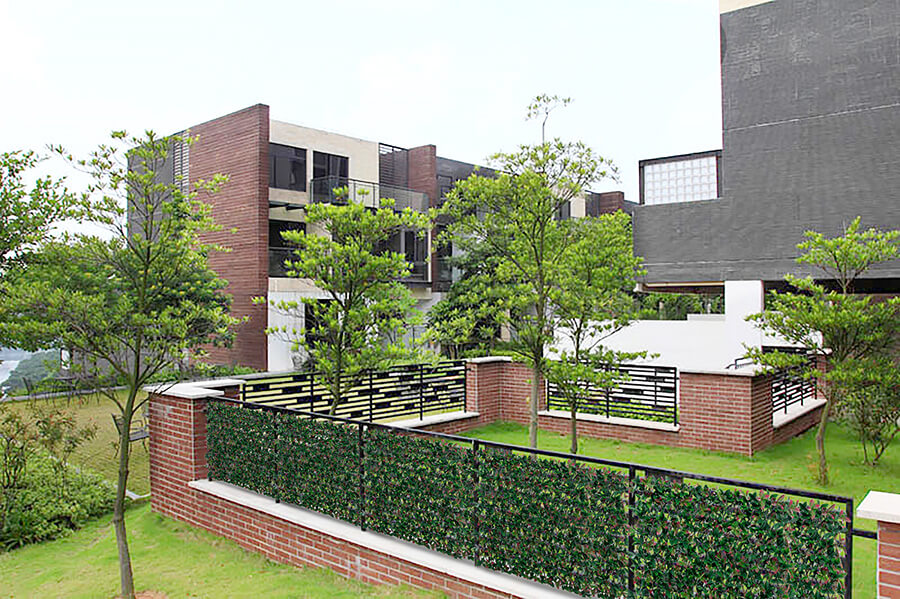 Artificial Topiary
Artificial topiary includes various products, such as artificial pots, artificial balls, artificial vines, etc…, we may regard it as a complement for artificial grass walls. Some of them may not just be used in vertical space, but also in horizontal space.
It is a decoration for both commercial and residential purposes. It is the perfect addition to a wide range of places such as homes, offices, shops, and restaurants, creating a cozy and inviting atmosphere.
How long does artificial grass wall last?
This is a question frequently asked by our customers, prompted to a big extent by the climatic changes and bouts of extreme weather conditions during recent years. They want to know how long they can expect their artificial hedges, fences, and topiaries to remain in flawless condition.
The lifespan of artificial greenery is to a big extent correlated with the material they are made of, and particularly whether that material has been UV treated. Considerably longer service life can be expected of plants made of specific synthetic materials which have undergone UV treatment.
EdenVert's artificial plants pass the UV 5000H test conducted by an independent third-party laboratory, which gives us the confidence to provide a product warranty for a period of five to eight years.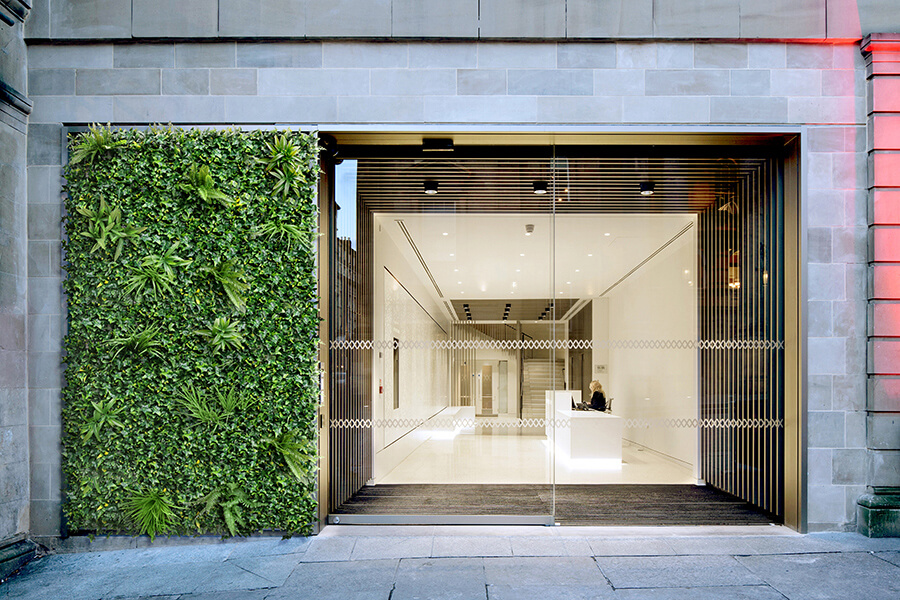 Conclusion
It is not difficult to choose an artificial grass wall, but as you'll have learned from this guide, it's extremely important to look at more than just the aesthetics of a fake green wall.
We hope this guide has proved useful and we suggest that the next step you take is to request free samples of artificial plant walls to compare the different products available.
If you have any questions about choosing the best artificial greenery wall, please feel free to contact us by Telephone: +86 25 69811778 and Email: [email protected].