What is artificial living wall?

2022 05 24
When it comes to bringing some ideas to your home decoration, artificial living walls may be a nice idea. They have tons of benefits, such as reducing stress and increasing natural feelings.
Its unique characteristics make it quickly become a new favorite in the decoration industry. Moreover, the beauty and rich use-value of artificial plant walls can add infinite possibilities to your space.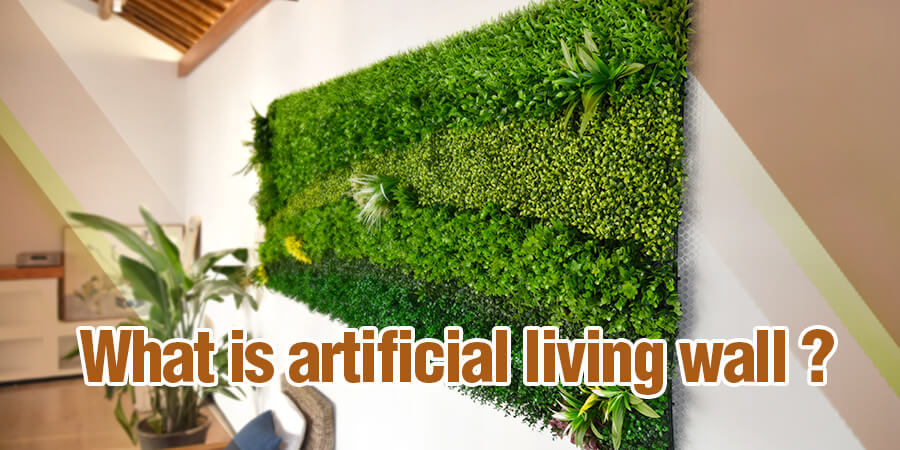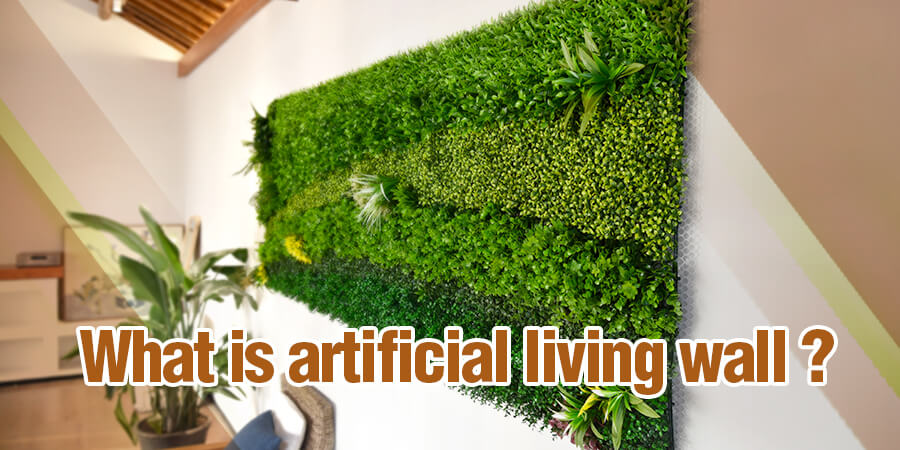 What is the artificial living wall made of?
An artificial living wall is a design firm that combines the advantages of natural and green plants, it can be called a green wall, vertical garden, and plant wall as well.
The materials of the plant wall can be natural plants or artificial plants. Different from real plants, fake plants don't need water or time for growth and are more easily installed. The backing of the artificial green wall is sturdy and easily attach to vertical surfaces. In many cases, each panel uses a frame made of steel or plastic.
Where can artificial living walls be used?
The best thing about artificial plant walls is that they can be placed anywhere. When you decorate your home or office with natural plants, the choice of location is very important because each element has to meet the plant's growth.
Compared with them, fake plant walls possess more creativities and modeling features that can be applied both indoors and outdoor. High-quality artificial plant walls are made of UV resistance materials, which are suitable outdoor to keep real and fresh.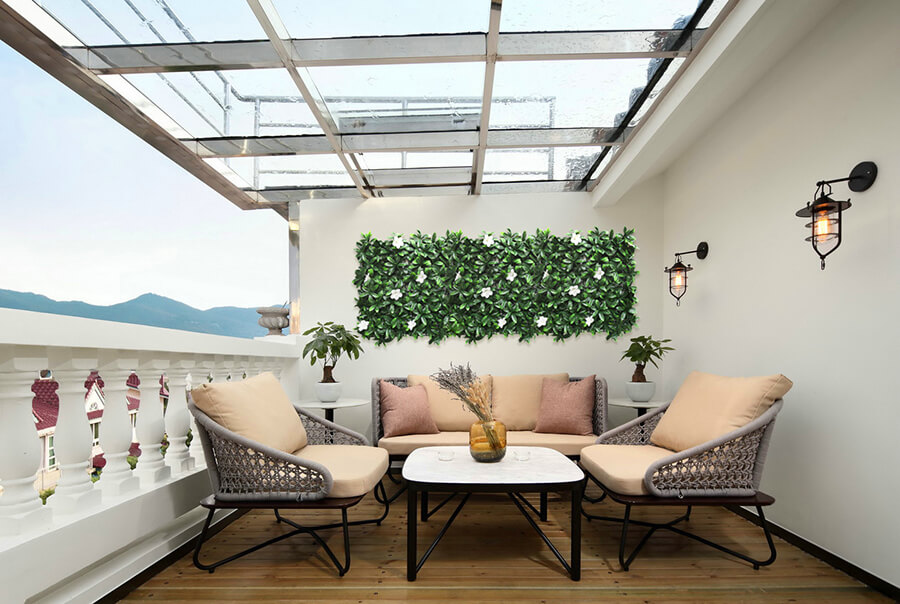 Types of greenery displayed within artificial living walls
When building an artificial living wall, the choices seem endless. That's half the fun! Thick and overflowing foliage can create a lush garden effect indoors. Those who pursue a more modern look will usually choose artificial boxwood. The combination of artificial gardenias with white flowers is refreshing.
Those who create peaceful spaces might consider filling their green walls with faux photinia. If this is a tropical paradise, your goal is to create a collection of multicolored leaves of different sizes and shapes to inspire your life.
Advantages of fake plant walls vs real plants
Choosing real plants or faux plants for interior decoration is a decision that many people have considered for a long time. When considering adding a living wall, you should consider some benefits of choosing artificial plants.
Artificial living walls do not require any fertilizer, pesticides, or watering. The installation is simple and easy, thus the cost is much lower than walls made with real plants. They don't need any ongoing costs to keep them looking great all year round.
If you are a homeowner or business owner who likes the appearance of living walls but suffers from allergies, artificial plants can eliminate this problem. The artificial plant wall can thrive without any sunlight.
It means that even if you're not a green thumb, you can still have a professional-looking living wall! Faux greenery wall will bring a lot of beauty to your space so that you can enjoy the beauty of nature carefree.
The best artificial living wall panels
Artificial hedge panels
Artificial hedge panel has long been a staple among our products and is our classic product series. It enjoys unfading popularity on the artificial plant market and is a long-time favorite among our customers. We offer a wide variety of artificial hedges to choose from, catering to different tastes and needs.
They incorporate various kinds of plants, such as artificial boxwood or artificial ivy. We welcome customers to familiarize themselves with the rest of our products and will be happy to provide free samples to facilitate your market development.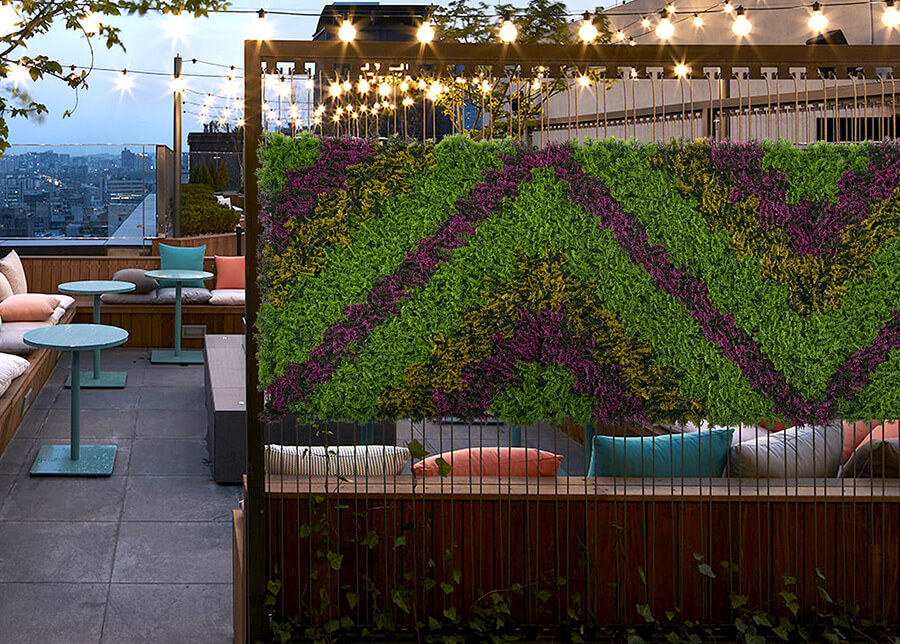 Roma seriesvertical garden
The Roma series is our flagship artificial living wall type and a long-time favorite among our high-end clients. Get enchanted by countless gorgeous combinations created by hundreds of leaves which will add an artistic touch to your daily environment. Choose a combination that suits your unique taste best and enjoy nature's beauty with this marvelous vertical garden wall.
Athens series garden wall
Tasteful simplicity is not easy to achieve. Athens series is just about to become the new star of the mid-range and high-end market, featuring both a stylish appearance and a friendly price. A combination of several different leave shapes endows the whole composition with an outstanding, elegant appearance, which caters to the taste of many customers.
Vienna series green wall
The greenery of similar style but different forms, seamless transition, and modifiable combination of triple panels result in an unparalleled visual effect from every angle. Vienna green wall is designed to convey majesty and luxury, it brings to life your vision of a dreamy green oasis, be it in your home, yard, office, or anywhere you fancy.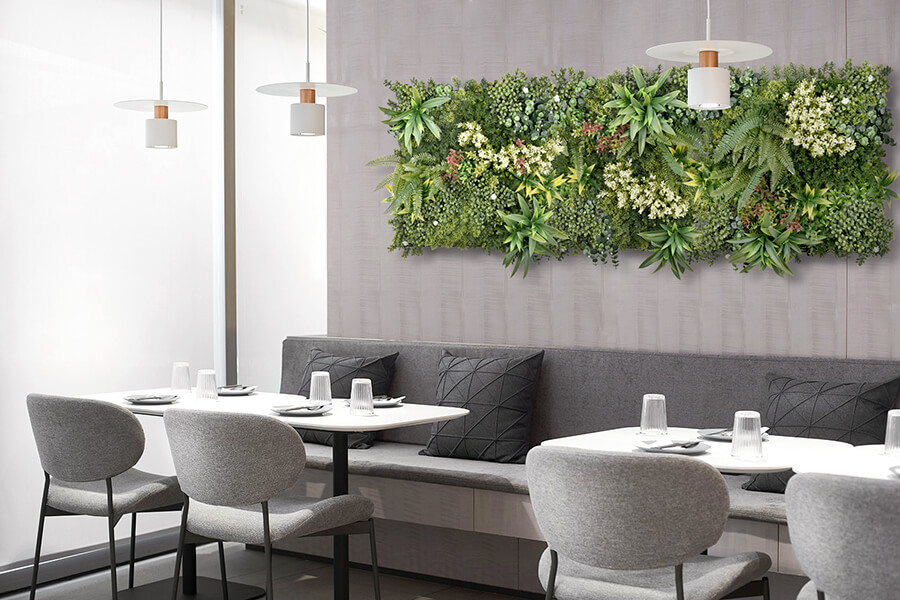 Conclusion
In a word, more and more people are willing to use plants for their decoration.  Artificial living wall has become a good choice. Any questions or ideas, welcome to contact us by Telephone: +86 25 69811778 and Email: [email protected]