Faux Plant Wall Art for 2022 Interior Design

2022 07 13
We all love nice looking and decorated walls. Blank walls look unattractive, that is why wall art is crucial in the home decorating process.
Painted walls will never fall out of favor, while they are ideal for minimalists, they do not offer much character. In fact, that's the point. The painted wall is not designed to create impact, but to highlight other features of the room.
If your living area is small and there is not much room for elegant decorations that make a place feel like home, you've possibly considered wallpaper in order to put your own stamp on a room. It has a long and noble history, but since it lost popularity decades ago, it has never come back into fashion.
In recent years, with the help of new materials and manufacturing capabilities, a trend has made us have a huge expansion in decorating the interior walls of our homes. And artificial greenery fits right in with this concept.
The plant covered walls provide an opportunity, not only to inject naturalism into your design, but also to express your artistic creativity. They provide the opportunity to "paint" the interior in an entirely different medium.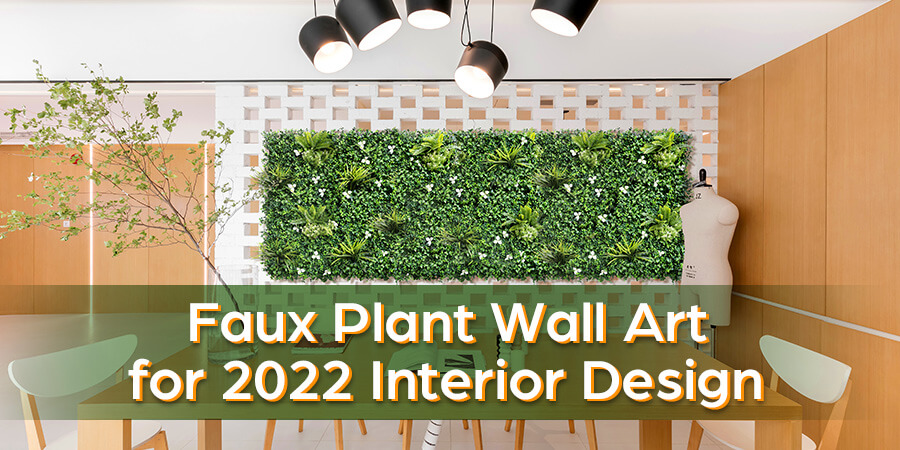 Faux plant wall art offers a totally different experience. They create a natural atmosphere that no pictures can replicate. And they are 3D wall art in their own right, with a variety of shapes and textures, which can bring depth to design and provide more lasting interest than simple wave patterns.
Read on to learn how to use artificial green wall panels to create different effects in your home.
Green walls for living room
Green walls were once only a common feature for trendy offices or city gardens, but the recent trend is that they are also used to decorate home interiors and living rooms.
Complimenting both modern and traditional looks, a fake plant wall can bring natural beauty to any living room. An artificial plant wall option means no worries about damp, constant watering or dying plants.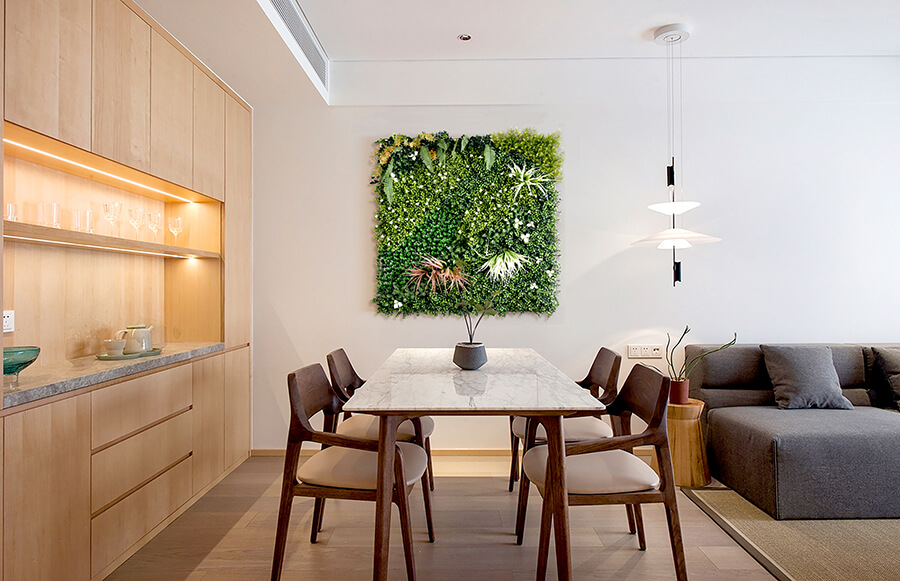 Greenery backdrop for kitchen
As the saying goes, "kitchen is the heart of the home." While this may be true for housewives, who spend most of their time cooking, eating and cleaning the room at home, it also relates to the rest of the household.
After all, the whole family uses the kitchen and it's usually the one room that sets the tone for the entire house – creating a unique experience where the whole family can gather and share their details of the day.
Course, most of us think that the kitchen is the ultimate destination for housework, but there is a way to change this! By creating a beautiful space in the kitchen with the help of relaxing textures and fresh color, artificial living wall can help change your kitchen dramatically – without adhering to a watering schedule or weekly weeding.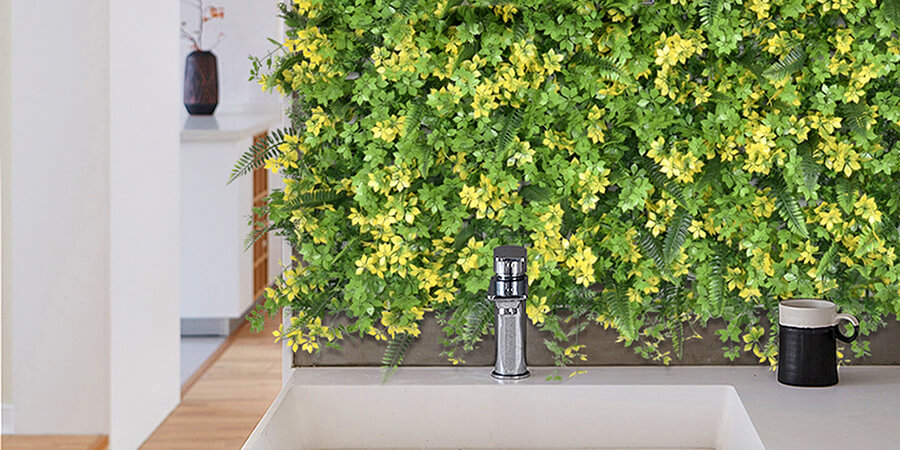 Vertical garden for bathroom
An artificial vertical garden in the bathroom adds natural elements to the environment, allowing us to experience a sense of harmony, tranquility, a surge of energy and positive attitude.
You can create a small framed vertical garden to create a background for the bathroom mirror.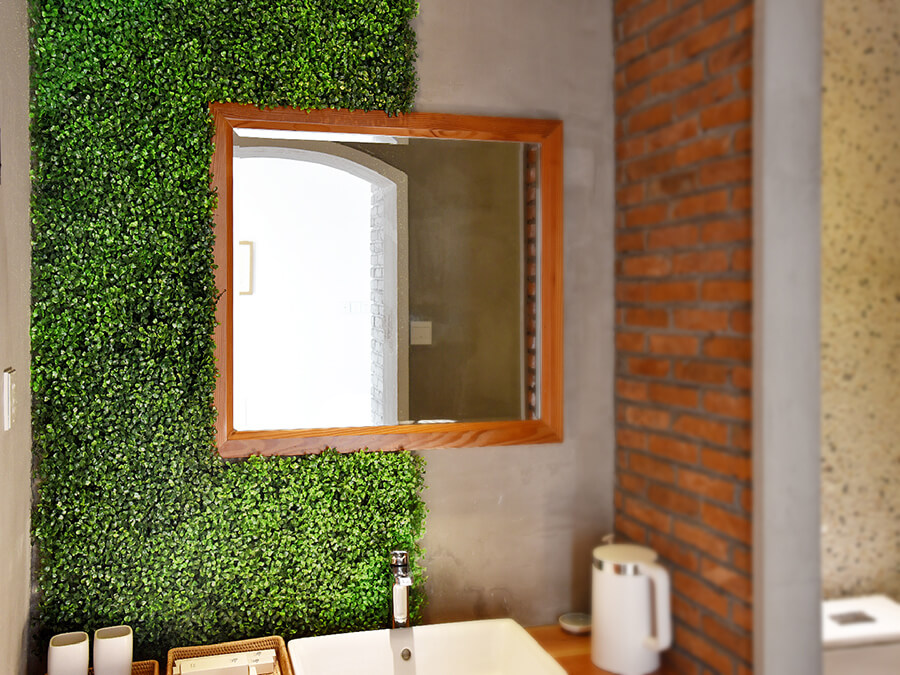 You can also cover the entire wall with artificial greenery. The size and shape of your green wall is up to you.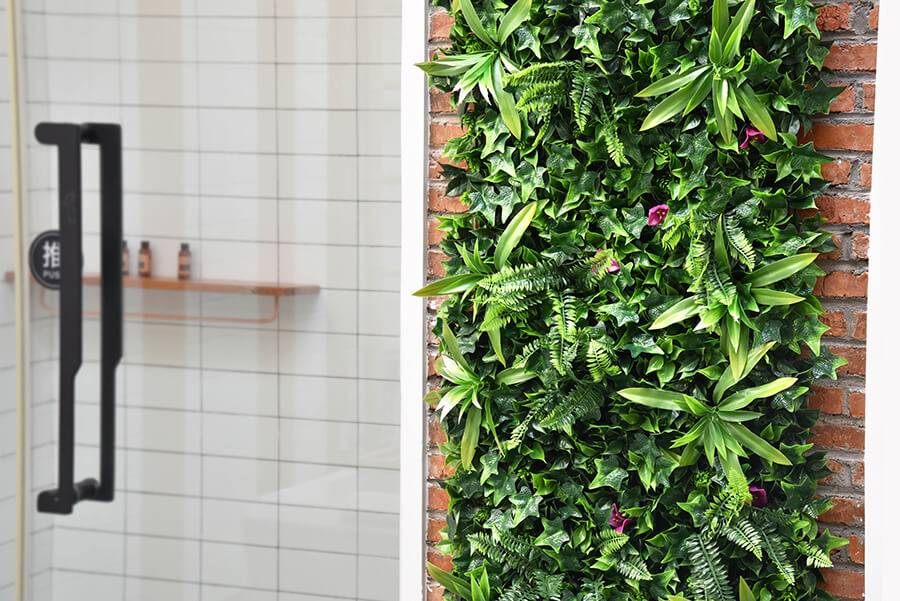 These vertical garden panels are variable (50*50cm, 1m*1m), so they are easy to install and cut to size.
The advantages of faux plant wall panels
Fake plants look almost indistinguishable from real ones, so you might be wondering, why choose these instead of natural plants? Artificial plant wall panels offer several advantages that natural plants cannot provide.
Lower Maintenance
A living plant wall needs a lot of maintenance, while artificial wall panels hardly needs any maintenance, which will save your time and money.
A regular living wall requires frequent maintenance and close attention. A mistake made in taking care of the living wall may mean a wall made of unsightly dead plants. With a living plant wall, you'll also need to water regularly, watch for pests, fertilize, weed, pay attention to potential allergens, and more.
To sum it up, although a living wall closely watched can look magnificent, it can also be a lot of work or money to look after. Artificial greenery panels require absolutely nothing. Hang them up and admire them. They don't grow and change shape, and you never have to worry about watering. There is no lower maintenance cost than this.
Suitable for any environment
With artificial plant panels, you don't need to worry about whether plants can survive in your region's climate. There is no limit when it comes to seasons, temperatures, sunshine and dark places. Your wall panels remain blissfully unaffected by the world around them, no matter where you choose to place them.
Easy to install
Another advantage of faux plant wall is that it is easy to install and can even move around without negatively affecting the walls on which they are installed. Living plant walls, however, have been shown to cause structural damage, including cracks caused by root damage and chronic dampness from moisture retention.
Conclusion
As you can see, fake green walls are a low-cost, low-maintenance and high-impact feature with multiple uses. They're easy to install and maintain, easy to customize with your own personal flavour, and don't need an expert gardener to keep them looking great all year round.
EdenVert is dedicated to providing long lasting artificial greenery panels to our global partners. We have an ongoing commitment to quality. Based on more than ten years of product development and manufacturing experience, our products meet the highest leading laboratory test standard.
EdenVert faux plant wall provide 5 years warranty for outdoor use and even 8 years for indoor use. We are committed to providing the best customer service, and we regard customer satisfaction as our top priority. Please feel free to contact us.Telephone: +86 25 69811778. E-mail: [email protected].