How to attach artificial hedges to fence?

2021 12 28
When it comes to install artificial hedges to fence, what do you think of it? Fake? No watering? These are not comprehensive descriptions. Install artificial hedges have several benefits. First, it can bring beauty and Increase the color of living environment. Second, installing artificial hedges to fence can provide privacy and safety to users.
All our artificial fence panels can be easily separated and reconnected to form almost any shape or size you can think of. We fully recommend that you use this guide before purchasing to ensure that you order the correct number of selected panels.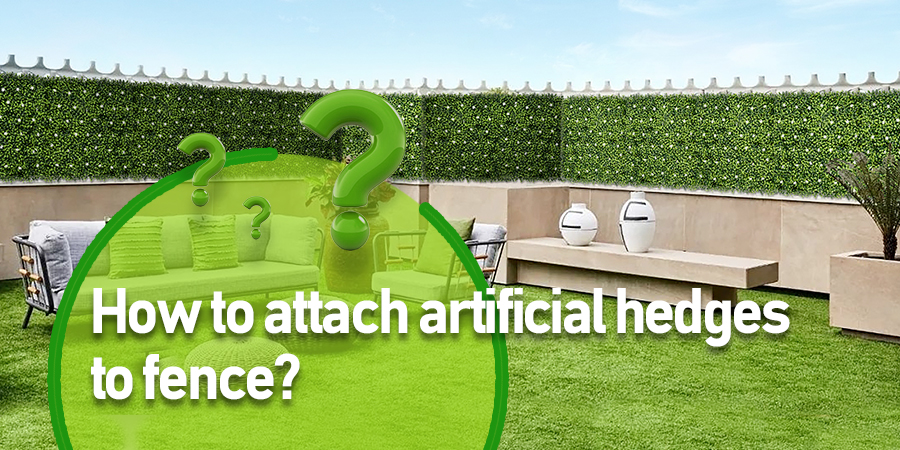 What are artificial hedges?
Artificial hedges are what they sound like – materials are made to look like real hedges. They are most commonly used to provide privacy for areas such as your backyard, but they are also popular because they are just to make the area more beautiful.
There are many kinds of artificial hedges, although the most common are those that look as real as possible. This means that they are usually natural green, with few flowers and dense artificial leaves. They are usually placed on various types of fences. What's more, installing artificial hedges can provide users privacy areas and make environment prettier than before.
How to install artificial hedges to fence?
How to install artificial hedges on the wooden fences?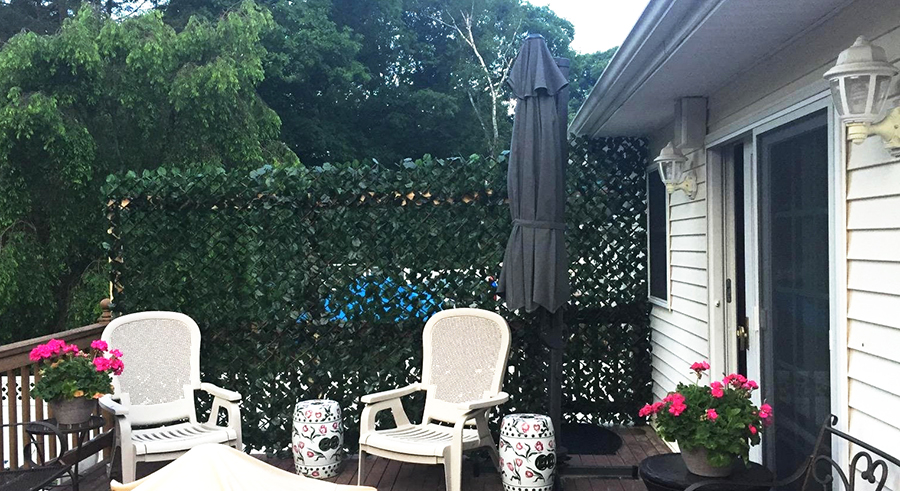 First and foremost, you need to know that install artificial hedges to fence is an easy work. Tools needed include either a hammer or nails or a staple gun.
Before anything, you should confirm the size of the space needed to install artificial hedges, the calculation formula is length * width/height. Then design the installation, calculate the number of hedges needed. Just place an order accordingly, or you can check with our professional team for the quantity in need.
After determining the size and position, connect the hedge panels with the easy-snap-to-lock system which comes with the products. Only a few operation works will be needed to complete the connection. During this step, it may require some size adjustments, but they are very simple.
Now the installation begins. Begin to mount them to your wooden fence, many people think this step is complicated, but in fact it is very simple, just as simple as sticking leaves to the wall. You need to fix the hedge panels on the wooden fence with staple gun, some cable ties or built-in-locking tabs can be used to secure them.
When you are sure, you can start putting your artificial hedges on the fence and nailing them in. Be careful to align the panel with the fence to ensure the aesthetics of the installation.
The last step is to trim the extra leaves and branches with sharp scissors to fit the required sizes you want.
How to Install artificial hedges on a Metal/Color bond Fence?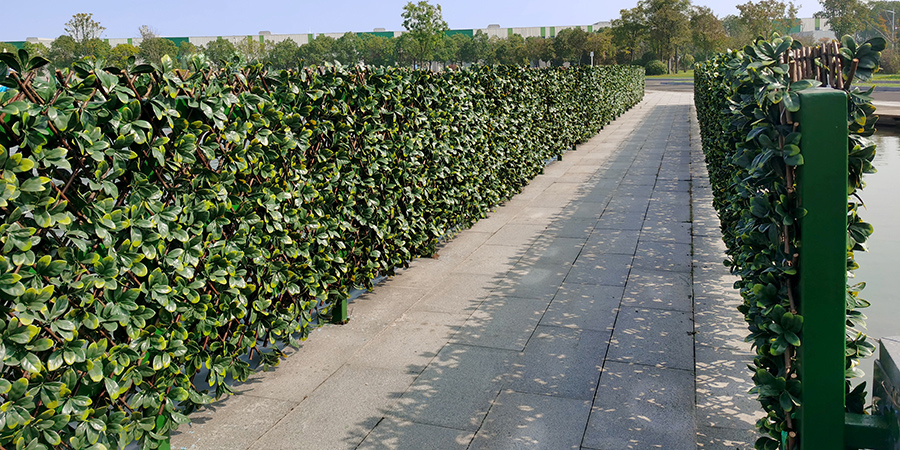 If it is a metal fence, you need to do some extra work first, but the work is not complicated. In order to safely install an artificial fence on a metal fence, you need to install a wooden beam every 40 cm.
Most metal fences are corrugated, so make sure your artificial fence board is not flush with the fence, because it will make your fence wavy and lose a lot of realism. Therefore, in the planning stage, you must consider installing wooden beam.
The tools required have also changed. In this case, wooden beam, drill bits and screws and washers are required. Connect the wooden beam to the metal fence. This can be achieved by tightening or connecting them at the top and bottom of each beam.
Remember, you want your wooden beams to be placed at a distance of about 40 cm to ensure that your artificial hedge panel is appropriate. The beam can be fixed vertically to the top and bottom metal fence with screws, and then the wooden beam can be placed horizontally between the vertical beams and connected to the metal fence.
Once you connect your wooden beams to your metal fence, it's time to get your artificial fence ready for installation. Separate the panels or cut them using a pair of sharp scissors. Our secure connection system allows you to securely and easily clip the entire panel together in a few minutes. Now it's time to hang your artificial fence on your metal fence.
Trimming is the last step. Simply use scissors to trim the excess lengths of the plastic ties until they fit perfectly.
How to Install Artificial Hedges on a Wire Fence?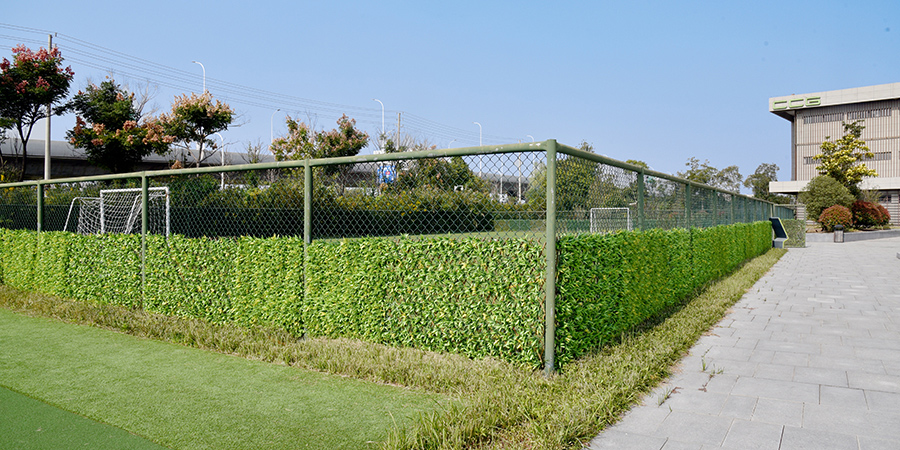 Connecting an artificial hedge to a barbed wire or mesh fence may seem a difficult task, but in fact this is one of the easiest ways to install artificial hedge panels. As with other installations, you must first accurately measure how many hedges are needed.
With barbed wire, you don't need anything extra to connect your fence panels, so you only need to measure the fence and place the order what you need. If you have any questions or concerns, please feel free to contact our team.
In some cases, you may need to trim or reshape the panels to fit the shape or size of the fence. To do this, you only need to use a pair of sharp scissors to cut the artificial fence to the exact size you need.
To reshape them, you can use cables or zipper straps to reconnect them together. This is suitable for fences of strange shapes and sizes that you want to cover completely. For fence panels that you have to cut into certain sizes, you can simply stick them together with zippers or cable ties.
Now that we have cut all the artificial hedges to the exact size we need, we can connect them to your barbed wire or mesh fence. To do this, use zippers to connect the panel to the fence from the top, bottom, and middle of the panel. This will ensure that your fence will not bounce off the fence, so your fence will fit more closely and look more realistic.
The benefits of installing artificial hedges to fence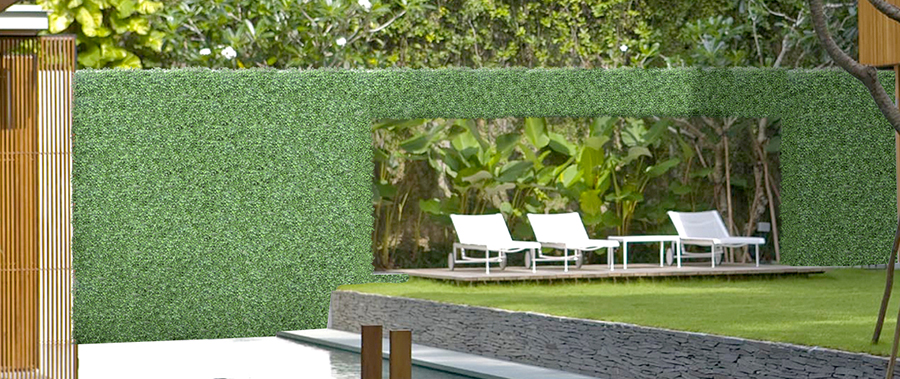 Installing artificial hedges to fence not only provide homeowners with a beautiful plant wall along the fence, but also bring many other benefits.
First of all, in order to keep the artificial hedges beautiful and fresh, you never have to worry about watering them, and you will be able to enjoy them even in the harsh weather.
Secondly, the security and privacy provided by installing artificial hedges is a good thing. To install artificial hedge, it can provide you with a space where you can relax and escape without worrying about the person next to you prying your eyes.
Thirdly, most artificial hedges to fence have noise reduction features that can help reduce noise and provide a more relaxing experience. You can get not only visual privacy, but also a certain degree of audio privacy.
Fourthly, safety and health are our top priorities. Therefore, we only use environmentally friendly and harmless materials to make our artificial green plants, and all of our products are 100% recyclable.
Fifthly, not only our products are super realistic, but also they never fade. All of our artificial hedges are UV treated which resists fading due to light, water and other natural elements.
Why choose artificial hedges at EdenVert
Professional Consultancy
We provide you with professional consulting services to help you select the most suitable simulated plant products. Our sales staff are experienced and have extensive knowledge of production process, product identification and application scenario adjustment.
Prompt and Economical Delivery
As a leading manufacturer of artificial plants, our production process and delivery process are closely linked. Our mature logistics network can ensure rapid delivery of products and reduce transportation costs. At the same time, we will update the information in time to let customers know the progress of orders.
Marketing Support
Our experienced marketing team provides high-quality sales tools, such as product brochures, product samples, technical specifications, installation guide videos and customized marketing support for you. With the continuous exposure of social media, EdenVert is becoming more and more famous in the artificial plant industry.