Why You Should Consider An Artificial Greenery Privacy Screen?

2022 11 23
Privacy screen needs to be both unobtrusive and protective. An artificial greenery wall merges nature with privacy, creating a barrier between you and the outside world. Whether in your garden, home, office, or retail space, a greenery wall will enhance privacy and complement your existing design.
With low maintenance, durability, and seamless panel integration, an artificial vertical garden is an ideal solution, offering a screening plant wall for optimal privacy.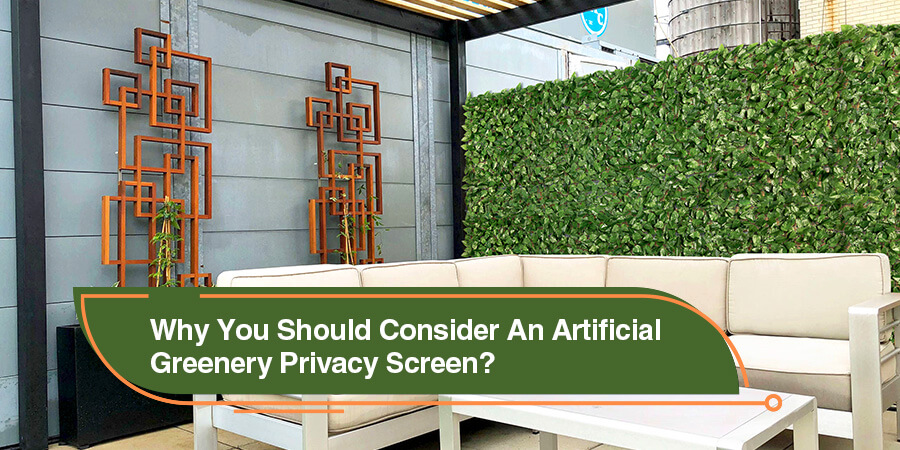 Balcony privacy screen
Even if you only have the tiniest of balconies, you can do plenty of things to keep out curious glances and noise and turn the space into your lush paradise when you're in it.
The apparent option for small spaces is our DIY artificial green wall panels. They are easy to install, UV resistant, able to withstand all weather conditions and look pleasing for a long time.
The artificial greenery wall makes for the perfect apartment balcony privacy screen. They have a shallower profile than living walls, leaving more room for a few planters and adding a pop of color to your overall style.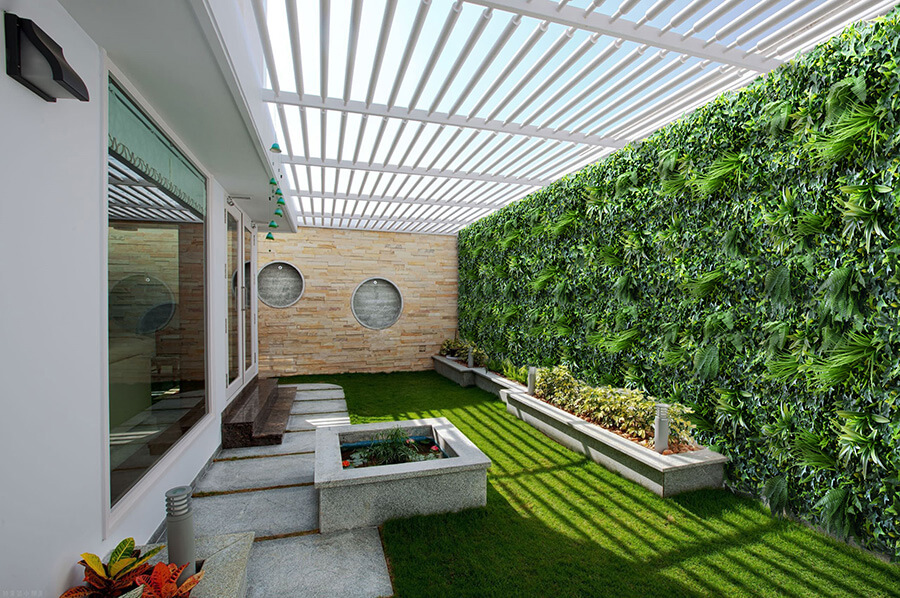 Backyard privacy screening ideas
For empty vertical spaces, whether a fence or a wire screening in your backyard, an artificial greenery wall can provide a privacy screen for neglected or open backyards.  Artificial hedge panels provide visual appeal and bring a realistic look to your yard while creating a relaxing vibe.
Artificial greenery privacy screen for pools
Awkward eye contact with your neighbors while swimming outside? Panicky sprint inside after a swim? Here's your solution to embarrassing. Why not use artificial hedge panels as an outdoor privacy screen around your pool? You'll never have to wait for the hedge to grow; artificial plants will have the correct height.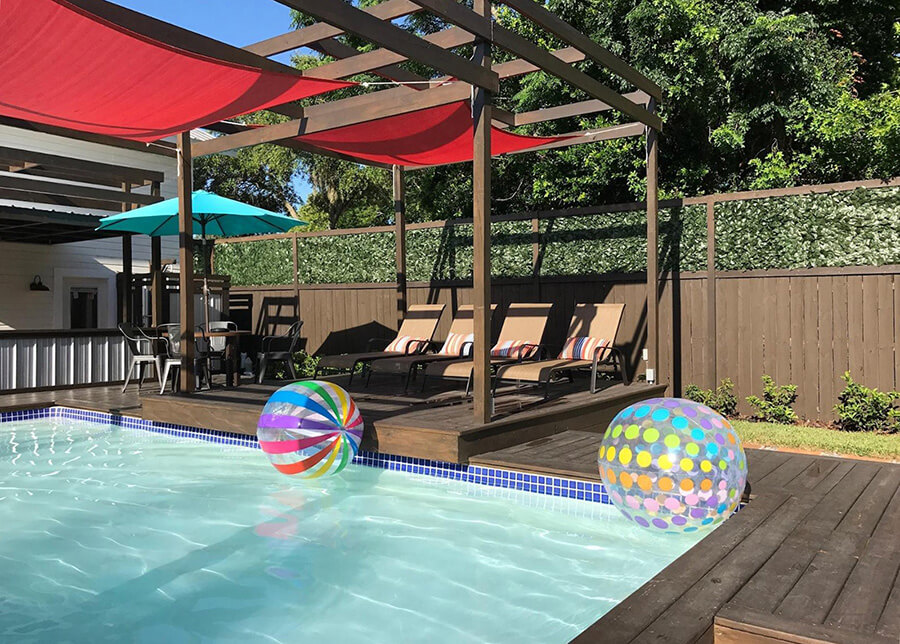 Faux plant privacy screen for home office
 All indications towards the home office as a more permanent way to work, whether full-time or part-time. If remote is your work mode, make your home office fit for purpose and work comfortably.
Over the past few years, many of us have struggled to find quiet spaces to think, join video conferences without interruption, and leave our workstations without the whole room looking messy. Artificial green wall for the home office is a practical and graceful solution!
Creating a division with an artificial hedge or vertical garden wall can protect your privacy and draw a line between private and work life. It's a space-saving solution that creates a warm and inviting work environment.
If you already have your own office space, even better! Then your task is to make it attractive and comfortable. Adding a high-quality vertical garden that requires no maintenance and won't droop, dry out or wilt away will keep you refreshed every day for a long time.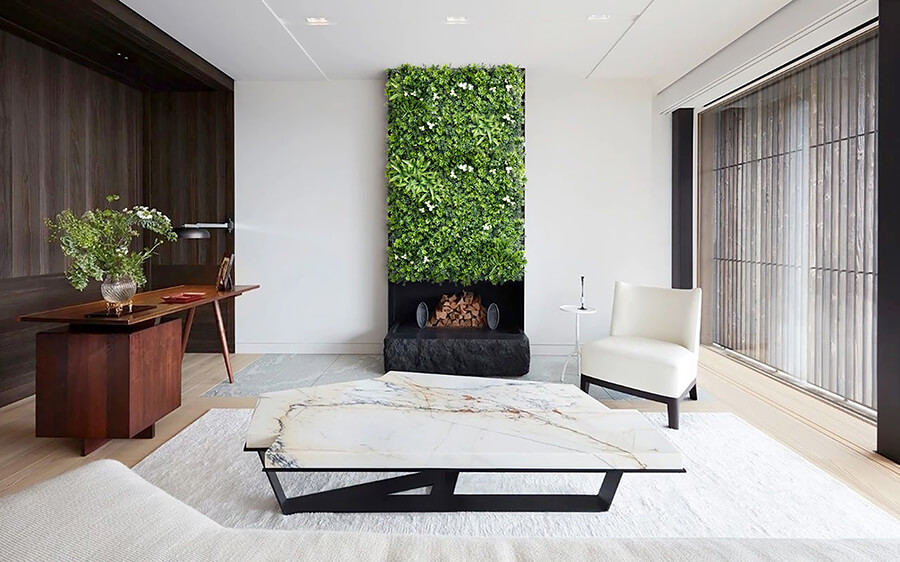 Privacy screen for shopping centers
In shopping malls, luxury stores, and retail places, creating moments of privacy is key to guaranteeing a great shopping experience. An artificial plant wall is an understated and interior-friendly solution to this problem, providing a relaxed atmosphere for private conversations.
Artificial plant screens in schools
For children and young people, school should be a place to relax, discover and most importantly, learn. Plain fences are visually uninspiring and make the space look dull, which is not ideal for learning or creativity.
To facilitate engagement in all areas of the school, while also benefiting student well-being, wall gardens will create an environment for relaxation and learning, also bring privacy protection.
Why use artificial greenery as a privacy screen?
Some of the more obvious reasons why you might want to use artificial plants include:
They require lower maintenance and less ongoing costs.
You don't need to wait for them to grow/mature.
The climate may not allow you to have your plants of choice.
Fake plants are a practical and often inexpensive alternative to natural plants if you do not have any interest or patience in keeping them alive. Plus, higher-end artificial plants are not far off the real ones.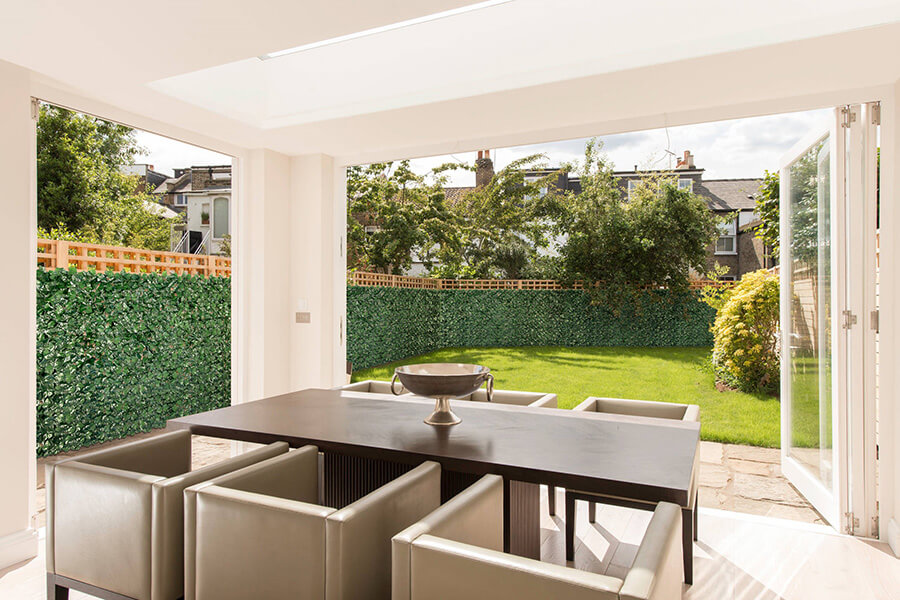 Considerations before buying artificial greenery for privacy
Before purchasing artificial privacy plants, be sure to include the following considerations:
Purpose
It may seem obvious, but consider what kind of privacy you need. Are you going to hide bins or shield your balcony or patio? You probably don't need the hedge panels as dense as you would to hide bins to make a balcony or patio more private.
Size & Scale
It's imperative that you measure your outdoor space so you know the size limitations and requirements of your artificial garden! There is nothing more disappointing than receiving your brand-new artificial plants and realizing they simply won't fit in your outdoor area.
Weather
In most cases, the weather is not a massive factor for artificial greenery. Because they're made from synthetic materials, you don't have to worry about them under outside weather. The only thing to watch out for is the wind. Just make sure your fake plants are secured to keep them from blowing away and you'll be fine.