Artificial Vertical Garden
Artificial Vertical Garden Wholesale Supplier
The category of artificial vertical garden is our representative green wall product that shows creativity and artistry. EdenVert is committed to integrating perfect artificial green wall scenery into your life. By establishing a creative art space and a harmonious living area, EdenVert turns the story of the Garden of Eden into reality to brighten up your space.
With our ongoing and strong R&D ability, we are committed to developing more dream gardens of the Artificial Vertical Garden wall, such as Tropical, Selva, Gentle Jungle, Color Meadow, White Domain… Moreover, we can customize different vertical green wall products to enrich the product line and enable our customers to gain more market share.
Why Choose EdenVert Artificial Vertical Garden?

Customizable
Artificial vertical gardens offer endless possibilities for customization to perfectly match unique styles and needs. Whether to create a stunning focal point in living spaces, add privacy to outdoor areas, or brighten a dark corner of homes, customizable hedge panels can help to achieve desired aesthetic.
You can freely choose your favorite color, size, shape, and texture to let your artificial green wall well fit for your space. This level of customization makes our vertcal garden walls an excellent choice for different designs, ensuring to get a customized solution that fully meets the expectations.

UV Resistant
UV resistance is essential for fake plants exposed to sunlight and harsh weather conditions. It refers to the ability of a product to withstand damage caused by sunlight exposure. The more intense the sunlight, the greater the risk of reducing the lifespan of faux plants.
At EdenVert, we believe in providing high-quality products that are designed to last. That's why we prioritize the durability of our artificial plants and ensure they pass the rigorous UV 5000H test. Our products are guaranteed to withstand prolonged exposure to harsh sunlight without succumbing to degradation, making them a reliable and long-lasting option for any space.

Healthy and Safe
The safety and well-being of our customers is paramount at EdenVert, that's why our products undergo rigorous health and safety tests. Our products are tested for REACH, RoHs and PAHs, which assess the safety of the raw materials used in their manufacture. These tests are performed by independent third-party laboratories to ensure the products are non-toxic and safe.
You can trust that our artificial vertical gardens will beautify your space without compromising the safety of you or those around you. Choose from our huge range of products and enjoy the peace of mind knowing it's a safe bet.
Elevate Your Space with Edenvert Artificial Vertical Garden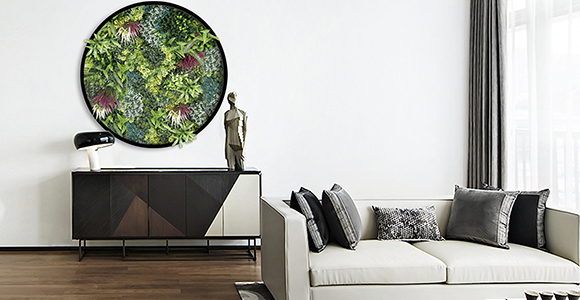 Indoor Vertical Garden
Indoor vertical garden can be particularly useful in urban areas where access to natural greenery is limited, allowing people to experience the benefits of nature within their spaces. For instance, handing a vertical garden frame in offices to create a more relaxed and inviting workspace, or installing a vertical garden wall in retail stores to enhance the customer shopping experience.
They can also be used in medical settings such as hospitals or clinics to create a calming environment for patients and reduce stress levels. Furthermore, vertical garden walls can be used as a backdrop for events and photo shoots, creating a stunning and visually appealing setting. The versatility of artificial vertical gardens makes them an excellent choice for a wide range of indoor applications.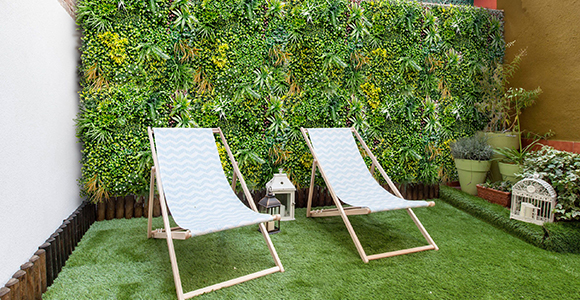 Outdoor Wall Garden
Artificial wall gardens can also be used in outdoor areas such as terraces, balconies and rooftops to provide a natural touch in urban environments. It is becoming more and more popular in outdoor applications due to their numerous advantages. An outdoor wall garden provides a beautiful and unique way to enhance the aesthetic appeal of a building both commercially and residentially.
One of the key advantages of artificial green walls for outdoor use is their ability to create privacy screens and block unwanted views while reducing noise pollution. Artificial garden walls are also weather-resistant, making them an ideal option for outdoor use in different climates. With the option to customize the design and size to fit any space, artificial vertical gardens offer a practical and cost-effective way to add greenery to exterior areas, creating a beautiful and welcoming environment.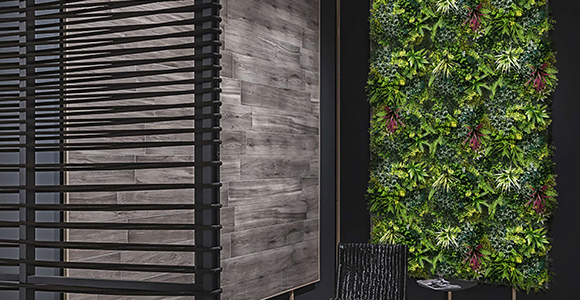 Artificial Vertical Garden for Small Spaces
Artificial vertical gardens are a great solution for small spaces where traditional gardening might not be feasible. These walls can transform even the narrowest or most neglected area into a lush, inviting space, adding a touch of nature and elegance to any setting.
Due to their flexible and customizable nature, vertical garden walls can be tailored to fit for small and narrow areas. With minimal maintenance requirements, they are also a practical choice for those who may not have the time or resources to tend to live plants. In short, an artificial vertical garden is a smart and stylish solution to maximize space and enhance the visual appeal of small settings.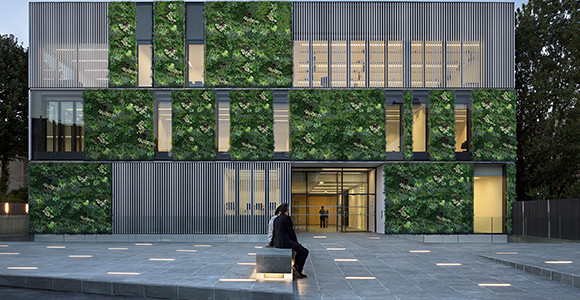 Artificial Garden Wall for Large-Scale Applications
Artificial garden walls are an excellent choice for large-scale applications. With their realistic textures and lifelike appearance, artificial vertical gardens create an immersive and vibrant environment that enhances the ambiance of any setting.
Whether it be a commercial building, a hotel lobby, or an event space, these walls can be customized to suit the needs and style of the area, making them a versatile choice for designers and architects. Covering vast areas with ease, these walls provide impressive and stunning backdrops that grab the eye and inspire awe.
Benefits of Artificial Vertical Garden
Highly Durable
At EdenVert, artificial vertical gardens are produced with high-quality raw materials to ensure durability and long-lasting beauty. The artificial plants are realistic and UV resistant, that they retain color and vibrancy even after a long time of exposure to sunlight. Vertical gardens are also designed to withstand extreme weather conditions, including strong winds, heavy rain and snow, without wilting or damage. With EdenVert artificial vertical gardens, you can enjoy stunning greenery walls that always look their best no matter what the weather.
Incredibly Versatile
Vertical garden walls offer exceptional versatility of a wide range of styles and colors, making them an ideal choice for both residential and commercial properties. These walls can be installed and fit for almost any spaces. In addition to being visually appealing, they can also serve as a practical privacy screen, shielding your garden or workspace from prying eyes. Enjoy the benefits of an artificial vertical garden, the versatile solution for all your aesthetic and privacy needs.
Maintenance Free
Less maintenance is one of the most popular advantages of artificial vertical gardens. Unlike real plants, which require regular watering, pruning, and care, faux plants only require occasional dusting to maintain their pristine appearance. This eliminates the need to worry about providing enough sunlight or watering, allowing them to be placed anywhere. Plus, faux plants don't produce messy dead foliages or loose soil, which is a clean and hassle-free choice. Enjoy the beauty of a lush garden wall without the high maintenance with EdenVert's artificial vertical gardens.