Artificial Plant Panel Wholesale
Tasteful simplicity is not easy to achieve. Athens series is just about to become the new star of the mid-range and high-end market, featuring both a stylish appearance and a friendly price. A combination of several different leave shapes endows the whole composition with an outstanding, elegant appearance, which caters to the taste of many customers. Invite nature to your home with Athens artificial plant panel and give your environment a new, chic look.
• Elegant Appearance
• Reasonable Price, Reliable Quality
• Wide Range of Color Combinations
Why Choose EdenVert Artificial Plant Panel?

Fire Retardant
For indoor and outdoor artificial plants, flame retardancy feature is an important factor to ensuring user safety. EdenVert's range of artificial plants stands out for its excellent flame retardant properties, which have been experimentally verified and certified by the authoritative testing agency SGS. These artificial plant panels are inherently flame-resistant, meaning they retain their flame-resistant properties throughout their lifespan. They will not catch fire or burn even when exposed to high heat or open flame for a long time.

Astonishingly Lifelike
The visual effect of high-quality artificial plant panels is impressive, because they use 100% pure raw materials to achieve lifelike details, vivid colors, and compelling texture, similar to real plants. EdenVert offers a variety of options suitable for both indoor and outdoor use, providing seamless integration of artificial greenery into any design or decor. To experience the exquisite beauty of our artificial green wall panels, we invite you to explore our wide-ranging product lines and references. With EdenVert, our customers can relish the enchanting allure of nature while maintaining their commitment to convenience and sustainability.

High-Quality&Long-Lasting
Artificial plant panels without UV protection have a much shorter lifespan than those treated with UV light, as they are susceptible to damage and degradation from natural elements. This can result in an unsightly and unattractive appearance to the plant, so it is crucial to choose UV-treated green wall panels. EdenVert offers the best solution of high-quality, long-lasting artificial plant walls, manufactured to exacting standards and backed by a five to eight year warranty to ensure durability and longevity.
Edenvert Artificial Plant Panel: A Game-Changer for Your Environment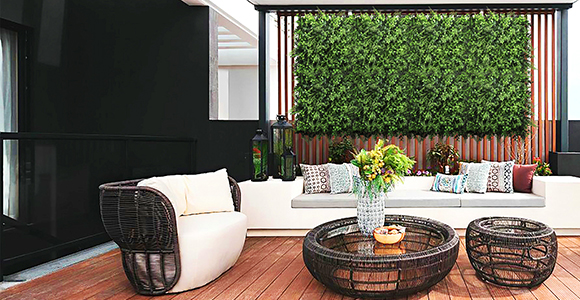 Reception Area
As the busiest and most frequented area, it is essential to make the reception area exude an air of elegance and glamour. One way to achieve this is with creative use of artificial plant panels.
This innovative solution can transform any dull and uninviting space into a stunning and refreshing environment. The artificial greenery wall offers endless possibilities for artistic expression and can infuse an element of nature into any indoor or outdoor setting, captivating the attention of all visitors.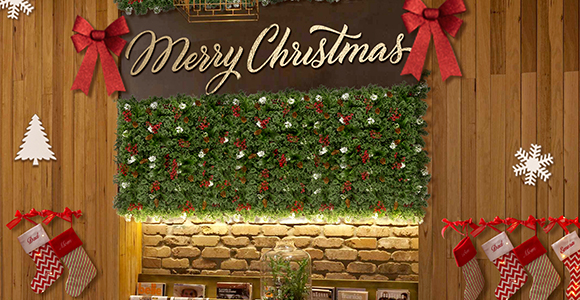 Unsightly Walls
Say goodbye to unsightly walls and say hello to alluring aesthetics with faux living walls. One of the most beneficial aspects of artificial green walls is that you can incorporate boxwood, eucalyptus, photinia, ferns, or mimosa into any space without worrying about their maintenance.
These realistic artificial plant panels offer the same visual appeal as live plants, without the need for watering, trimming, or replacement. Utilize the convenience of artificial wall panels to revitalize any unappealing space into a delightful oasis.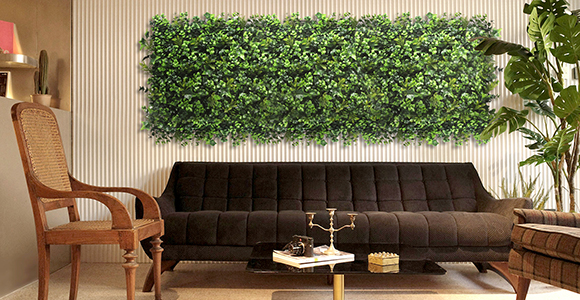 Living Room
Green plants in living rooms give the space a lived-in and cared-for appearance. However, not everyone is blessed with a green thumb; but this does not mean you can't have some greenery there.
You can have entire walls or pillars with artificial ivy, creepers, ivy or any plant of your choice, with the added benefit of not having to worry about whether they are getting the sunlight they require; or finding someone to water them when you have to go out of town.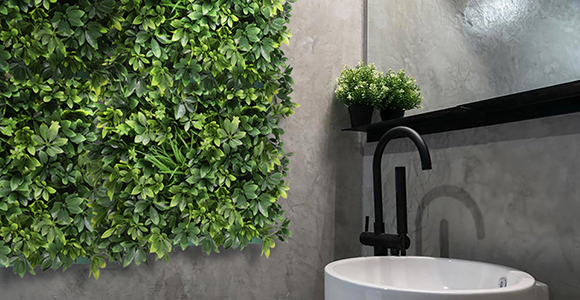 Bathroom
Imagine yourself looking at a lush green wall of your favourite plants every time you soak in your bath tub. Don't you feel yourself relaxing just a wee bit even as you think of it?
However, having a whole wall of living plants would mean that it takes a lot of time to maintain them; try installing artificial plant panels instead. These require little upkeep and offer the same aesthetic benefits, allowing you to bask in the relaxing ambiance without any of the fuss.
Benefits of Artificial Plant Panel
Low Requirements
Unlike natural plants, fake plants do not require high levels of sunlight, soil, moisture or nutrients. They easily thrive in quiet corners without direct sunlight or moisture. Adding faux plant decorations can create beautiful spaces and bring a touch of natural beauty to any environment.
And they're flexible and durable enough to move around without worrying about damaging roots or leaves. Because of these advantages, artificial plant panels are ideal for decorating various spaces. They provide an easy and maintenance-free way to add greenery to any area without sacrificing visual appeal.
Immediate Decorative Impact
One significant advantage of artificial green wall panels is the immediate decorative effect without waiting to grow. With artificial plants, you get fully developed leaves and foliage that are guaranteed to look their best.
This is in stark contrast to natural plants, which take a long time to mature and reach their full potential. Fake plant walls offer even more opportunities for creativity, and different types of leaves and flowers from different seasons can be mixed and matched to create a year-round magical garden.
Simple Replacement
Replacing artificial plants is a breeze. Our artificial plant panels are designed to be easily removed and reattached, allowing you to create almost any shape or size you want.
Also, you can always replace the artificial plants as needed. It can be a complicated process to replace live plants because it involves weighing multiple variables, including time, cost and seasonality. This can require careful planning and often proves to be a labor-intensive and costly endeavor. In contrast, artificial green wall panels offer a flexible and hassle-free alternative that saves time and money.