Why to choose artificial living walls

2022 03 14
When it comes to bring some ideas to your home decoration, artificial living walls may be a nice idea. They have tons of benefits, such as reducing stress and increasing natural feeling. Its unique characteristics makes it quickly become a new favorite in the decoration industry. Moreover, the beauty and rich use value of artificial living walls can add infinite possibilities to your space.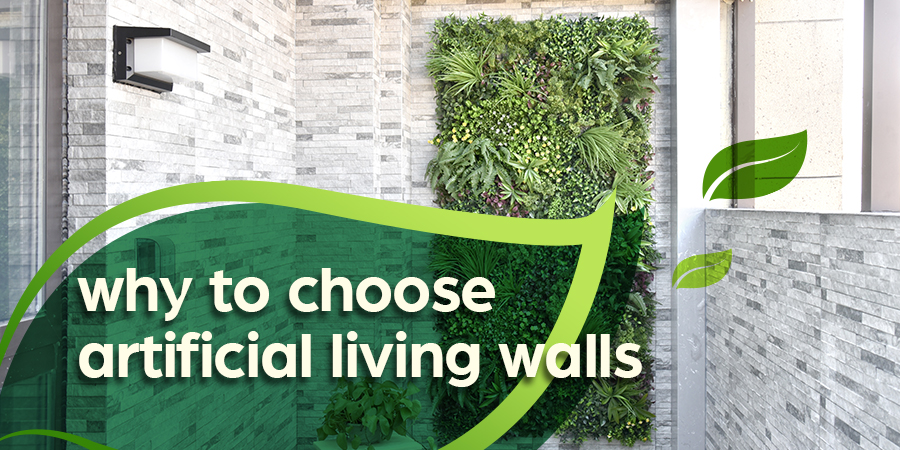 What are artificial living walls?
Artificial living walls are a design form that combines the advantages of nature and green plants, they can be called green walls, vertical garden walls and plant walls as well. The materials of the plant wall can be natural plants or artificial plants.
Different from real plants, artificial plants don't need water or time for growing which are more suitable for people with busy work.
The best location for artificial living walls
The best thing about artificial plant walls is that they can be placed anywhere. When you decorate your home or office with natural plants, the choice of location is very important because each element has to meet the limitations of plant growth. Compared with them, artificial living walls possess more creativities and modeling requirements which can be applied for both indoor and outdoor as our plants have great UV resistance.
Why choose artificial living walls?
As we know, artificial plant walls have many advantages, we list some of them here.
Visual appeal
A wall full of greenery has stronger visual attraction than a barren one. For example, with the help of greenery, an undecorated wall can turn to be attractive and appealing, you can also match tables and chairs with similar styles which can improve the beauty of space.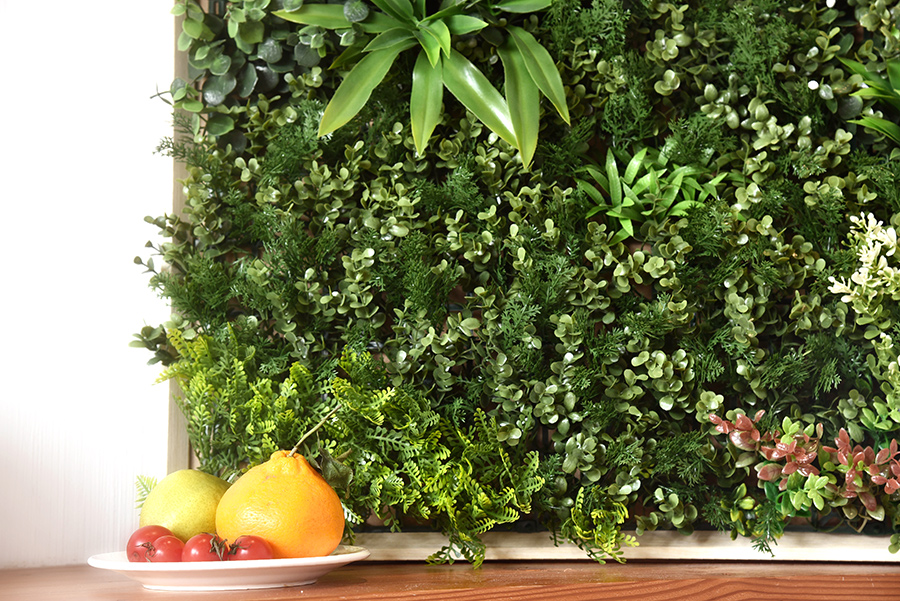 Reduce stress
It is well-known that greenery can help reduce the pressure of life and work to obtain inner peace. When you are surrounded by green, you will feel very comfortable, even if they are artificial plants.
Flexible installation
It is not difficult to install artificial living walls, just follow the instruction and you can obtain a satisfactory wall surface which can increase aesthetic feeling and light up the space. More details about installation, click this link, https://www.eden-vert.com/products/how-to-install-artificial-hedges/.
Installation Projects
Artificial living walls in Mexico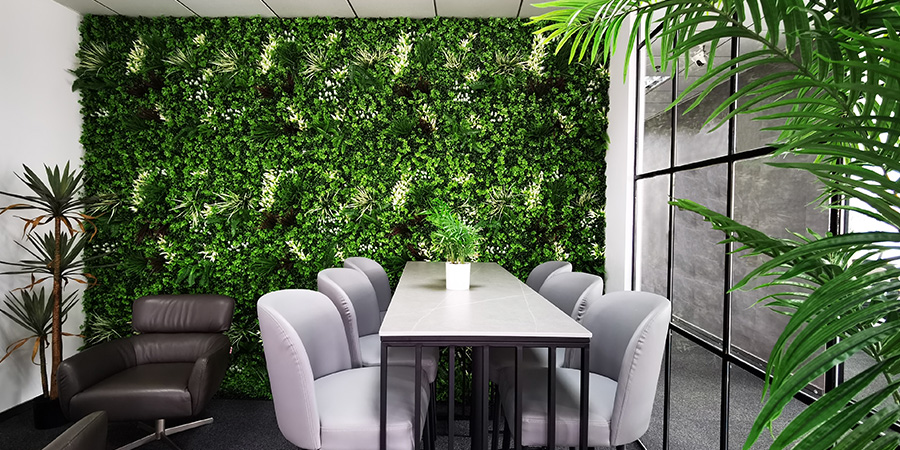 Although many offices now have large windows to see the outside or have close contact with the outside world, there are still many windowless office environments. For these offices, it is more effective to install a green wall.
This is our latest installation in Mexico, which can be called an artwork exactly. This artificial plant wall brings freshness and nature into the business meeting space. A large number of green plants have changed the original monotonous environment, as if to broaden the space. It not only brings sensory changes, but also improves the creativity of employees, which is more conducive to the burst of inspiration and the promotion of work.
Artificial living walls in Japan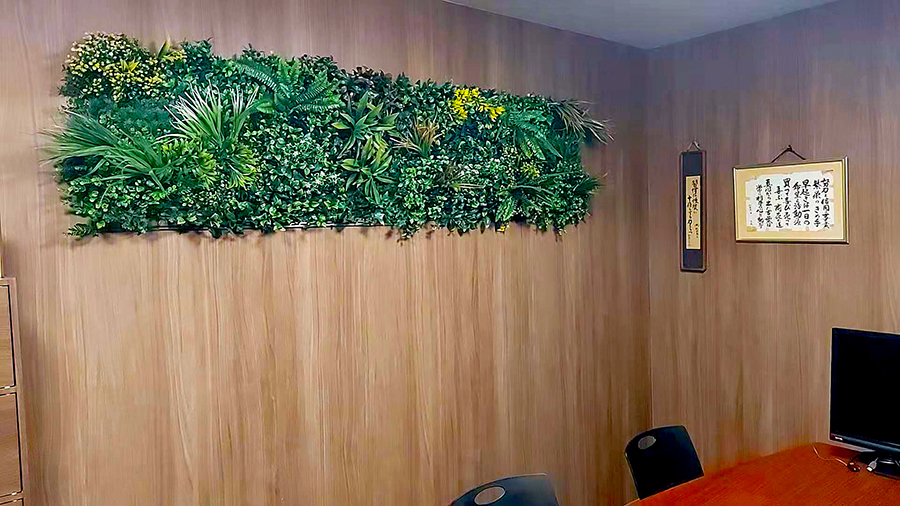 Artificial living walls can not only apply in the modern office, but also for an exquisite Japanese style room. This is supported by our Japanese clients, you can see that there have little decorations in his office, however, this doesn't mean that he pay no attention to details. On the contrary, choosing our products shows his high standard of design. After installing the green wall, our products left an intensive impression on his work and life, especially our safe and healthy materials made him safely enjoy the beautiful view in his office.
Artificial living walls in China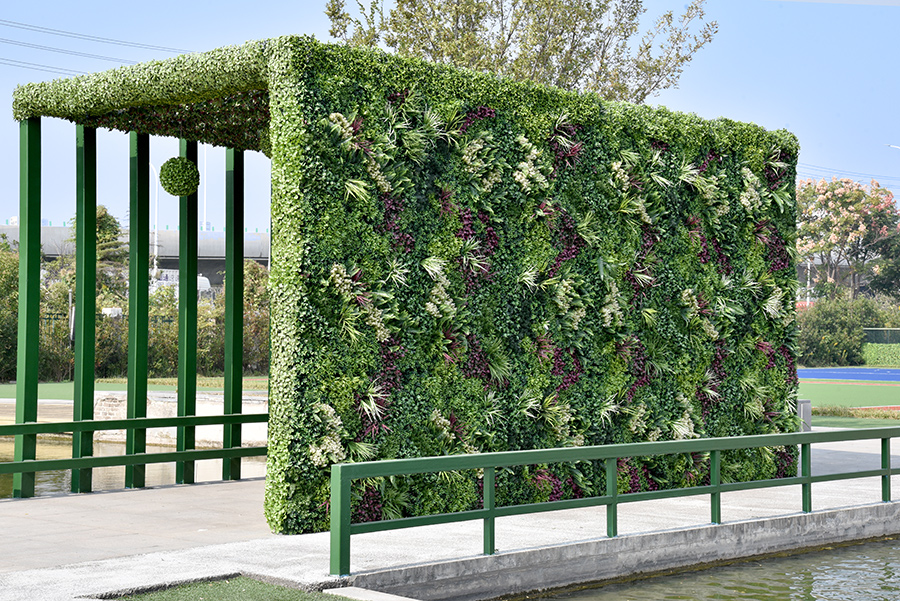 In addition to indoor use, artificial living walls can be seen outside. There is no difference between real ones and fake ones, our qualified artificial plants even show more vivid and luxurious performance under the sunshine. This is our outdoor installation in China. After installing this wall, the surrounding environment bursts out of vitality and vigor. This ingenious use of green plants and sunlight has turned the space into an oasis. In addition, artificial living walls are able to be applied in many occasions, such as garden or large outdoor venues.
How to start artificial living walls
If you pick some design of green wall but have no idea about how to build it, you can contact us by Telephone: +86 25 69811778 and Email: [email protected]