Artificial Vines for Decoration in 2022

2022 08 10
Artificial vines bring a touch of softness, texture, color and life to any space in your home without the hard work that real vines require. Whether you want to make the dark corner of a room full of vitality, add a pop of color to the space, or cover up the annoying wires and plugs, fake vines can make you feel fresh throughout the season.
Previously, many interior designers avoided using faux plants, but with the progress of technology, artificial plants have become so natural that it is difficult to distinguish them from real ones.
In addition, there are many varieties in the market now, which provide you with more options, so you can find ones that will enhance the aesthetic of your space. To help you choose, we've listed our top picks below.
Style 1: Artificial Pine Cone CCGT002
This product is an ideal choice for both indoor and outdoor decoration with leaves hanging down to offer extra cover and a great naturalistic look.
It will make your place look more attractive. It is durable and easy to maintain and can be placed anywhere around the house.
It is available in two colors, green and purple.
CCGT002 is suitable for the decoration of special occasions, festivals, weddings, and parties.
You can install it on walls, bookshelves, mirrors, fences, balconies, gardens, etc.
The faux leaves are made of high-quality plastic that won't break easily, providing you with the perfect jungle room theme. You don't need to clean it every day for easy maintenance. In addition, it can be washed in water and simply blown dry.
Style 2: Artificial Pachysandra CCGT012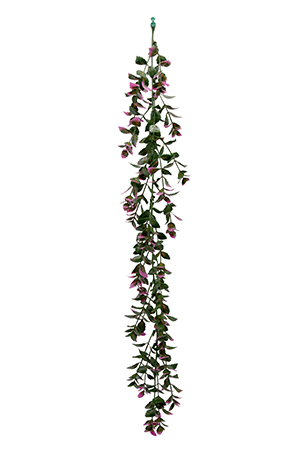 The artificial vines and leaves are clearly created for a vivid texture and appearance.
CCGT012 is the perfect decoration for corridors, arches, chairs, backgrounds, and DIY activity centers. If you want to give your special occasion the look it deserves, this is your best option.
The vine is made of environmentally friendly plastic. The striking purple makes it look very attractive.
Artificial hanging plants are suitable for outdoor, indoor, wedding, fireplace, festival,s and dinner parties.
Style 3: Artificial Clover CCGT013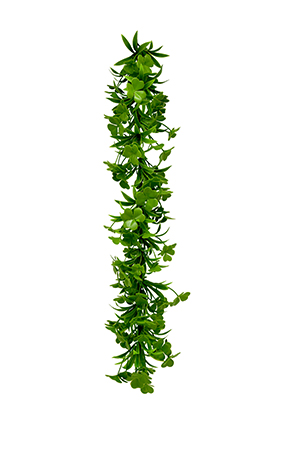 Our faux green vines are UV resistant and waterproof, which means that they will maintain a new appearance, whether indoors or outdoors, even after a long time.
Artificial Clover CCGT013 is designed in a retro and simple way, which is very suitable for your wedding or home decoration.
The vivid texture makes it looks like real plants. You can also pair it with silk flowers to bring instant aesthetic enhancement to your decoration.
Style 4: Artificial Ivy CCGT015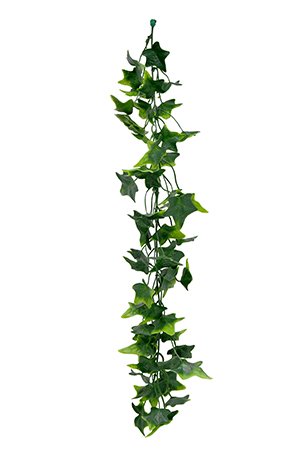 The soft ivy is flexible to fit any place in your home or outdoor garden. Faux ivy leaves will undoubtedly bring the necessary green to your home decoration and create a welcoming atmosphere.
No matter where it is used, this fake ivy can be easily inserted into any place to create the desired atmosphere.
The texture of the vine makes it look real, especially with the natural 3D shape of the foliages, which makes it easy to find from a distance.
CCGT015 can be easily installed on fences, pillars, walls, and shelves. You can also attach them to wreaths, wedding arches, and flower baskets without damaging the leaves. This faux hanging plant is durable and waterproof because of its plastic stems and foliages.
Style 5: Artificial Eucalyptus CCGT019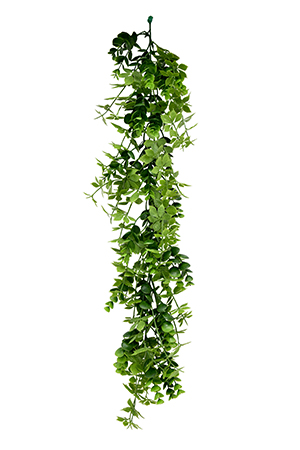 CCGT019 has a refreshing green design that makes it the perfect option for breathing new life into the overall aesthetic of your space. It is suitable for decorating homes, parties, weddings, fences, gardens, water pipes, and LED lights.
The stems are made of plastic and can be easily cut or bent to meet your decorative needs. Also, the vine is very easy to hang. The premium natural appearance of the vine will make it difficult for your guests to identify them as fake.
Style 6: Artificial Fern CCGT021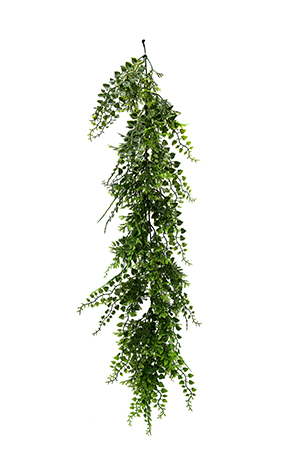 Our final top pick of the best artificial hanging vines is CCGT021 Artificial Fern. This product is flexible to fit your house or outdoor garden. These foliages are easy to clean and maintain.
The vivid texture makes it look like a real plant, which is perfect for adding a natural touch to your decoration.
It is very suitable for home decoration, parties, weddings, festivals, gardens, fences, stairs, sheds, etc. Leaves hang down naturally, providing extra cover and an excellent naturalistic look.
Artificial Vines for Decoration Tips
This section of the guide contains tips to help you set up your artificial vines to look as real as possible.
If your vines have perfect symmetry, you can remove some leaves from one side to get the ideal asymmetrical appearance.
Although they do not require routine maintenance as real vines do, you should still spend time regularly dusting and wiping the faux hanging plants. This helps the artificial vines maintain their normal color.
When using vines as outdoor decoration, place them in natural light as if they were real vines. If one part of the vine receives sunlight and the other part does not, it may fade unevenly, which will look unnatural.